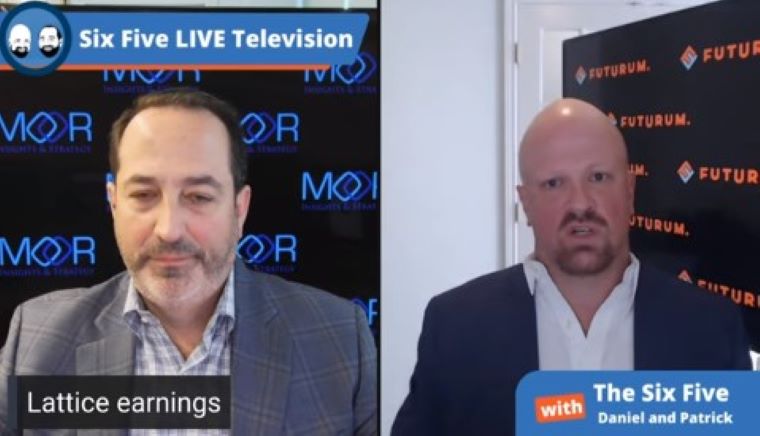 The Six Five team discusses Lattice's latest earnings report.
Watch the clip here:
If you are interested in watching the full episode you can check it out here.
Disclaimer: The Six Five Webcast is for information and entertainment purposes only. Over the course of this webcast, we may talk about companies that are publicly traded and we may even reference that fact and their equity share price, but please do not take anything that we say as a recommendation about what you should do with your investment dollars. We are not investment advisors and we do not ask that you treat us as such.
Transcript:
Patrick Moorhead: Lattice earnings, the leader in market share in high-volume, low-power FPGAs.
Daniel Newman: Yeah. If I knew how to throw up a slide, somehow after all this time, I'm still terrible at it, but Lattice does give some good slide. They give great slide at their earnings. In this particular quarter, the company did it again. Their one slide, the results highlight… Pat, I'm just going to call a little bit of this out. Because, in the market, when right now we're in this bubble where I say it's alpha versus beta, we've heard our friend, Chamath Palihapitiya say on the All-In Podcast, Lattice is in a stage of alpha, made a lot of great decisions, so congratulations to Jim Anderson and his team made a lot of great decisions, so congratulations to Jim Anderson and his team to basically focus the business on key secular, focused on edge, focused on automotive, focused on data center and it's starting to bear fruit for the company. So you saw 28% on you your growth, 69% margin, which [inaudible] 700 basic points of expansion and huge growth in its earnings per share, 68% for those of you that can't see the screen.
But what was really great is, as expected, the markets they were in our high growth that are going to be resilient and robust through any sort of comparative contraction, continue to grow. 35% year over year in their compute column, communication compute, so that's what we talked about there. And then of course their industrial and automotive business, the harden edge and the automobiles also saw 30%. Surprising that we saw a small, but 1% contraction and consumer. You shouldn't be surprised. Just listen to what we talked about when we talked about AMD and Intel, that particular space is taking its lumps right now. It also gave the company some solid growth over their previous period when we did see all the acceleration into areas like consumer and PC.
In fact, what I think is most interesting about the company is it's been very aggressive in its innovation. It's got the small FPGA platform. It's moved up into mid-market, it's got an O-RAM solution. It's got security and bio solutions to help companies protect their data centers. They've made some good inorganic acquisitions, small, but meaningful in areas like AI to expand the business. And frankly, the company has proven the FPGAs are having a moment.
So Pat, you've heard me say this a few times on our different pods, semiconductors are having a moment. Well, FPGAs are also having a moment. That's why I think we feel good about AMD and Xilinx. And I think that's also why we feel really good about Lattice is FPGAs are proving that they can be done. They can be affordable. They can provide a layer and level of flexibility and that companies are increasingly adopting them.
And just so everyone knows, in case you don't follow Lattice, we don't talk about them as often as some of the other bigger semiconductor companies, but we do talk about them somewhat regularly. This is a company that's products and solutions are in alongside many of those bigger names. They're in alongside an AMD or an Intel and a data center. They're in alongside an NVIDIA. They're in alongside, so this isn't an or thing. This isn't some small semiconductor trying to grab market share from the big semi companies. This is a company that has very specific purpose-built solutions in these industries that we mentioned, and they're getting a lot of momentum, a lot of growth and they've been able to really hold up well throughout the pandemic.
Patrick Moorhead: Wow. You actually did leave me a lot of content.
Daniel Newman: I did, right?
Patrick Moorhead: For sure. So, one thing I want to point out if you're an investor and you're looking for long term play and listen, I'm not an investor. I don't give investment advice, but look at this curve. Look at the steady progress. And here's the irony, all this had to do with a major change in product direction and product velocity. What Jim Anderson and his team did is, they completely changed the target markets that they went after. They still service some of the consumer markets, but they really took a hard right, very similar to Marvel on more B2B type of opportunities. And we can debate whether automotive is consumer or commercial, but you get the idea. And changing investment, increasing velocity, you very rarely see curves like this.
Now it's great and all to talk about what happened today and what happened yesterday, but let's hit tomorrow. You had talked a little bit about getting into the mid-range. They haven't launched their product yet, but what they did say on their earnings call is that in Q4, they are going to have an event to talk about this and you can see the graph up there. It's essentially doubling their TAM. And this is going right at the heart of what Intel and now AMD, FPGAs provide. But there's a big difference here. AMD and Intel FPGA, they're really focused on using the FPGA as a way to create data center SOCs. And they're also focused on the highest performance FPGAs, not bringing new solutions out in the mid-range. What Avant is a brand new product in the mid-range of FPGA. So in the marketplace, you're going to have AMD and Intel with older designs and older manufacturing versus Avant, which is the newer design with newer manufacturing.
Now what Xilinx and AMD have going for them is, typically when you build in an FPGA, if it's in a single board computer or something like that, very rarely do people have the motivation to change. But I believe that Avant will win many of the new designs, because quite frankly, it's going to have a cost performance and power advantage. It's me speculating right now. But why else would Lattice be investing so much to get in here?
The only thing I don't 100% agree with you on, Daniel, is it's competing with other FPGAs only. I believe that with these packs, with these software packs, Jim and his team are actually going against controllers, okay? And that's just a fancy way of saying low level arm processors, and ASICs for, let's say machine learning. I do think at some point by making it easier for OEMs and ODMs, they are going to have to, and they will start going head on against other types of silicon, not GBU's. That's not going to happen, but more against ASICs and controllers.
Daniel Newman: So just quick, you hit that on the head. I guess I'm not correcting myself, but I do want to just say, of course there's always overlap. There's always going to be overlap. I just mean that for people that are a little bit less familiar with a Lattice, this isn't the kind of company where you're basically saying, "Oh, NVIDIA is so good, Lattice doesn't have a chance." They're very aware of where they fit the market. And they've been able to capitalize very well on the fact that they understand their purpose. They understand where FPGAs make a lot of sense, and they've been able to enter the market, definitely going to have some competition. And by the way, bigger competition is inevitable. The bigger you get, the more, your products find their way into markets. The more the bigger competition is going to look for ways to capitalize on that market. So good points. I appreciate that circle back here, Pat..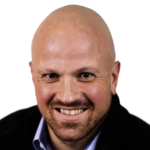 Daniel Newman is the Chief Analyst of Futurum Research and the CEO of The Futurum Group. Living his life at the intersection of people and technology, Daniel works with the world's largest technology brands exploring Digital Transformation and how it is influencing the enterprise. Read Full Bio