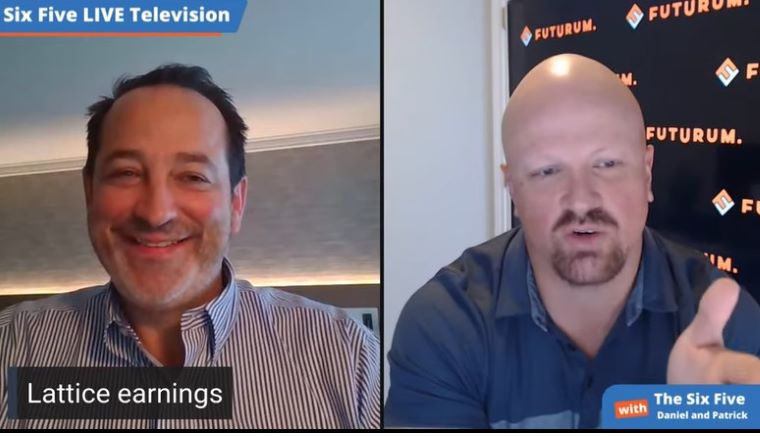 The Six Five team dives into Lattice's earnings on the second episode of Earnings Palooza!
If you are interested in watching the full episode you can check it out here.
Disclaimer: The Six Five Webcast is for information and entertainment purposes only. Over the course of this webcast, we may talk about companies that are publicly traded and we may even reference that fact and their equity share price, but please do not take anything that we say as a recommendation about what you should do with your investment dollars. We are not investment advisors and we do not ask that you treat us as such.
Transcript:
Daniel Newman: Let's go to Lattice. Let's talk about Lattice. First of all, I had the chance to go see Jim Anderson and his son this week. And so I tweeted something along the lines that said, "Just because you had great earnings doesn't mean you have to be so humble." But they are really some of the salt of the earth just best people. And I guess, you know, when you're only doing a few bill or you're in the billions, not in the hundreds of billions, maybe you stay humble until you get there. But, I also just say they do great earnings slides. I really do appreciate that about companies that put together very consolidated and valuable slides. We'll share the link in my Lattice piece, but let's just talk about the highlights. Pat 31%…
Patrick Moorhead: Hey Dan, what makes a good slide deck for earnings? Just for our listeners.
Daniel Newman: Oh, well, I mean first and foremost, I think it's call outs on the most important data points and comparative data in terms of making it very clear. So on the left side of their slide, the three things that people care about, they have what's called their highlights, revenue, margin, EPS. They have those data very clear and then a very clear indicator of how it compared on a year over year basis. Sounds crazy, but I can't tell you how many times I'm reading these reports. It's like brain damage to find this stuff. It's easy. The only thing I really like that they do is they break out their different segments and then they have a couple of very clear highlights. So if you had to, it's the cliff notes, this is all you looked at, you could get a really good assessment of what is going on in the business.
Revenue growth, margin growth, EPS growth, huge numbers, 31% year on revenue, 69% margin Pat, they expanded their margin by almost 600 bips, almost 6% margin expansion, which is just absolutely terrific. The street has to love it. Now, funny is they got a great gain afterwards and then gave all the gains back because this market sucks. But in the long run, you got to look at the company and the company's expanding and its earnings per share up 71% on a year on year basis. And Pat, here's what I really love about Lattice and why I called them out in my market watch piece this week. 6% of their business is exposed to consumer. That's it, just six. So they've done, they're kind of got that Marvelesque story going on where they've done an incredibly good job of finding value in the data center, in the IOT segment in automotive.
This has led to strong growth. Their industrial automotive growth at 45%, sequential 15, their cons in computing at 26%. And of course their consumer did fall 13%, but it was such a small part of their business that it really didn't have much impact on the company. And Pat, I'll just try to leave a little oxygen in the room. We're going to be out at their event in December talking about their next product line launch. They're still really just getting ramp from their last product line launch. So this is early days when you're at the size that they're at, and like I said, they're tracing more towards a billion in revenue, a bad economy doesn't break you. In fact, the companies that perform well in game market share and execute, and it seems that in this area, this low to mid market of FPGAs, Lattice is the game right now. And they're doing an incredibly good job. It's hard to not give them credit. So kudos to Jim and his son and the team,
Patrick Moorhead: Wow, I'm fighting for air here. No, what I'd like to do is talk a little bit about their different segments and like you, you do math and have an Excel spreadsheet. So you know when something is 50% of the mix and it grew 45%, you're going to have a good quarter. And that's exactly what the company did in industrial and in automotive. And a lot of [inaudible] and dashboard, which is really cool. And this is an area where I don't think we have caught up in chips in automotive. And also on the call, Jim had talked about automation and robotics. So four big areas inside of that industrial, in automotive. And it's also funny that "Hey, if you've never been in the PC market or if you're expanding your presence in the PC market, you can still drive growth in that market." In comms and computing, the company did just that.
They had new PC designs. For instance, in this new Lenovo notebook I have, there's an FPGA that essentially intelligently knows to tell me when somebody's looking over my shoulder. And they work with, they bought a company called Mirametrix, and that's really just the start. Also, they're part of the 5G build-out, on the edge, and who doesn't love that? Their content doubled from 4G to 5G, which is a good thing. And finally, data center servers. More servers where essentially they're a security chip that's the first boot, first boot that enables the highest level of security. And yep, consumer, 6% of the mix down 13%. So what. Market sucks. Let's move on.
So Dan, I am super-excited to go out there for this Avant launch. And you're right, it's just the beginning. Avant doubles their SAM, right? Their addressable market and they get right into the territory of Intel FPGAs and AMD FPGAs. And both of those companies are really looking at FPGA capabilities at the highest power SoCs. That is not what Avant is doing. Okay? Now you might say you could have a super high performance SoC and you have more power for the CPU because Avant is lower power. But anyways, you get the point. But tune in to the Six Five at the Avant launch event coming up. It's on Monday, December 5th. The videos might be out on that day, they might be a day after, but tune into our tweets. Did I just do a promotion here?
Daniel Newman: Yeah, but that's pretty common for you.
Patrick Moorhead: Ouch, Ouch, ouch.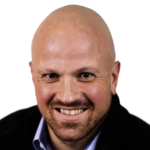 Daniel Newman is the Chief Analyst of Futurum Research and the CEO of The Futurum Group. Living his life at the intersection of people and technology, Daniel works with the world's largest technology brands exploring Digital Transformation and how it is influencing the enterprise. Read Full Bio