Lattice Avant Announcement
Lattice Avant Announcement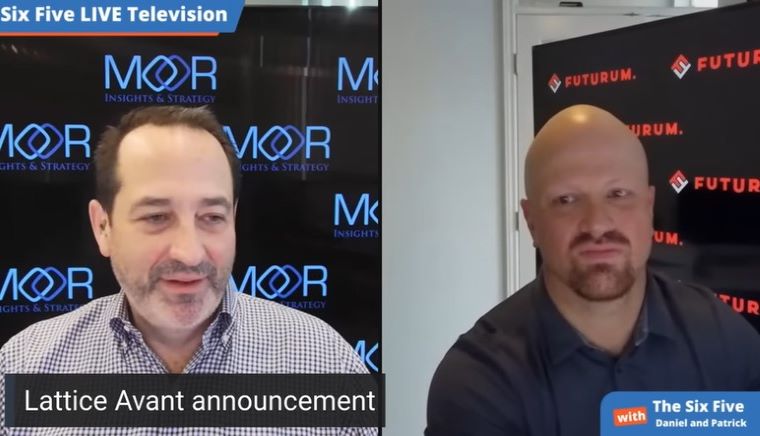 The Six Five team discusses the Lattice Avant announcement.
If you are interested in watching the full episode you can check it out here.
Disclaimer: The Six Five Webcast is for information and entertainment purposes only. Over the course of this webcast, we may talk about companies that are publicly traded and we may even reference that fact and their equity share price, but please do not take anything that we say as a recommendation about what you should do with your investment dollars. We are not investment advisors and we do not ask that you treat us as such.
Transcript:.
Patrick Moorhead: You and I were there, live in our analyst capacity and of course we flew in early to do our Six Five thing. Did multiple videos. We met with senior management. Little backstory, the company is on an absolute run. CEO Jim Anderson has 10X the stock since his arrival, and I think that's pretty awesome. They announced their 40th anniversary. Who would've thunk? Wow. The company's all about low power, all about performance, small form factor, and even 40 years later they're sticking to their guns. But highlight of this was the announcement of Avant and that is an FPGA that doubles the market size that the company can go back for. Maybe they're being a little bit conservative about that doubling, but that's what I love about Jim Anderson and his team and they're conservative and they hit their numbers. So Avant, 30X more performance, they did competitive dive bombs on AMD Xilinx, Intel Altera, 2.5X on power, 2X higher bandwidth and 6X smaller.
You know what Dan, when it comes to semiconductors, performance, power and area is pretty much everything. But we are a little bit more mature as a semiconductor industry now and it's about 50%+ software. That's where the company has done a fine job with its STKs going across AI, going across vision, going against cyber resiliency. They have an automation stack and they have an O-RAN stack to make it easier for customers to go in and implement their technology because bag of parts just doesn't work anymore. Fine job by the team. Great dinner afterwards. Pretty incredible.
Daniel Newman: Yeah, Pat, absolutely Mar… Sorry Marvell, we'll talk about them later. But yeah, we came in for the big Lattice Avant launch, you and I have been working closely as advisors to the company giving feedback along the way. The company's specialized itself at the low end of the market, but there is this white space with Altera and Xilinx really focusing in the premium tier. There is this mid-market and this need for these agile, flexible FPGA offerings that can meet both power in terms of lower power and at the same time delivering performance. The company really focused on those three things. One, the power and being able to deliver lower power. They showed some really wonderful demos. Pat, we've got a great Six Five video that everybody can check out that digs into this a little bit more.
They also focused on the fact that while being lower power is delivering that higher performance. Then of course there are so many AI at the edge applications that are going to be usable. They showed some really interesting utilization potential in the automotive space and object detection. These are all going to be areas that are going to be growing and scaling. The best thing Pat about what they're doing is that 90% of their current customers are the potential customers for the Avant line. So a lot of times when a company diversifies its portfolio, people say, oh no, are they going to be able to break in? Well in this particular business, the break in is 90% of the battle. So they're already in front of these customers. There's already an interest in working with Lattice. Lattice has been able to show resiliency, growth and demand throughout this pandemic.
Even during this period where semis have been a little out of vogue, Lattice has been able to continue to show growth. There's a little bit of a theme of that, we'll talk about that actually today when we talk about MongoDB as well. But other companies, they're market takers, they're creating markets, but they're really taking market in an area where they're not getting a lot of competition, Pat. You and I both said this, I think we both even tweeted it. Very interesting to see how incumbents like Intel and AMD react as Lattice comes upmarket and starts playing a little bit more in their sandbox. So if they react, it's a legitimizer for what Lattice is doing. If they don't react, is it free market to be had? I'm not saying it is, but I'm also not saying it isn't.
We had the chance also to get on stage with the CEO Jim Anderson and a few of his senior executives and we talked to them further. Another Six Five pod, Pat, am I calling our number enough here? Another Six Five pod you'll have to check out. It's a nice deep dive both from an investor and from a customer experience lens. You better understand what the company's doing and why we tend to believe they're in a really good position long term with this investment. So, I'll leave it there. A lot more to come Pat, but good stuff from Lattice.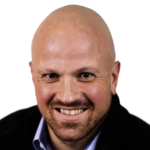 Daniel Newman is the Chief Analyst of Futurum Research and the CEO of The Futurum Group. Living his life at the intersection of people and technology, Daniel works with the world's largest technology brands exploring Digital Transformation and how it is influencing the enterprise. Read Full Bio