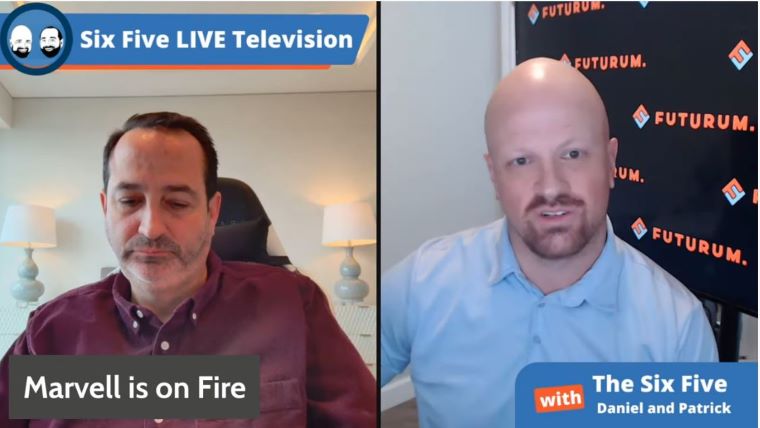 The Six Five team dives into the latest Marvell earnings.
Watch the clip here:
If you are interested in watching the full episode you can check it out here.
Disclaimer: The Six Five Webcast is for information and entertainment purposes only. Over the course of this webcast, we may talk about companies that are publicly traded and we may even reference that fact and their equity share price, but please do not take anything that we say as a recommendation about what you should do with your investment dollars. We are not investment advisors and we do not ask that you treat us as such.
Transcript:
Daniel Newman: Marvell last week, while you and I were in Hawaii, had earnings this week. It had its industry analyst day the week before it had… I believe it was a week or two before it had its investor day. And the only conclusion that I could come to, Pat, is Marvell is on fire.
I wrote a piece for MarketWatch that basically somehow titled it Marvell can no longer be kind of in this what I call also ran semiconductor space. It really has to be on that top list of companies. If you're looking at investible, if you're looking at collaborations and partnerships in the enterprise space, this is a company that's attached to all the right secular trends, automotive, enterprise, data center, 5G.
This is a company that's growing at pace. This is a company that's returning over 80% year-to-date to its investors. And by the way, quick victory lap, early in the year, I did four must watch semiconductor companies for the year that weren't named Intel, Qualcomm, AMD, and NVIDIA.
And I picked Marvell, Lattice, Applied Materials, and Micron, and three out of those four have returned over 70% year-to-date. So Micron was the only one that didn't return that high at low double digits around 12%, 13% as of last week when I last checked.
Anyhow, Matt Murphy came on board, took on this company at a crazy inflection point and essentially has brought it from a consumer focused to a enterprise focused company, making really wise acquisitions, Inphi, a 410 billion deal, which by the way, you and I broke earlier in the year. The Innovium deal. Inphi with optical.
And this is all about networking. Innovium with hyperscale connectivity. And let's just talk about the business units of this company. It had record revenue this quarter, $1.2 billion. That's 61% growth. And it's four categories. Data center, which is 41% of its revenue, it grew 109% year over year.
In enterprise, 20% of its revenue grew 56%. Carrier, which is one of the areas it's pretty well known for, more established 18% of its revenue 28% year over year patent. Automotive is now creeping up on double digit of its revenue and it's growing at 114%.
A five-year mega transformation that is taking this company into the stratosphere. I know I sound like a fanboy, but Pat, in the two years that we've spent tracking this company, it went from, "This is kind of an interesting company. It's doing…" A year later like, "Ooh, this company's doing really well."
And now I'm like, holy crap, you cannot talk semiconductors without talking about Marvell. And so beyond the numbers though, what I really want to point out is this is a company that has attached to the most important mega growth trends in enterprise tech. They have a ton of really important collaborations.
They're in many designs within data centers and in cloud and automotive right side by side with these other names that you always hear about. And they're part of the connectivity and the automotive space. The ethernet. It's all about, how do you get data from point to point?
And Marvell is behind a whole lot of that with a whole lot more growth in its future and a lot to feel really good about. So I won't hog this one. I won't take too much time, Pat. But what a quarter, what a run up. Marvell, man, put it on the list.
Patrick Moorhead: Yeah. By the way, I need to make sure I don't come off like a fanboy either. But just to put in perspective here, let me dial back to 2016. The company launched an internal investigation by the board's auto committee and were investigated by the SCC. They said they didn't ultimately find fraud, but said that there was significant pressure on their sales team.
And literally the company got a letter from NASDAQ's listing qualification staff threatening to delist the company over its delayed filing of its 10K for 2016. Starboard came in, active investor, started making a lot of waves. Oh, and that same year paid a $750 million fine to Carnegie Mellon over patent. And net-net, the CEO, Sutardja and his wife, Weili Dai, who are still big investors in tech today, stepped down in April.
So there are some companies who have this incredible run-up and there are certain reasons. But starting in such a pit and moving up, you can imagine how challenging that is for employees. So divesting yourself of pretty much all consumer, acquiring multiple companies in the data center, essentially inventing the category of offload networking, because it was either Annapurna or its Marvell.
For the record, Marvell had it first as a device, Annapurna shrank it down into a chip. But essentially Marvell has put itself in as the Arms dealer to the hyperscaler data center market in multiple areas. They're the same for the carriers as well. They got out of some businesses that didn't make sense that I know some people were shocked at.
They got out of general compute and really got into what I'll call custom compute, getting out of custom engineered CPUs, but has a custom engineered ASIC solution. So where do I go from here? Stock up 521% in the past five years. Matt Marshall, Chris Cutmans and company, just absolutely crushing it at Marvell.
Daniel Newman: Yeah. I think you hit it on the head. And the leadership team has been great. They've been generous with their time to spend talking to us and the results have spoken for themselves. And by the way, I don't think we sound like as bad a fanboy as Jim Kramer does.
So I think if he can pull it off, we can pull it off. I mean, look, sometimes you just have to give credit. I mean, I know we tend to be more bullish. We're I guess naturally more optimistic guys. We do challenge things and we genuinely think they need to be challenged.
And we do try to ask the right question. That's what being an analyst is all about. But at the same time when someone pulls it off and does well, it's also okay to applaud. We live in a world where everybody wants to tear people down. I think that sometimes building up and giving credit is a great thing.
So congratulations to Marvell.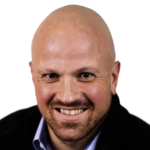 Daniel Newman is the Principal Analyst of Futurum Research and the CEO of Broadsuite Media Group. Living his life at the intersection of people and technology, Daniel works with the world's largest technology brands exploring Digital Transformation and how it is influencing the enterprise. Read Full Bio