Latest Earnings Report from Poly
Latest Earnings Report from Poly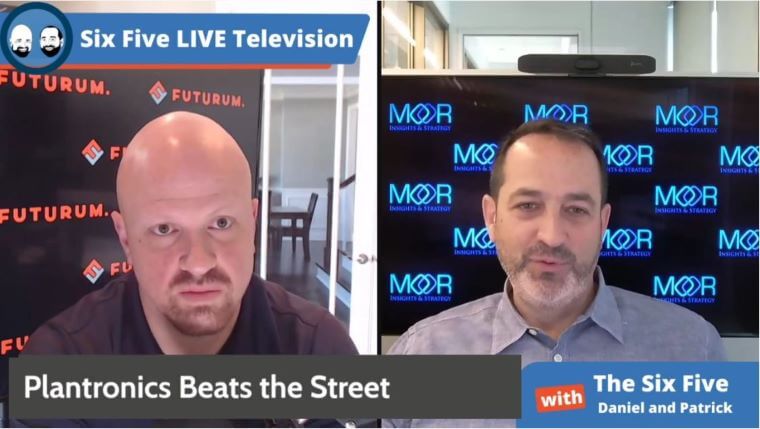 The Six Five team discusses the latest earnings report from Poly.
Check out the clip below:
If you are interested in watching the full episode you can check it out here.
Disclaimer: The Six Five Webcast is for information and entertainment purposes only. Over the course of this podcast, we may talk about companies that are publicly traded and we may even reference that fact and their equity share price, but please do not take anything that we say as a recommendation about what you should do with your investment dollars. We are not investment advisors and we do not ask that you treat us as such.
Transcript:
Patrick Moorhead: So, Daniel, let's move to our final topic here, Plantronics earnings, AKA poly.
Daniel Newman: Hey, by the way, Plantronics, Pat, is changing its ticker.
Patrick Moorhead: You know, I was going to get to that. Thank goodness.
Daniel Newman: Okay.
Patrick Moorhead: No, no, no, no. Every time I look up Poly, I go to Poly materials and it would just drive me completely insane, but Plantronics, that's the official name of the company, but known as Poly is moving their ticker to P-O-L-Y. So thank goodness.
Now, Poly… There we go again. Poly absolutely beat the street. But the reason that its stock is getting hammered right now was because of its forecast, which the company attributed to things getting better during COVID, but also having trouble getting chips. And I get this, but I'm going to look at the glass half full, which is, let's take the long view of this.
So we came from a world of proprietary video systems and audio systems. And what Poly has done is it's come up with a new product line that first of all works with all of the major service providers out there. Let's say like a Teams, like a Zoom, for instance. And then what they did is they gave IT the ability to manage that, to literally cut off service, to look at the quality of service, to do firmware upgrades.
And then this year, they came out with what, based on my analysis and my review, is the best hybrid workplace solution. I'm broadcasting to you from Poly P15. Check out my review on Forbes. And it was easy to set up like a consumer, but I can manage it like a big company. And I think that's kind of the best of both worlds.
And one of the things that Poly brought out in the earnings was they showed the crawl chart of these new products going from basically zero in the FY fourth quarter 2019 to nearly $90 million in the current quarter. It's an absolute rocket ship of a trend there.
So the other thing to look at is look at Poly's stock over the last year. If I look at the year chart, started off at 12.50. And yeah, it's down this morning at 30. But going from 12.50 to 30 is pretty darn good. Now investors, I'm sure liked it up at 42, but we are where we are.
I think the company is being conservative in this. I like their product line. I haven't seen the competitors come in and provide something that… whose mouse trap was necessarily better. It was different. But I feel pretty good about this company.
Daniel Newman: Yeah. It's a good switch, first of all, because Poly is the brand. Plantronics was the brand for the headset business, but it's becoming this fully integrated collaboration suite. You made a great point about the trying to sell through. I was hitting up their former CEO about this, needing to show more momentum for these video products. The company's got a really tremendous ecosystem, if you look… and by the way, one of the better slide presentations of all the tech companies for their earnings, which makes our job a little easier, but their partners, Pat, Microsoft, Zoom RingCentral, 8×8, Comcast, AWS, Google, Five9, these are big names, Twilio. They're working alongside some of the most renowned, well-known companies in collaboration on the planet.
So the appliance is not dead. And the technology that is required to make this whole experience of doing collaboration is important. It's consistently rolling out new products. It's got some great new headsets. Pat, you and I got an early Voyager Focus 2 headset. Been using it. Really like it. It's shipped its 30 million phone this month. The company's getting smashed today, by the way, on [Guidance]. So we can talk about that for a minute, but sometimes your own success becomes… What they say? The halo around your head becomes the noose around your neck.
The company's had some really, really good quarters. Earlier in the year, it was triple digits, then double digits. And now it's basically saying, "Well, we're only going to do a…" I think its Guidance was like 410 million to 430 and that's less than this quarter. And when you show sequential or year over year pullback, sometimes the street likes to really hammer you for it.
But again, at the same time, it's almost quadrupled. So now it's only tripled from where it was sitting. The company's on the right trajectory. A little consolidation, a little pullback is not an indicator that the company is not on a good track. Company is on a good track. It's doing the right things. It's actually picked this partner route and it's doing very well. It's been very successful at it. And I do believe that this collaboration thing is not going anywhere. COVID is not going to end it. We will be doing more of it and we will want the experience to be better. Poly is one to watch for the future.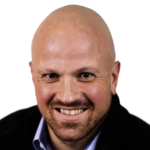 Daniel Newman is the Principal Analyst of Futurum Research and the CEO of Broadsuite Media Group. Living his life at the intersection of people and technology, Daniel works with the world's largest technology brands exploring Digital Transformation and how it is influencing the enterprise. Read Full Bio