Latest Earnings Report from Dell
Latest Earnings Report from Dell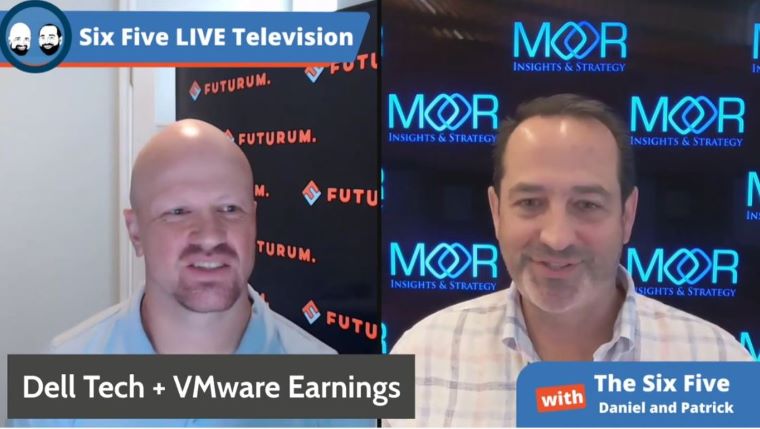 The Six Five team dives into the latest earnings report from Dell.
Watch the clip here:
If you are interested in watching the full episode you can check it out here.
Disclaimer: The Six Five Webcast is for information and entertainment purposes only. Over the course of this webcast, we may talk about companies that are publicly traded and we may even reference that fact and their equity share price, but please do not take anything that we say as a recommendation about what you should do with your investment dollars. We are not investment advisors and we do not ask that you treat us as such.
Transcript:
Patrick Moorhead: Anyways, let's move on to Dell Technologies and VMware earnings. By the way, very soon, we are no longer going to be able to combine these two, even though they are two publicly traded companies, they are still symbiotically connected today.
Daniel Newman: Yeah, absolutely, Pat. October, I think will be the official split day. We're going to get a little bit more from them during an investor meeting that'll come out in September. They will have one more quarter reporting in line, meaning obviously Dell tracks VMware and shares. VMware reports its own earnings that's been going on. Because I think it's what? 81% is what it's been, the holding. Listen, Dell's quarter was outstanding. I mean record revenue, 26.1 billion, you're talking a hundred billion run rate, a 15% growth.
Now, Dell has the luxury of being very diversified and having a significant client business and a PC and notebook business as well as their infrastructure business. That certainly played a part in that growth. Over 50 billion in the first half and some really great EPS numbers. I truly do believe Pat, that post-spinoff Dell is going to finally return to that full investor grade that the company has been clamoring for, which could really start to see investors get behind it and the price run higher and it's already run really well by the way, throughout the pandemic just based on these strong results.
VMware, which we'll talk about more later, I mean, 8%, but I think the companies in flux. I mean you saw major transitions. First Pat left, then you saw Sanjay Poonen, who was really one of the heart and soul players of the company, he exited. The company is about to be fully spun off. So, I think there's things going on beyond just running their everyday business that probably attributes to the fact that the growth is a little bit down. But remember, it's really been tracking at around 10% each and every quarter. Quick touch on the infrastructure group saw growth, but it was modest, I think about 3%. Some solid numbers in the server space. Storage held back despite the fact that the company is still by leaps and bounds the number one storage company in the world, the high end tier of storage, definitely has seen bigger results in past quarters and that pinned the number down a little bit, but the company's still very competitive.
You're seeing these mid-teen double digits from some of the other pure storage, not actually talking about Pure, but maybe about Pure, but companies that are focused on just storage growing faster, but you got to remember law of large numbers. It still reminds me of it when everyone gets on AWS for not growing fast enough. But when AWS's quarterly numbers are five, 10, 20 times larger, this is what Dell is up against here, is law of large numbers. So, definitely would like to see more growth in ISG. But remember, I mean, we're looking … if you're comparing with Cisco, with IBM with HPE, who's coming next week, that'll be more telling is, is ISG growing overall?
I think Lenovo has been the outsider there, actually had some very strong growth in their infrastructure quietly, and you had a great tweet about that and I'll put it in the show notes. Last thing and I'm going to leave this for you to pick up here Pat, really, really impressive client results this quarter. We saw and we'll talk about HP momentarily, but Dell, whatever they're doing in their supply chain, whoever's running their supply chain, the shortage does not seem to be impacting Dell as much as it seems to be impacting some of the other PC players. Very, very good results coming out of their client group. I think it was like 27% growth overall on the quarter, with commercial seeing 32%. So, I'll leave a little bit in there for you here. I'm going to kick it your way because there's a lot and I know you had some great thoughts on it.
Patrick Moorhead: No, you did leave a lot because there was a lot here. I mean, listen, they destroyed the quarter and yeah, I get Wall Street expectations versus all this stuff and how that works and their stock's actually down, which is nuts. But I think they crushed … I mean, record revenue, record op inc, record PC revenue, record PC op inc, and they just killed it. I had some folks from a NetApp come on and remind me, except in storage, I know you had brought this up and Jeff Clarke was very clear on this, that we did not lose market share. In fact, double digit growth in the mid range. I believe there's weakness in ISLAW which is the highest of highest of highest, that there's only two providers in that space, IBM and Dell. And guess what? Even IBM had a soft quarter on its highest end storage.
So, I think it's a market thing there. I think Dell does need to do a better job explaining that because it keeps coming up. Because when you see Pure and NetApp come out with huge growth, it begs the question. The thing about Dell and storage, it's there an every single segment. There's not a segment of stores that Dell isn't in but Dell needs to point that out.
Some other little nuggets here. By the way, I agree with you on VMware. They did have some, some big things. I mean, subs and Saas was up 23%. Their AWS Cloud was up 80%, but I think investors, they see that 8% and even comparing it, I think even to Red Hat, it's just not as impressive.
Some other goodies that came out. We did see for the first time on the call, I think it was the first publicly time we saw the new co-chief operating officer and he was really just reiterating the opportunity here, the $1.3 trillion SAM, the expectation that the debt will be investment grade, post-spin, but all in all, I feel like Dell, I think, proved to the street that they do have some sustainable growth. Now they did at the very end, they were very clear not to overemphasize because if you look at where their growth came from, it was the PC market.
By the way, Dell did really well in PCs. They performed well and they could actually deliver. But the final comment is that they're very highly indexed on the commercial market, which did actually have growth where the overall consumer market actually contracted. So, we'll leave it at that. Overall, good job Dell.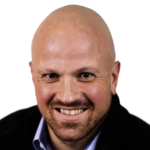 Daniel Newman is the Principal Analyst of Futurum Research and the CEO of Broadsuite Media Group. Living his life at the intersection of people and technology, Daniel works with the world's largest technology brands exploring Digital Transformation and how it is influencing the enterprise. Read Full Bio