Latest Earnings Report from Cisco
Latest Earnings Report from Cisco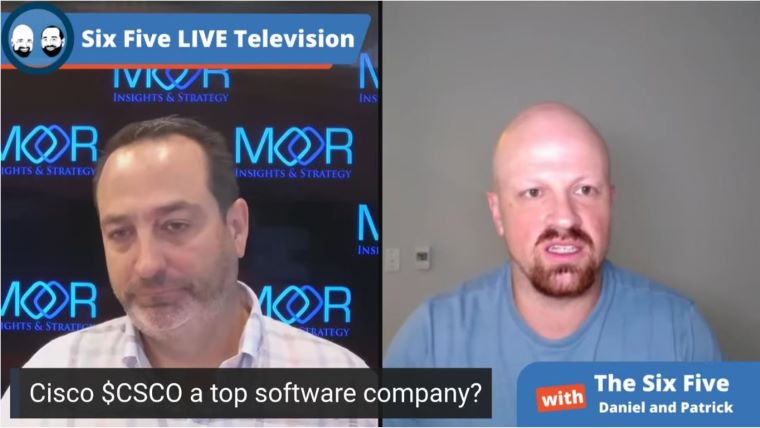 The Six Five team dives into the latest earnings report from Cisco.
Watch the clip here:
If you are interested in watching the full episode you can check it out here.
Disclaimer: The Six Five Webcast is for information and entertainment purposes only. Over the course of this webcast, we may talk about companies that are publicly traded and we may even reference that fact and their equity share price, but please do not take anything that we say as a recommendation about what you should do with your investment dollars. We are not investment advisors and we do not ask that you treat us as such.
Transcript:
Daniel Newman: Let's talk about Cisco. Another big week of earnings on, was it Wednesday? It was Tuesday. It was a Wednesday, it was a Wednesday. On Wednesday, NVIDIA and Cisco both reported. We'll talk about both on this show. Unfortunately, Robinhood reported, which have I mentioned, terrible company. Anyway, I'll explain that later someday, but not here, not now. So you just have to know terrible company, but Cisco, not a terrible company. As anybody that kind of followed the show and followed our analysis on earnings again, why we do this? Not because we're equities guys, not setting price targets.
What we'd like to do is how does this moment of truth that comes out on a quarterly basis really connect to the strategy that these companies are putting in market? How are they doing? Are they interesting? Are they staying innovative? Are they on the front edge? IT OEMs are large, IT infrastructure, especially problem-based actually were some of the slowest recovery names in the tech recovery that happened during COVID, and that was because people stopped implementing big data centers on prem and moved a lot of things to SaaS and public cloud. So chip SaaS, public cloud, all roared, names like HPE, Cisco, Dell, IBM, all with big on-prem infrastructure among others were slower to come back.
Great news about this quarter and the end of the year here for Cisco, which it was the end of their fiscal year 21, was that the growth is coming back. Now, when I say growth is coming back, this isn't a zoom boom. This is a high single digit, which by the way, if you find the tweet, Pat, out a few hours before I actually said expect mid double, mid single digit growth with an upside of high single digit growth. So I called it. I just wanted to put that out. I like to call that kind of stuff, and then I like to brag about it when I do.
Patrick Moorhead: It's the victory lap, baby. We all need victory laps.
Daniel Newman: So beat on earnings, beat on revenue, but let's just talk about a couple of things that stood out about the beat. One, really great growth in their infrastructure platform. We know how Cisco's revenue breaks down. They break it down into like five buckets. Okay, you got infrastructure, application security, other, which is always fun, and then services. Where did growth come from? Well, infrastructure platforms represents more than half of its revenue. So basically, when they're big infrastructure, this is UCS, this is core data center networking. When that part of the business doesn't grow, Cisco doesn't grow. Well, this quarter, it's up 13% growth year over year.
It saw strong growth from various regions, including 8% domestic growth after only almost being flat on constant currency last quarter. Also, really strong growth coming out of the Asia-Pac geo for the company. Interestingly, the applications group didn't grow. Now, this is an interesting one to unpack because applications, of course, you're looking at everything from monitoring, observability, things like Gap, you've got things like Webex. what's going on there because with Webex, you would expect massive growth because of all the adoption of video and collaboration. However, with Cisco, it's a one plus billion dollar a quarter business and there are a number of parts and pieces in that applications business, but it was basically flat.
It was down a 1% number. I think a lot of people want to know a little more about how Webex individually is doing because when you see Zoom going in double and triple digits, and you see Microsoft at 250 million Teams users, what's going on there, but we're watching it, but maybe Pat, the most interesting number, and I'll let you elaborate a little bit on this and I think we keep talking about this is the $4 billion number claimed in the company's software revenue to 81% subscription revenue, 90% perpetual, 4 billion.
And there are now proclaiming to be among the biggest software companies in the world, which my only thought, and then I'm going to let you go from here, is that this is something that outsiders, investors, and customers should feel very bullish about because this is the pivot that an infrastructure company needs to make to stay relevant in the longterm and it appears based on the percentage of subscription and the size of that business, that the company is in very good shape and it's growing at a good clip, about 15% on subscription.
Patrick Moorhead: Wow. You did leave me something. I appreciate that. So yeah. Perfect segue. Cisco for years was an infrastructure, a networking infrastructure company, and then they moved into a full service infrastructure with networking, compute, and storage, and then they moved along and then almost overnight, and maybe that's just overnight because I'm old and can't keep track of my years, they turned into a software and services company and this quarter was almost a quarter of me talking out of both sides of my mouth. Equipment order growth was 31% product orders. That's product. That's infrastructure. That's the best that they've done in a decade, and then out of the other side of our mouths, we're talking about it being one of the biggest software companies out there with a $16 billion run rate.
So I think that the software growth is incredible. The services progress is incredible. I'm going to do the double click on that 4 billion. I asked Cisco for an explanation of that. What's their list? They couldn't provide me one. So I'm thinking about creating my own. It's not that I don't believe them. It's just, I don't want to throw down that one of the largest software plays out there without being more precise. Their CFO said it was they were in the top 10. It does include SaaS, but it's going to be hard to figure that out, but I guess that's why we get paid to do what we do, Daniel.
Daniel Newman: That's a great point and a fairly important point that we labor on is we get encouraged by numbers like that, but we want to unpack it and we want to unpack it for you out there because big claim. Obviously, when you think of big software companies, I said this in our briefing, but most people don't think about Cisco, but if this accomplishment puts them in that category of top 10 global software vendors, it almost needs to be reconsidered a little bit how the company is marked. We say things like IT OEM or big infrastructure players, but are they?
Patrick Moorhead: Yeah, by the way, this claim, and by the way, you just doubled back there so I'm going to double back. This top 10 software claim reminds me of the Webex claim. What was it, improving the experience by a 100X or something, and I was like, okay, what's the calculation that went into 100X, and I learned in my experience in dotcom, 1.0 dot-bomb that you can put a number to anything and spreadsheets don't lie, but come on, man, give us some detail on this top 10 software thing.
Daniel Newman: Let's keep pressing, Pat. Let's keep asking. And eventually I think we'll get it. It's a good organization. Chuck Robbins is doing a good job. He fought a very hard fight over the last several months with supply chain, with having a large part of the business dependent on this on-prem infrastructure, that core business and returning to growth. And by the way, the guidance was encouraging to mid high single digit guidance for next year.
So another solid year ahead for Cisco, but you know what? You can stick with us here because we'll keep talking about it next quarter. You can be sure it will be coming back and double clicking, triple clicking, quadruple clicking on what's going on with Cisco. But you know what, Pat? We had been talking about doubling, today was a double Intel day. You know we love chips, we love SAS. We started with SAS, we're talking about chips. We're going to talk a little more about chips now. And then, hey, guess what? The next segment is going to be about chips, but a different company. Plenty about that.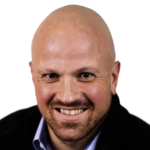 Daniel Newman is the Principal Analyst of Futurum Research and the CEO of Broadsuite Media Group. Living his life at the intersection of people and technology, Daniel works with the world's largest technology brands exploring Digital Transformation and how it is influencing the enterprise. Read Full Bio