Latest Earnings Report from Adobe
Latest Earnings Report from Adobe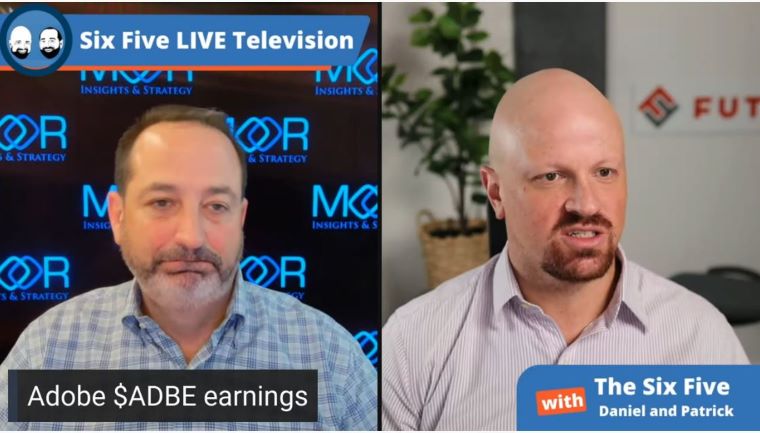 The Six Five team does a deep dive into the latest earnings out of Adobe.
Watch the clip here:
If you are interested in watching the full episode you can check it out here.
Disclaimer: The Six Five Webcast is for information and entertainment purposes only. Over the course of this webcast, we may talk about companies that are publicly traded and we may even reference that fact and their equity share price, but please do not take anything that we say as a recommendation about what you should do with your investment dollars. We are not investment advisors and we do not ask that you treat us as such.
Transcript:
Daniel Newman: Let's talk a little bit about what happened with Adobe. There is a lot that we could say. Yesterday wasn't only Adobe's earnings day, but Adobe was also their financial analyst day. I had the chance to tune in to multiple hours. I got to listen to the remarks of the company's top executives, including CEO Shantanu Narayen. I hope I got that right. I always like to double check, but Shantanu did a great job presenting the company. It was just a terrible day for the market, so it's really hard to tell.
This company saw it stocks sold off 10%, down over 60 points, well down over its November highs, but you look at what happened in the overall tech space yesterday and then you look at the sell-off and everyone's like, "Oh, Adobe got sold off because of weak guidance. Adobe got sold off because slowing digital marketing." How about Adobe got sold off because the entire market for high tech is being sold off right now in a really significant way?
Having said that, though, I had the chance to dig deep into the company and the business results were bright. The company saw record revenue in Q4, record revenue for the year, 20% growth in the quarter, 23% revenue growth in the year. Huge recurring revenue growth all of its businesses. It's got three major segments. It's got its creative cloud, it's document cloud, it's experience cloud. All three jumped. Creative at 19, document 29, and experience at 23. This is a company that's got a $205 billion TAM addressable market by 2024 and in its three different segments, it is a leader in all of them.
In creative cloud, the company is… When it comes to creating things like NFTs, I mean, it's absolutely at the front end of this trend. We were just talking about how CES and Metaverse and NFTs, well, where do people create this kind of art? It's in Adobe and Adobe has already made really important partnerships with companies like Rarible where you can actually mint an NFT and make it secure and actually be able to claim appropriate ownership. We talk about digital transformation as a broad secular trend. Well, all joking as side, Pat, you and I both know this as business owners, there's still a lot of paper floating out there. The document cloud is unquestionably the most renown cloud on the planet for taking physical documents and digitalizing them.
The PDF is one of the most utilized sources of unstructured data on the planet and it's also the way we tend to share contracts and documents and formalize relationships and that's Adobe. Then, of course, the biggest thing in about half the company's TAM is in its experience cloud. It's an analytics company. It's a customer data platform company and that's $110 billion TAM for the company by 2024 and they're seeing significant growth there.
On the back of this all, too, it's a heavy recurring revenue company. They've got big growth in their recurring revenue across all of their clouds. They've moved from perpetual licensing to recurring, so they're in all the right areas. You know their guidance, Pat, they got hit for this pretty hard, but they're targeting something almost to 20% growth next year. They're talking about the fact that they are coming. About half their revenue is done overseas, so they're dealing with FX and currency exchange and some issues with pressures on global currencies that could impact the company. They're going to have to adjust for that.
We're dealing with red hot inflation. We're dealing with interest rate potentially rising. We're dealing with a series of COVID that seems to just never quit. Then, you add all of that together with the fact that we're get this mega spending bill and tax impact and you start to wonder, will tech get hit? Accenture came out yesterday with numbers and they believe that enterprise spending on digital transformation is only going to continue to grow in 2022 and Adobe is really at the core of this.
While I never love to see guidance being more humble than discreet, I like companies being ambitious, they were barely less than what was expected. The sell-off wasn't about really anything Adobe did. I think the sell-off is just an overall negative sentiment towards tech and a uncertainty around what's going to happen with these macroeconomic issues. Adobe in the long run may have been a loser yesterday, but they're a winner in the long run.
Patrick Moorhead: That's so good. I use Adobe products every day and I think I probably have for the last 20-plus-plus years. Heck, I just wish my Adobe products weren't the products that are screw up me rebooting and constantly asking me to sign in. I think the story of Adobe as closer to Microsoft than probably any other company in that they were a software company, they had to make a transition so that they didn't get caught up and spit out in the Web 2.0 cloud transition. Yeah, I think they got unfairly beaten up in a horrible week on Wall Street.
As long as they keep driving to the cloud and driving to SaaS, this company is going to be okay. It would be interesting to see, you know…. An interesting tie-up to me would be Box and Adobe. I don't know, I'm sure that's been looked at before. Adobe probably thinks, "Hey, I'm just going to build potentially Box's capability." You now see Box with signature capabilities. They're building that out heavily, but anyways, interesting space, for sure.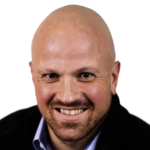 Daniel Newman is the Principal Analyst of Futurum Research and the CEO of Broadsuite Media Group. Living his life at the intersection of people and technology, Daniel works with the world's largest technology brands exploring Digital Transformation and how it is influencing the enterprise. Read Full Bio