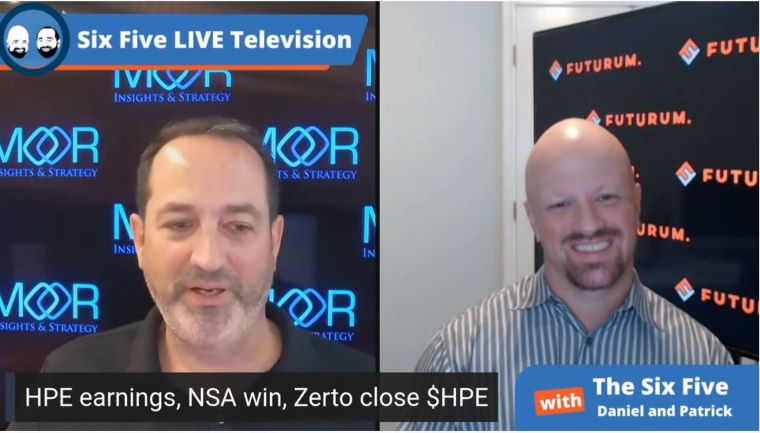 The Six Five team dives into the latest earnings report from HPE.
Watch the clip here:
If you are interested in watching the full episode you can check it out here.
Disclaimer: The Six Five Webcast is for information and entertainment purposes only. Over the course of this webcast, we may talk about companies that are publicly traded and we may even reference that fact and their equity share price, but please do not take anything that we say as a recommendation about what you should do with your investment dollars. We are not investment advisors and we do not ask that you treat us as such.
Transcript:
Daniel Newman: Let's talk about HPE. So couple of different pieces of news, we do cover earnings here on the show, it's the beacon moment of truth for companies, as you so prophetically say sir, on the regular, but not only did HPE have earnings yesterday after hours and we had the chance to talk to their CFO, get a little bit more insight from him. The company also announced a multi-billion dollar win from the NSA, that's pretty legit. And then closed a recent orchestration platform that had purchased Zerto all happening this week, big busy week for HPE Pat.
Patrick Moorhead: Yeah, it certainly was. And I think what we'll do is we'll, in true spirit of what we do, we'll chop up a couple of these. Let me start off with this NSA deal, so it's a $2 billion deal over 10 years, not a lot of detail, I'd be scared if we had a lot of detail because it's the NSA, but it's essentially an as a service high-performance computing deal. But the big picture here to me is two things. So first of all, as of service matters, because my guess is if HPE didn't offer this or Dell didn't, let's say have Apex, this would a hundred percent chance have gone to a public cloud player. I view this as a loss for an AWS, a Google cloud, an Azure, something like that. So I can't help but to think is this the beginning of the somewhat of equity between the public cloud and the hybrid as a service from the traditional players.
So interesting stuff out there and as I think you'll go through the earnings that doesn't necessarily show that now is the time for that based on revenue growth. But the other thing that related to HPE that came out this week, a lot of news, by the way, in one week, I think they could have spread it out there, was the closing of the Zerto deal. So Zerto is a cloud negative aware data protection and resilience that's going to get sucked right into HPE Green Lake, it's something you have to have. I'm just boggled at the speed of HPEs acquisitions and integrations. So from a revenue standpoint, they're a lot smaller than some of the other players. And early analysis that I made was I was very clear, it has to operate five to 10 times faster than Dell and Cisco and even Lenovo to make a difference. And the second thing they needed to do, and this was regarding Dell, was to have software capabilities that people actually wanted to invest in.
And I think that we've seen this, whether it's virtualized environments, containerized based, and then going to the app level where they added even to the vertical apps, like Epic for healthcare, that, how did they do this quarter, Daniel?
Daniel Newman: Yeah. So interestingly Zerto, I just want to make one last point then I'll jump in. I think there's a category here, how do you dump that in? Is it operations orchestration IT ops orchestra? I don't know. I just, I was thinking a lot about that as you were talking, what are we calling this?
Patrick Moorhead: It's in the storage area, data protection. Okay, DP.
Daniel Newman: Yeah. Just trying to give it, I want to, you know who we are, we like to give everything a label. Yeah. So HPE had a very interesting result this quarter, it came right in on the level of expectations. There's two converging forces in the marketplace. One is there's always that top-line number that everybody immediately looks at and says, how fast are they growing? And then there's the context. And I think I want to just quickly touch on both. And the top line, the company grew about 1% year over year. At first glance, people are 1%, is that exciting? Should I be happy? But first of all, company came in line, second of all, HPE and Cisco, and some of these big ITO, they were hit pretty hard by the pandemic, so this comeback it's supply chain impacted, it's return to work impacted.
Also, you've got a company that's in a business transformation, moving from big CapEx sales to more and more as a service revenues, so you've got these different forces going on. So at the top line, it's like, yeah, they're doing okay, but when you get underneath the surface, that's where I think the story about HPE becomes more interesting. There was a couple of encouraging top line data points like one their order growth is happening a lot faster than their revenue growth, order growth came in at 11%. Companies doing a really good job creating upping, their profitability was up year over year by 28%. So it shows they're operating very efficiently. They also mentioned during this earnings call that they're reinstating sharer purchases, which is always a good indicator that the company feels it's undervalued and it's going to start reinvesting in itself and support the investors that have stuck with the company throughout this pandemic.
From a business and operational standpoint, the core businesses are looking pretty encouraging Pat, you mentioned the $2 billion NSA deal, that's a lot of HPC that part of the business is seemingly been pretty strong. I think they're targeting over 8% growth. The other part of it has been really robust, has been the intelligent edge, that saw year over year revenue go up by over 20%, I think it was 23% in that business unit, one of the most encouraging year over year growth stories for the company. But let's be honest Pat, the whole story, the big kazoo was Antonio Neri in 2019, got up on the stage said we're going all in on everything as a service, you're all in again. That's great. Everything as a service and the whole company by 2022. Well, listen, we're in the eighth inning of 2021 now. So it's time to hold the feet to the fire. Did the company make this transition into 2022, and how is that going?
So to achieve the goals for revenue and growth, that nearly set out, the company needed to be hitting 30% to 40% growth on a quarterly basis, year over year. This quarter, it once again did do that, came in at 33%, so right in the range and maybe the look forward encouraging number Pat was the 46% growth in the, as a service order volume. They also have over 1100 customers now participating in this green light as a service ecosystem. And the contract value of this business has now reached over $5.4 billion. So for HPE, that's the number to watch, that's the story, growth in the edge, good, IOT, good HBC, good. But the whole foundation of the company going forward goes back to Antonio Neri's 2019 discover presentation where he said, we're going to be everything as a service in three years. Three years is coming, the numbers so far are encouraging, but again, 5.4 billion need to keep pushing that 30% to 40% growth over the next few quarters to show it's executing.
But it's been encouraging so far getting that top line back into seven, eight, 9% along, closer to where ISG from Dell is and where Cisco is, these last quarters, I think is going to be important to give confidence to the outsiders. But some of these numbers beneath that top line are the ones that those, that really Pat the company should feel encouraged.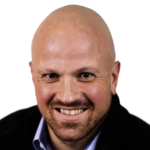 Daniel Newman is the Principal Analyst of Futurum Research and the CEO of Broadsuite Media Group. Living his life at the intersection of people and technology, Daniel works with the world's largest technology brands exploring Digital Transformation and how it is influencing the enterprise. Read Full Bio