Latest Earning Report from Salesforce
Latest Earning Report from Salesforce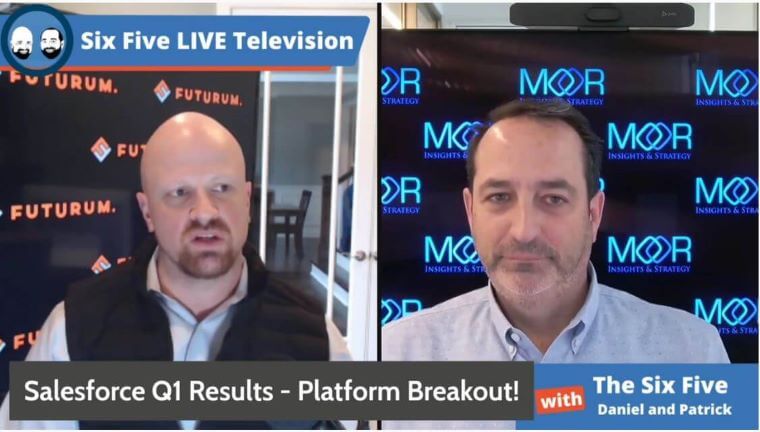 The Six Five team discuss the latest earnings report from Salesforce.
Watch the clip here:
If you are interested in watching the full episode you can check it out here.
Disclaimer: The Six Five Webcast is for information and entertainment purposes only. Over the course of this podcast, we may talk about companies that are publicly traded and we may even reference that fact and their equity share price, but please do not take anything that we say as a recommendation about what you should do with your investment dollars. We are not investment advisors and we do not ask that you treat us as such.
Transcript:
Patrick Moorhead: Daniel, let's move on to Salesforce earnings. With all of these acquisitions that they're doing, and all of this pandemonium. We know SAS is hot out there, because it's the easiest way for enterprises to get it through COVID. All SAS was hot, but were they able to start pulling some of these other company acquisitions and investments together?
Daniel Newman: You and I have been both complimentary towards Salesforce as one of the companies that originally really drove the SAS conversation forward. But I've also been a critic. Very notably at one time, I even suggested Microsoft could be gaining ground, and based on a percent growth of its SAS products, it has been. But you also have to remember, we had that same conversation about AWS and Google. Google is growing a lot faster, but AWS has a much bigger business. There's a similarity of what's going on here.
Their sustained growth is really going to matter. This quarter, the company delivered on the top line. It had a very strong beat on the bottom line. But what I was looking for, Pat, in the last quarter, I've been very focused on the company's Platform business. We're seeing a fairly consistent result coming out of its Sales Cloud and Service Cloud. Those are what I call the legacy core Salesforce products. By the way, they're growing double digits, still 11% for Sales, 20% for Service.
It's not slow, but its largest category is now what it considers Platform. Its two fastest growing are Platform and then it's marketing and commerce business. Not surprising that marketing and commerce is growing fast, following COVID and the whole stay at home trade. But the platform has been one of those things that's been a little murkier. After the Tableau acquisition, I raised the question, "Is this company going to go hybrid?"
Because it used to be the, "We love software," company. It used to be the company that did everything in the Cloud, software is easy, all you need is a web browser. Well, Tableau and MuleSoft are hybrid integrations. They're basically connecting data warehouses and sources to business intelligence and AI. It wasn't a straightforward thing. Going forward, that's where Salesforce really has had to work on building a platform to make its solutions more extensible.
And so, what happened this quarter, Pat, that's really worth noting is … The company, for the first time since the acquisitions of Tableau and MuleSoft, broke out those particular business unit performance for the quarter. What's interesting is of the 1.7 billion or so of business done in platform, a little over half of it was done by MuleSoft. Actually, sorry, a little under half of it was done by MuleSoft and Tableau. But this is what I was looking for. Are these investments paying off for investors and for its customers?
Well, Tableau came in at 394 million on a 38% growth year over year in this quarter. MuleSoft saw 380 million and 49% growth. My early inclination is, with that growth rate usurping all of the segments individually for Salesforce, is that at this juncture, these investments are paying off. The platform and the ability for customers to go hybrid and utilize these tools is clearly adding some net revenue expansion.
As I see it, what's most likely is their pure SAS and legacy customers are starting to adopt the hybrid tools and expanding. And it's adding revenue to existing customers. Of course, it also brought in a subset of customers, because you can still run Tableau on another system. And that's one of the things a lot of people maybe don't realize. You don't have to be a Salesforce user to be Tableau user.
But over time, I think it was always about extensibility. The only other thing I'll add, Slack deal is still out there. The Slack deal is a big deal. It's a $27 billion deal. Pat, I'm sure that was the thing you were waiting to see if I wouldn't talk about, so you could. I'll leave it there. I'll turn it over. It was a good quarter for Salesforce.
Patrick Moorhead: I have been impressed with the Salesforce's ability to rack it up, rack up the numbers. I really want to see post-COVID because, listen, was there a SAS property that wasn't hot during COVID? Name one. I can't think of any, so I don't think that's very special. I do think the Slack acquisition is going to be a bottomless pit, because if you are trying to separate chat from other things like productivity, good luck with that.
There was a reason that Slack allowed itself to be acquired. It's because they saw the writing on the wall with Microsoft. Now, it's up to Salesforce to put additive value against that. I would say beyond having a massive sales force, you have to become a productivity property. And I just don't know, I don't know how that works. Daniel. Maybe it's through APIs into Microsoft and into Google? But right now there's really only two productivity solutions out there.
And I would say three if we're counting Zoho, for smaller entities who are looking from top to bottom. Good luck. I think this is going to be a money pit, and they're going to have to keep on investing. But listen, for the sake of investors, I hope I'm wrong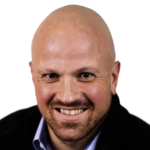 Daniel Newman is the Chief Analyst of Futurum Research and the CEO of The Futurum Group. Living his life at the intersection of people and technology, Daniel works with the world's largest technology brands exploring Digital Transformation and how it is influencing the enterprise. Read Full Bio