IonQ Scores a $20M UMD Deal
IonQ Scores a $20M UMD Deal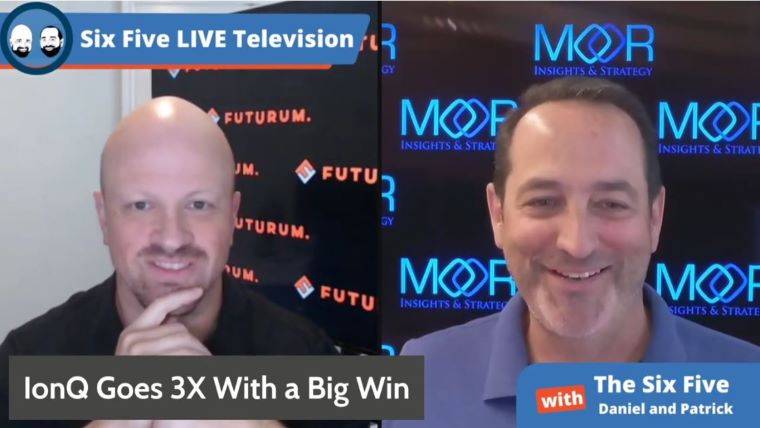 The Six Five team discusses IonQ scoring a $20M University of Maryland deal.
Watch the clip here:
If you are interested in watching the full episode you can check it out here.
Disclaimer: The Six Five Webcast is for information and entertainment purposes only. Over the course of this webcast, we may talk about companies that are publicly traded and we may even reference that fact and their equity share price, but please do not take anything that we say as a recommendation about what you should do with your investment dollars. We are not investment advisors and we do not ask that you treat us as such.
Transcript:
Patrick Moorhead: Let's move to a different type of compute and that is IonQ. IonQ scored a $20 million deal with the University of Maryland and then two days after, made an announcement that said they were tripling their order expectations for 2021. First off, I just want to say I'm kind of smiling because we hear often that there's no money in quantum yet. University of Maryland actually charges enterprise customers to come in and use their stuff. And they are known as the most lauded university for quantum in the United States. But I couldn't help but to grin when I saw the triple their order. And the reason there was a couple, that I talked to the CFO at IonQ and basically the reason there was a two day offset between these two announcements is that tripling of order is just not just University of Maryland. And he didn't say this, these are my expectations that we're probably going to see a couple more design wins, some revenue. This company is on a roll. A podcast that you and I enjoy listening to the All-In podcast. I think the word was quantum is uninvestible. I forget exactly which one of them was.
Daniel Newman: One of the moms that actually said that, but I could be wrong, but I think they all agreed actually.
Patrick Moorhead: Yeah. And it's funny. I was surprised to see at least one of them say that, the scientist of the group. But I think what they're disconnected from is first of all, none of them understand infrastructure. There's not a single person in the All-In pod who understands infrastructure. They all have their different swim lanes. You and I understand infrastructure. And when I see Google Cloud, AWS and Azure laying a bet on a company like IonQ without even having to understand how Paul Smith-Goodson, my quantum principle analyst, he understands it, but I don't understand it nearly as well. There's something that's going on there. Overall, this is good for the industry. I feel like right now, it's almost a three horse race between IonQ, IBM and Honeywell slash Cambridge. A lot of cool companies coming out with some different ways to skin this cat that I'm super, super excited about. One a note here I think in the next couple months, there's going to be a SPAC marriage between DMY and a IonQ. It'll be the first time that public investors can actually invest directly in quantum and $DMYI.
Daniel Newman: De-SPACing, will they be punished like every other SPAC on the planet? That's okay. Just think long and don't take anything we say as investment advice. Real quickly I'll touch on this because we got one more topic and we've only got a few minutes left on the show. Look, we are seeing a important marriage take place between classical and quantum computing. These things are not going to act independently for a very long time but the reason Azure Bracket, the reason Microsoft has put Azure quantum into the cloud, this is happening because there are complex problems that cannot be defined or solved using the current state of classical computing in a timely fashion. Companies like JPMorgan Chase have partnered with companies like Honeywell and they're making very large spends and investments. This isn't an uninvestible and nonexistent business. The problem is, is it is a business that is taking a very long time to mature, to reach critical revenue mass.
Some businesses are exponential growth. And so when VCs and venture capitalists talk about it a lot of times they're looking at what can go from zero to a billion in a couple of years. For quantum, this is one that is more iterative. The improvements are being made every year but there are architectural improvements. There's been huge movements in terms of the state quality and error ratios of the qubits in terms of their ability to stay in a useful state longer. And as that continues to happen, the problems we're going to be able to solve are going to become greater. And especially with the marriage with true cloud computing, that's where we're going to see value. IonQ here showed another win. Good for them. Good for the industry. Good for the state. Quantum is going to make a difference. Don't turn your back on it. Keep watching it, pay attention, more to come.
Patrick Moorhead: Good adders, Daniel. At some point we can get Paul on here to actually riff about the core tech, which just blows my mind.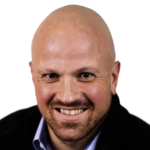 Daniel Newman is the Principal Analyst of Futurum Research and the CEO of Broadsuite Media Group. Living his life at the intersection of people and technology, Daniel works with the world's largest technology brands exploring Digital Transformation and how it is influencing the enterprise. Read Full Bio