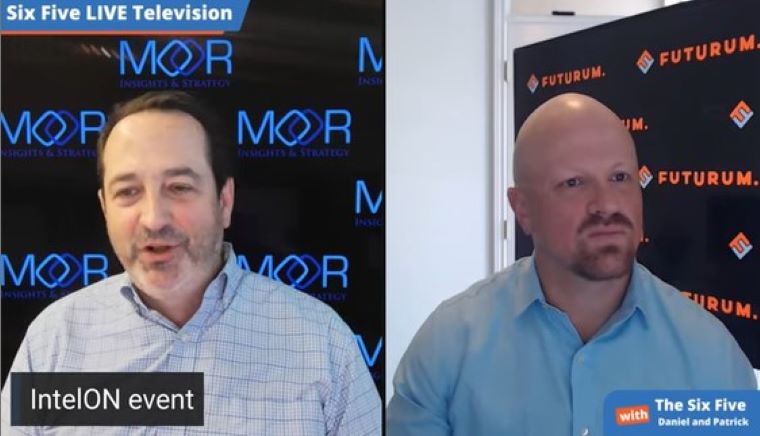 The Six Five team discusses Intel's event, IntelOn.
If you are interested in watching the full episode you can check it out here.
Disclaimer: The Six Five Webcast is for information and entertainment purposes only. Over the course of this webcast, we may talk about companies that are publicly traded and we may even reference that fact and their equity share price, but please do not take anything that we say as a recommendation about what you should do with your investment dollars. We are not investment advisors and we do not ask that you treat us as such.
Transcript:
Patrick Moorhead: Hey, so what is IntelOn? Years ago there was a staple in the developer community. It was called the Intel Developer Forum or IDF. I think I had personally been to 20 of them before as a vendor and as an analyst. But with Pat Gelsinger coming back on the scene, he thought it was very important to reach out to developers. And these are software developers, these are hardware developers, these are customers. Anybody who builds on the Intel platform. I think what I want to do is hit some of the hard news, but I need some time to look at what they did in software and their for profit cloud services that they brought up. But I will do that later. I'm just not going to do this right now. So first and foremost, Moore's law, Intel says is alive as well. And Pat Gelsinger, in the keynote, doubled down on five nodes in four, not five, I was mistaken, four years, right?
Thank you Daniel for correcting me on that. And they must feel very, very confident to double down on that. Pat told me some things in our NDA meeting that I can't share, but he definitely gave me confidence in that. And quite frankly, he's not in a position right now to say things that don't come true because of the push out of Sapphire Rapids. And by the way, that was another thing. I got the best explanation of what happened in Sapphire Rapids. And let me just say that it's a complex design. That design was locked in basically six years ago. So there really isn't a whole lot that Pat could do and come in and redirect unless you had a massive year push out. So I'm going to give him a mulligan on that one and put it under, not under his watch. I've been pretty harsh on the company for that because Pat came in and talked about a culture of accountability and execution, and I did appreciate him telling me the 15 things that he was either ahead of schedule on or meeting schedule.
Big announcement, the Intel ARC a770 consumer gaming GPU. Some people said it was never going to happen. It was going to get canceled. Well guess what? It's coming out, it's going to be available on October, and it's $329, by the way is a head exploder now. It is a hardcore, mid-range, probably aligns more with the NVIDIA 3060, but still, for your first out, top of the Stack graphics card. And I will do a victory lap here. Two and a half years ago in my first article where they announced this, I said it would be a strong midrange and people are like, Pat, you don't like Intel? I'm like, No, I'm realistic. When have you seen a first out architecture be industry leading? Never. So I also factored in one three month slip, which was there. And I also factored in AMD and NVIDIA's new architectures.
The final thing, I know I'm sucking a lot of oxygen out of the room, but it was an exciting event. Intel Raptor Lake, it's so funny, Pat got up and said, Well of course we were going to announce this here. And I was like, I was surprised. I thought it was going to be some sort of a, not a paper launch, but more a press release launch more at the end of October. But they said it's the best gaming and media desktop processor out there. 24 cores, up to 15% ST, performance improvement, up to 41%, multi thread.
And it's fun to see how those E-cores are helping it in the multi threaded applications, because when you think of E-core, you think of low performance, but these E-cores, which, by the way, are about 25% of the size of the P-cores, you can put a ton of those on your die and get really good media transcoding performance. Very clever who came up with this, but I'll leave it at there. It was a good event. Net, net. My confidence on Intel is higher than it was. Much higher than it was when I came in.
Daniel Newman: Like you said, the skeptics are out there. Intel is in a battle with the world right now to make sure that the world believes that it can execute on its vision. Now I tend to believe that the criticism has probably been a little bit overdone at this point, but again, this comes back to the general, more skeptical nature of the market right now. But again, Intel didn't get any real support, even when the bubble was exploding. I thought, Pat, we had a really great MBA session, so I can't say much about it, but I feel more informed now after having some time with CEO Pat Gelsinger about some of the things that I was curious about. I feel a little bit more optimistic. In terms of the announcements themselves, you did cover a lot of the ground. First of all, great.
I want to say this on a macro. It's great that Intel is refocusing on the developer. The fact that it had gone away from its developer forum, I think was a mistake. It was something that enabled companies like NVIDIA that got very focused on developers to actually win. And the AI battle got lost. By getting away from that developer ecosystem in an era where the developer is everything for building AI applications. I like Getty, this computer vision technology is simple coding. They brought a child on stage. Honestly, she's 18. She's an adult legally, but child, okay. I have a kid that's multiple years older, that is at least 50 years educationally behind this girl. She was brilliant, super smart, but they are building tools, technology for the AI developer that has a little bit of a knack to be able to build tools and technologies that work.
Love the Chipotle Dental, the ability to do something just as simple as using a camera to identify how many tomatoes or guacamole needs to be prepared and ready, and how much they're going through so they can optimize inventory. These are great utilizations of Edge AI applications that can be done right now. And Intel has the technology to do it. And I like that they showed a real pragmatic example. The GPUs, Pat, look, this is a huge opportunity for Intel. Execution, execution, execution. This is going to be, can they execute? You and I always say on the show, three is the best number. Three real competitors in any market. Well, for a long time in the GPU space it's really been two. So Intel is now entering both at an enterprise or data center and as well in the PC gaming and workstation with a GPU solution.
And they're going to build it out, if they can gain some market share. This is a growth area. And it would also be, said this in some of the conversations we had, Intel has never shown a lot of chops at market taking. Those have been really well at market taking from Intel, can Intel now come in and be a market taker? Can they go in and get some of this graphics business and actually grab it from the competition? Which maybe has shown some vulnerability, or maybe become a little bit arrogant during a period of time where it's been somewhat easy.
So those are the big things. The developer cloud is interesting. I need to spend a little more time getting underneath the hood there. Pat's five and four. Again, all about execution. I'm cheering for them. I'm cheering for Intel to do well. It's good for the US, it's good for the world. We need the competition, and we need, by the way, them to succeed in their process so they can succeed in their founder, which are going to be closely tied together, they're going to be able to do both all the way down to both their own processes, and then of course, building on ARM, Risk Five and other processes down the line.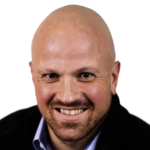 Daniel Newman is the Chief Analyst of Futurum Research and the CEO of The Futurum Group. Living his life at the intersection of people and technology, Daniel works with the world's largest technology brands exploring Digital Transformation and how it is influencing the enterprise. Read Full Bio