Intel Set to Spin Off Mobileye
Intel Set to Spin Off Mobileye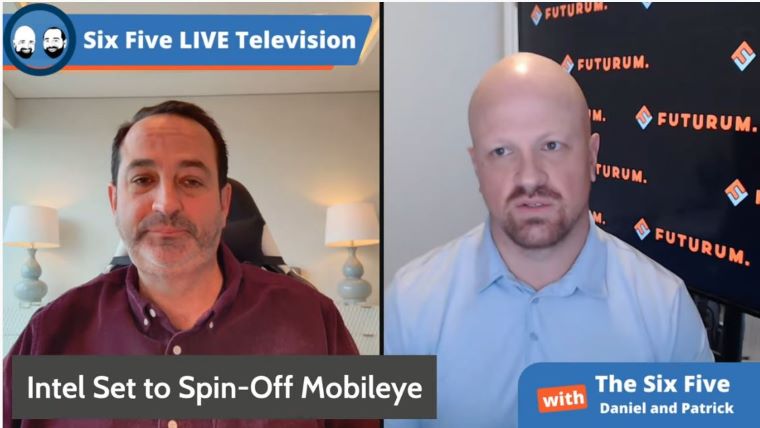 The Six Five team discusses Intel's intent to take Mobileye public.
Watch the clip here:
If you are interested in watching the full episode you can check it out here.
Disclaimer: The Six Five Webcast is for information and entertainment purposes only. Over the course of this webcast, we may talk about companies that are publicly traded and we may even reference that fact and their equity share price, but please do not take anything that we say as a recommendation about what you should do with your investment dollars. We are not investment advisors and we do not ask that you treat us as such.
Transcript:
Patrick Moorhead: Hey, let's move to the next topic. Intel is not spinning completely out. Not completely spinning off, but they are setting up what I guess I would call a tracking stock. Correct me if I'm wrong here, Daniel, what are they doing?
Daniel Newman: Let me sort of break this down. This is an interesting play in an era of companies seeking to aggressively unlock value that is within the deeper walls of broader technology offerings. We recently saw what Michael Dell did in a very sophisticated instrumentation of value for a shareholder spinning off VMware to bring a ton of capital into the company, improve the company's debt structure after many years.
And some people may have looked at it negatively, but it was definitely a positive. Then you have Honeywell recently taking its quantum business, which was essentially adding nothing to the share price, but is a really interesting technology. And they took Honeywell Quantum, combined it up with CQC and created a new company that they're going to be the majority owner of, by the way.
And now you're hearing what Intel's doing. And Pat, here's what's going on. And I think you and I know this, you got to talk to Pat and the CEOs of both Intel Mobile. I had a chance to talk to pat that day. We both had a whole bunch of media and people were asking us, this is what we do.
And so what essentially is going on is you've got a red hot automotive space right now where the share prices are absolutely roaring. I mean, Tesla's forward earnings versus Intel's is something like 13 times. Put it this way: Intel is just over 10 times trading forward earnings. Tesla's trading at 130 plus times forward earnings.
It's not just them though. You look at Rivian's IPO. Rivian's worth more than $100 billion. You've got Lucid Motors, barely sold a car yet, under the investigation of the SEC, and peeking out a valuation od up above $70 billion market cap. These companies became worth more than companies like GM in a matter of weeks.
And it's all based upon this trend towards autonomous and electric vehicles that has the market so excited. Well, in the future, Pat, by 2030, the bomb of an electric autonomous vehicle is going to be something around 20% semiconductors. So you've got a company like Mobileye, which different than Lucid and Rivian, actually has revenue, has customers, is shipping units, and is profitable.
And you say, "Well, it's locked within this Intel construct." And right now Intel has been somewhat kept in the penalty box for a long time because it is in a major transition to its IDM 2.0. It's trying to transition to its new process, it's new packaging. It's trying to win in areas like AI.
It's trying to protect market share. And all the while something like Mobileye that just announced shipping it's 100,000,000th IQ. It's building a entire system though. So it's not just the chip. It's the safety, it's the policy, it's the mapping. Robotaxis. They acquired this company Movelt.
And so here's what I think, Pat. I could talk about this for half an hour, but I'm going to kind of make it short and give you a chance to bounce on this. One is essentially they have a $50 billion, maybe even $100 billion market cap company that they spent $15 billion on less than five years ago, locked inside of the company, returning probably pennies on the dollar to shareholders.
And they say, "Hey, there's another way to do it. Let's spin this thing out. Let's raise a bunch of capital. We can reinvest that capital that we don't need but would help us. We can reinvest it to move IDM forward, get these fabs going, get these process and hire more engineers."
At the same time, if this thing goes from $50 billion at IPO to $200 billion and we're the number one shareholder in this entity, we win, we win, we win, we win. And Intel, this is an area the company's doing really well. And so you can challenge a lot of parts of Intel's business, but Mobileye has been extremely successful operating mostly autonomously, a lot like VMware , Pat.
So I like the deal. I like whatever you want to call it, it's a spinoff fish, but it's definitely not going to be part of Intel corporation and the INTC ticker anymore. And I think that's good for Intel, it's good for shareholders, and it's good for people excited about autonomous vehicle technology.
Patrick Moorhead: So I need to start off with a rant here. Essentially, we're all okay that Wall Street is lazy. The Wall Street analysts are lazy with Intel. All of the companies that you cited and all the value, by the way, I don't even think you mentioned Tesla.
And yeah, I get that Tesla isn't the core technology company, but essentially they're doing ADAS right now, L2 Plus, and Mobileye is actually in many more cars than that and has a killer roadmap. So this is them being lazy. It's, "Hey, oh gosh, I can't break out and evaluate this business because I'm lazy," or, "I don't know how to do this."
And I think that's completely ridiculous. So this is why this is happening because Wall Street analysts are lazy. The company was already very much separate, exactly like you said. I felt it. I mean, trying to get an answer on something. There were small parts of bigger Intel stories, but they did that…
I give credit to Intel. I think more things they've operated like that versus sucking in companies have gone much better. And as you said, what I did pick up with my discussion with both Pat Gelsinger and Amnon was I came in thinking focus, which was Intel has to do this because they need more focus on their core businesses.
And I think the two of them probably talked me out of that. And maybe I should have known that going in, given that they were separate. Pat was very clear with me that when it comes to supply chain and things like that, they will very much be leveraging Intel.
Let's put aside kind of the nightmare that's out there right now with supply chain moving forward. But I did get the sense that Intel has helped Mobileye get supply that it may not have been able to receive before. And that that's going to continue in the future.
Gelsinger didn't say this, but to me I was picking out code for IFS. That Mobileye will be an IFS customer, for sure. And the type of Silicon I think would be great to prove out because Mobileye Silicon is very much like a lot of the rest of the world and new customers that Intel would want on top of Qualcomm and Amazon.
So the one thing we forget too… And how hard is it to evaluate this company when you have there? My rant just continues here. The other thing I'll say is that business has tripled in revenue size. And by the way, is four times bigger on a new basis than Qualcomm and NVIDIA. I don't know.
Daniel Newman: You're talking about just the automotive, by the way.
Patrick Moorhead: Just the automotive part. Anyways, my apologies for the rant, but it just seems like laziness. And I don't want to say, oh, this is part of the deconstructing of these huge superpower companies with big businesses inside of them. It's Wall Street laziness.
Daniel Newman: Yeah. I know we don't like the boomerang. We got to keep moving. I'll just say one thing. There's a little bit of the laziness in there. There's a little bit of it makes it really hard when you have such a gem locked into a company that's going through a longer transition.
So I've been very vocally supportive of Intel's longer term transition. I think the company's going to do okay. But you look at, like I said, how do you make it investable? People want to invest in autonomous vehicle companies. They may or may not want to invest in chips for PCs.
So you give them the option to make that investment in the one growth area they're excited about. You're totally right about the laziness, but the other side is I think it's a smart financial engineering by Intel.
Patrick Moorhead: Well, here's the thing, Intel never hid the profitability of Mobileye. They reported all the way down, gross margin, percent. They told everybody their financials. So unlike other companies that bring companies in, they hide the financials in order to invest, Amnon was very clear with me, "No, we were profitable when we were bought/purchased. We are still profitable today."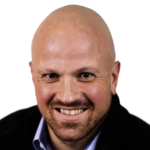 Daniel Newman is the Principal Analyst of Futurum Research and the CEO of Broadsuite Media Group. Living his life at the intersection of people and technology, Daniel works with the world's largest technology brands exploring Digital Transformation and how it is influencing the enterprise. Read Full Bio