Intel "SCIP" Fab Co-Investment Program
Intel "SCIP" Fab Co-Investment Program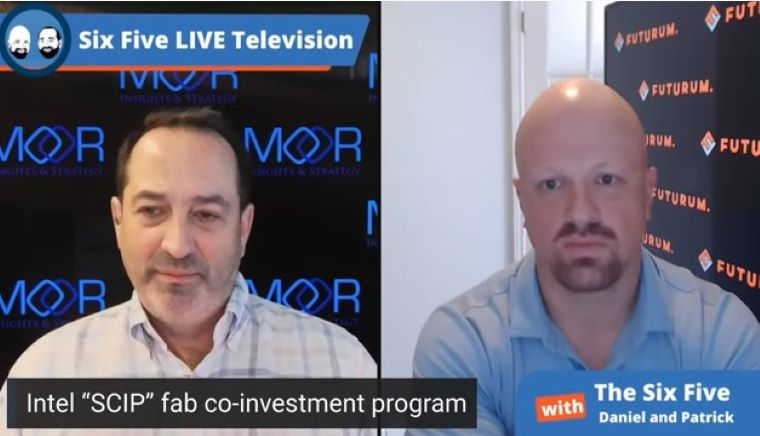 The Six Five team dives into the Intel "SCIP" Fab Co-Investment Program.
Watch the clip here:
If you are interested in watching the full episode you can check it out here.
Disclaimer: The Six Five Webcast is for information and entertainment purposes only. Over the course of this webcast, we may talk about companies that are publicly traded and we may even reference that fact and their equity share price, but please do not take anything that we say as a recommendation about what you should do with your investment dollars. We are not investment advisors and we do not ask that you treat us as such.
Transcript:
Daniel Newman: Intel. Mr. Gelsinger, David Zinsner announced a big new initiative, Smart Capital program. Talk about it. What does it mean?
Patrick Moorhead: Yeah. So I got a chance to talk to Intel CFO David Zinsner before the announcement went out just to make sure that I understood this, because we like to talk about chips because chips are eating the world. But let me step back here. Intel, since Pat Gelsinger came back on the scene, really doubled down at being a manufacturing powerhouse. There were some questions with the prior CEO on whether they would spin that off some way, shape, or form, but Gelsinger came in and just doubled down on it.
And there was the moniker of the overall strategy, which was called IDM, which stands for integrated device manufacturer 2.0, which said that not only was Intel going to double down on its own fabs, it was going to work with other foundries, but everybody had the big question of, "Well, how is this going to get funded?" So we saw what happened with the CHIPS Act, not only in the United States, but also in Western Europe. That's one source of funding. But what about the rest?
Well, Intel came out with SCIP, which stands for Semiconductor Co-Investment Program. It is a partner model very similar to what we see in energy when they're building things like nuclear power plants, dams, and hydroelectric power plants. And what they've done is, Intel has partnered specifically on the Arizona fab. This is a $30 billion investment with Brookfield Asset Management, their big alternative asset manager, and they will provide 49% of the funding and Intel will provide 51% and have a controlling stake, and they're going to share, right? It's basically a rev share, which those terms are not known yet.
But here's all I needed to know, which was the rate… There's multiple ways to get funding. You can pay for cash. You can get debt. There are different ways to do this. You can do it with equity, and you can do a JV, like we have here. So this is lower than Intel's weighted average cost capital. And essentially, you don't need to have a finance degree to understand what that is, but it's essentially an internal rate, a hurdle rate that looks at how you do financing in type inside of your company.
So this is actually a good deal because it's lower than the weighted average cost capital, probably north of debt, but it's accretive as well. So I think this is brilliant. I think this is expected. And when you're making $200 billion in investments, you just can't do it alone. So hats off to the team at Intel, brilliant deal. It hasn't closed yet. It's supposed to close the end of 2022. I don't know why it takes that long, but it does. Interesting to see how that works out.
Daniel Newman: Yeah. This was a big one, and there was a lot of news this week. And as we said, there's a lot of earnings that were talked about in this… I think it got good coverage, but maybe not as much as it maybe deserved. In the wake of the CHIPS Act, there's been a lot of attention now towards, how are we going to get all this manufacturing underway? There's also a lot of attention towards Intel as to, now that this money's coming in, how does the company keep on its path? You mentioned IDM 2.0.
Intel has no ambition of not being ambitious, meaning their intent is to, yes, expand capacity, manufacture more, become a leading foundry here in the United States, but concurrently, it wants to regain technology leadership. You will not hear Pat Gelsinger tell any different story. And while there's certainly speculation as to how big the foundry opportunity might be and there's speculation as to how difficult it may in fact be to catch up on process and gain leadership back, there has been no sign of slowing.
Well, as we all know, it's an incredibly capital-intensive business that Intel is in. And for the company to be able to, A, keep its focus on the technology leadership while, B, concurrently making these mega real estate investments of building these facilities and then taking on the responsibility financially and as a participant in the national ambition of bringing more chip manufacturing here to the States, access to capital is going to be key.
So this kind of goes back, in my mind, to when they brought David Zinsner into the company. He worked at Micron as a CFO there, and everyone knows that memory is one of the hardest businesses. It's got some of the lowest margins in semiconductors. Price elasticity is much lower than in… Had a monolithic and higher-end chip designs. And he was known for being a very creative CFO. And right now, that is exactly what Intel needed was someone that could think beyond traditional levers that are typically pulled by a financial leader and could really be a partner to Pat Gelsinger to basically enable him.
So this particular idea may take some of their winnings out later by taking and de-risking, but at the same time, it's going to give the company expansive capital resources now and over the next few years when the company really needs it. And I think if you're in the market, you're looking at the company, it's been pretty beaten down by the market. Creating and having free cash flow, which Intel's balance sheet is much healthier than the stock price would indicate, and two, being able to put that capital to work to achieve its IDM 2.0 strategies to be able to regain that process leadership and be able to put all the investment needed to speed up the operational capabilities of becoming a leader in the categories it's chasing after. This is going to help.
And that's it. That's how I see it. This is going to help. It's a move. It's a smart move. And I'm cautiously optimistic that this is the kind of thinking the company is going to need to regain the leadership it's chasing.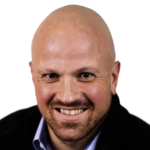 Daniel Newman is the Principal Analyst of Futurum Research and the CEO of Broadsuite Media Group. Living his life at the intersection of people and technology, Daniel works with the world's largest technology brands exploring Digital Transformation and how it is influencing the enterprise. Read Full Bio