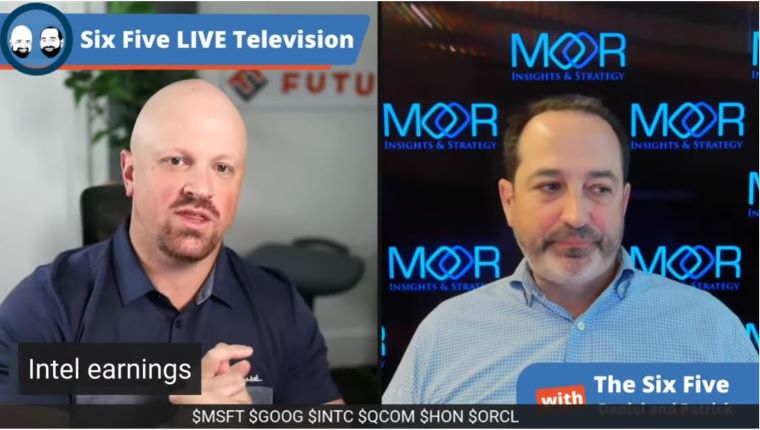 The Six Five team talks about Intel's Q1 earnings.
Watch the clip here:
If you are interested in watching the full episode you can check it out here.
Disclaimer: The Six Five Webcast is for information and entertainment purposes only. Over the course of this webcast, we may talk about companies that are publicly traded and we may even reference that fact and their equity share price, but please do not take anything that we say as a recommendation about what you should do with your investment dollars. We are not investment advisors and we do not ask that you treat us as such.
Transcript:
Daniel Newman: Let's talk about Intel. Where do we start, Pat? Where do we start with Intel? I guess, I can go first. The company had a beat on top line, company had a beat on the bottom line, but their guidance, which by the way, was what they've been telling people it would be all along. In fact, I think it very slightly improved margins and actually guided towards that, and yet the streets sold as if they were getting some sort of new news. The company also changed the way it breaks down its categories of revenue, and there were some reporters that seemingly didn't understand that either, and were misreporting that their data center business wasn't growing, when in fact, it actually had a very nice quarter.
Patrick Moorhead: Exactly. Yeah. It was that whole network and edge group that they pulled out of.
Daniel Newman: Right?
Patrick Moorhead: Yeah.
Daniel Newman: I read a couple, I don't know where they are and I'm not calling anybody in particular out, but let's just say ,it was an indication of speed over assessment or analysis, Pat. So, you and I are all about speed and analysis, we get our stuff out fast, but we try to get it right, and getting it right is really important. And so, I think there was a number of people on the street that thought that they'd missed on the data center. I mean, look, the PC business is down and Pat, you alluded to something when we talked about Chromebooks earlier, that low end of the market is slowing, the education buying, the low end discretionary buying of cheap PCs in the homes. That stuff is going to slow, and by the way, with no stimulus, no free cash, less liquidity in the market.
That's the area, Pat, that I personally am looking at and saying, that's going to get slower first. But, I think there's been a lot of hyper focus on that with Intel, for a long time, and people are not looking at the parts of the business that have been performing extremely well for the company. DCAI business, that network group in its own, I think grew that 5G network group had about a 23% growth, 22% in the data center. Mobileye's doing great, unfortunately, or fortunately, depending on how you look at it, that thing's going to IPO out on its own. But that's going to be good for Intel, at least momentarily, and they're still going to hold a significant piece of that business too, going forward. Chip demand… You and I talked about this with TSMC last week, we'll talk about this with Qualcomm in a little bit, chip demand's high in data center and an enterprise 5G connectivity, that's strong.
The PC market has been hot, hot, hot for quite a while. Intel has its challenges. AMD has been very good, we can't knock down AMD for that. But, the actual size of Intel's business and the market share it still has, including in their PC business is palpable, and it's significant. And, I don't quite understand. It's not about having a limited… It's almost like no appreciation for it, and that's been interesting to watch. Pat's been very vocal, he's made… Pat Gelsinger, not Pat Moorhead, although you've been very vocal too, has been very vocal about the plan. His strategy has been well articulated, there is a horizon there and I think Pat, if I had to assume… And again, don't make any decisions based on our advice, but I think a lot of the market just feels like they have time with Intel.
I think the market thinks if they execute this thing could run, but it's going to be two or three years. They got to get these fabs built, they got to get these next generation architectures, they got to get all these new process technologies set up, eat these higher costs. They need to show that they can get this boundary business running, and if they do, we can do it, but we can come in a year or two. I think that's what a lot of their, the funds and those that are going to really drive this stock up, big buyers, are waiting on the sidelines and watching. I think Pat said all the right things, but it goes back to his say, do thing. He said all the right things, they're doing the things, but now they got to get it done.
Patrick Moorhead: Yeah. That's good analysis there. I think, it was all about the Q, it was all about Q2, right? Because they beat on the top, they beat on the bottom. They stuck to a full year commitment, but investors just, they just don't believe it, right? There wasn't enough belief that they could keep that annual guide down. Now, we're going to have to see from Dell and HP and Lenovo, how and if Shanghai's hitting them, because at least according to Intel, they got hit with, essentially the Shanghai flu. And, we've seen pictures of all of the ships that are not getting in or out of Shanghai in there, and it's a pretty simple equation. You can't get materials in, you can't get materials out, you can't create PCs. You're going to run into trouble.
One thing though, just drilling on some of these businesses, really good data center number, right? 22% increase, the company talked about hyperscale as being one of the biggest drivers that makes sense. With hyperscalers it's kind of feast and famine. But, one of the bigger things was that really looking at hyperscaler and the enterprise, and typically you don't get a two-for there, right? It's either going to be enterprise or it's going to be hyperscaler. So, I think it's really good news for Intel on that. Here was the crusher, right? Essentially, multiple things hit on clients. On a unit basis and revenue basis, Intel had really been cleaning up on the bottom end. They have a ton of supply that they can basically give better deals and lower prices than AMD on the low-end, where AMD is fab constrained at TSMC.
So, Intel was pumping all these 10 nanometer into low-end PCs, and in Chromebooks. Also, and this is very interesting to me, they brought up Apple as a driver for the Mac Books, and I think this is the first time I had actually seen this on a piece of paper from the company. Danny, you talked about people confusing things, right? Network and edge used to be part of the data center group, and it got broken out, what, two quarters ago. But these are… I mean, look at those numbers. Revenue up 23%, primarily on the back of networking, and what a lot of people don't know is that Intel has a very robust networking and edge group. Think of edge as all the compute and all the connectivity that you need on the edge, and whether that's Mac, whether that's even things like on-prem video trans coding for things that don't necessarily make sense in the big cloud or the big data centers, really, really good.
I'll finalize in a couple comments, Mobileye was only up 5% and I dug into that a little bit, and it really was a tough compare. A year ago with Mobileye, there was this huge, I wouldn't call it post COVID boom, but we were literally, the auto industry was shut down for six months. Remember when we couldn't get chips, even Biden was visiting and talking to TSMC and Intel about, "Hey, how do we shore this up?" And a year ago, Mobileye had such a good quarter that it was really just a tough compare. Really good to see IFS showing revenue, albeit lower than any of the other Intel, business is 175% growth and a couple hundred million dollar business. But all in all, I think investors might be waiting for risk to clear up.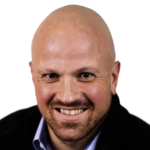 Daniel Newman is the Principal Analyst of Futurum Research and the CEO of Broadsuite Media Group. Living his life at the intersection of people and technology, Daniel works with the world's largest technology brands exploring Digital Transformation and how it is influencing the enterprise. Read Full Bio