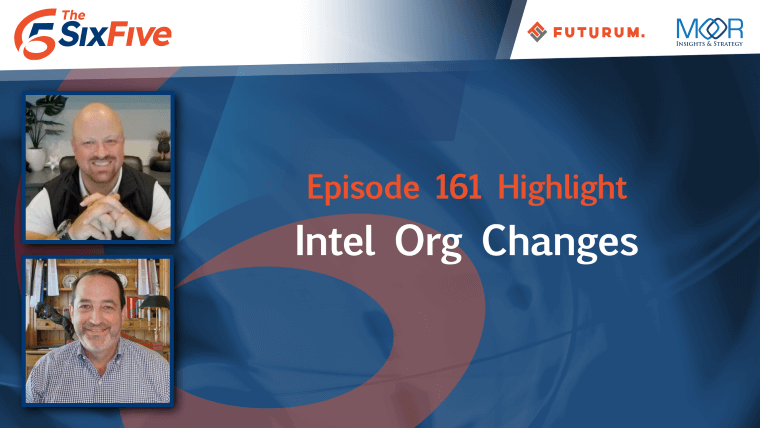 The Six Five team discusses Intel organizational changes.
If you are interested in watching the full episode you can check it out here.
Disclaimer: The Six Five Webcast is for information and entertainment purposes only. Over the course of this webcast, we may talk about companies that are publicly traded and we may even reference that fact and their equity share price, but please do not take anything that we say as a recommendation about what you should do with your investment dollars. We are not investment advisors and we ask that you do not treat us as such.
Transcript:
Patrick Moorhead: Intel is in the midst of a five-year transformation led by CEO Pat Gelsinger and transformation is short for a lot of things are going to change, big time. Intel took a two and a half year lead in process and turned that into being behind for two years and the rippling effect that that has on every design out there. When you start a design and every chip you have to target a certain process and what happens if you can't meet that process is you have to back port and the hardest part about an SOC, if you want to keep the same size of the SOC, you have to shrink the core IP. So let's say, instead of having 30 cores, you can only have 20 cores to stay in the same size. So that rippling effect has hit Intel and given companies like AMD and potentially Qualcomm, the capability to come in and it has made it harder for the company to directly compete with NVIDIA on GPU and AI.
Okay, I know that was a long intro but it's important to know where we're going here. I believe that the company does have the right strategy and part of that strategy is called IDM 2.0. IDM is Integrated Device Manufacturer and that means you have your own fab and you do designs. But IDM 2.0 with the Intel strategy is also was opening up a foundry and what that is being able to manufacture chips for the likes of AWS, Qualcomm and even NVIDIA. Heck, NVIDIA is actually signed up to Intel Foundry Services in the RAMP-C program for the Defense Department. So, the news is that Intel put Stu Pann to lead that. I've known Stu Pann since 1995 when he was my sales guy for Compact Computer. And yes, I've aged myself and no, that was not my first job. So you can get an idea of how old Pat really is.
I know, I've followed Stu's career at Intel, where he was essentially the guy who was in charge of all pricing allocation and making sure that the company met the quarter, he was in that job for 15 years during the glory days of Intel. He then went and ran procurement for HP for a while. So he's not only done the chip side but he is done the customer side and now Pat has put in charge of the entire operation. It signals to me that – say it's a growth statement. Stu Pann is not the guy that's going to figure out the next node himself, but Intel has tens of billions if not hundreds of billions of dollars in investment to help figure it out. So it's going to be important that Stu has the right team around him do that. But Stu knows how to ring that bell and I am expecting him to do just that.
Now, customers that have already signed up, Media Tech has already signed up. There's this stealth cloud customer who they can't give the name. I think it's probably Azure. AWS has already signed up for packaging and Qualcomm has been discussed and I think if Intel can hit the 1.8 nanometer or 18 Angstrom, Qualcomm will be a customer too. So good luck Stu with that.
Second announcement. Raj Koduri. I worked with Raja when I was at AMD. He was in charge of graphics architecture, then he ran the graphics business at EMD and then he went to Intel to essentially start the discrete graphics business. He cranked out a ton of parts with his team on the consumer side, on the workstation side and also on the data center side. Did a lot of work, but it was time for Raja to try something new and he's going to be CEO – I actually talked to Raja this week about what he's doing. I'm going to leave it up to him to provide the details because quite frankly, I don't know what's public and what is not. But good luck to Raj on everything and hey, if you need any help with that, there's two analysts here who are open to help.
Daniel Newman: And there you have it. You covered a lot of ground there Pat. I think another question that comes out of this with Stu is what's going on with Tower. I think that'll be an interesting thing to keep an eye on. I think that acquisition still happens and I think it's going to be important for the future of Intel. I do agree with you. I think the IDM strategy remains correct. I think there's some indirect reasons it's very important and direct reasons. Keeping a fully integrated manufacturing operation here in the US with all the things going on with CHIPS Act is going to be something I think Intel is going to be able to parlay long term. I do not think we've heard the last about CHIPS Act and I do not think that the importance of manufacturing more leading edge note here in the US and within what I would say are ally countries is going to be important.
And Intel has largely been the most willing to raise its hand to take on that responsibility. So this makes for a big role. You mentioned a lot about who the players are, which companies could potentially be using IFS, so I won't dig too much deeper into that one, but I think kind of making note that there is a massive business opportunity for Intel to play the ally to all of its competitors. All the companies that have been essentially accused of taking its market share potentially or could end up coming back to Intel to actually build the chips that they're going to need to continue to grow. And I've always really liked this strategy and why? One is because I think TSMC has some vulnerabilities and of course with everything going on in Taiwan, those vulnerabilities continue to grow even larger despite its pretty successful capabilities of executing on its roadmap.
The other side of that though is this gives Intel a chance to make money on all sides of the chip manufacturing process. They can make it for their own designs and they can manufacture, which is important as I mentioned, but if they don't win the design or they aren't winning on the actual leading edge, if they can show and prove that this IFS business can be successful, that it can deliver on that roadmap and be a facilitator of manufacturing for those other companies, Intel can win either time in when it's their own chips or when it's someone else's chips, Intel can still be monetizing and making money and of course being a part of a very significant long-term political agenda here in the United States. So I don't know Stu as well as you do Pat, so I thought you covered that pretty well, but I did want to add a little bit of color there-
Patrick Moorhead: It was fun, I actually had a very adversarial relationship with him when he was at Intel. I turned my product line, I was a product manager, a group product manager from a hundred percent Intel to 85% AMD.
Daniel Newman: That's one way to make friends in this industry.
Patrick Moorhead: Oh no, no, no, I know. No, we laugh about it now, but that's kind of very respectful relationship both ways.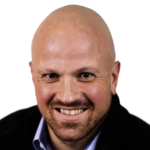 Daniel Newman is the Chief Analyst of Futurum Research and the CEO of The Futurum Group. Living his life at the intersection of people and technology, Daniel works with the world's largest technology brands exploring Digital Transformation and how it is influencing the enterprise. Read Full Bio