Intel Investor Day and Tower Semi Acquisition
Intel Investor Day and Tower Semi Acquisition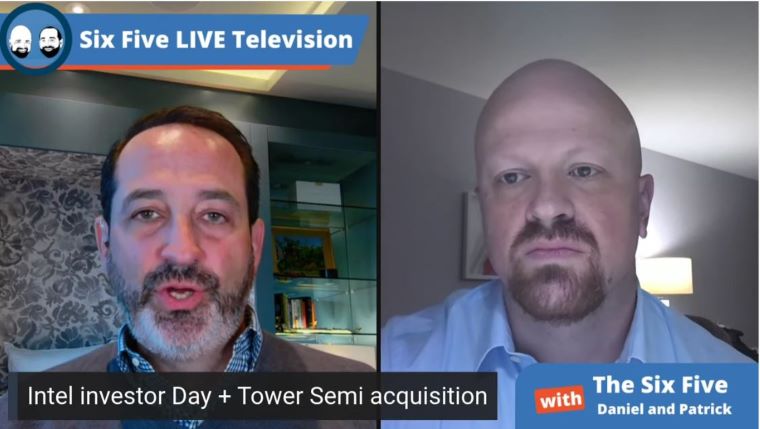 The Six Five team dives into Intel Investor Day and the Tower Semiconductor acquisition.
Watch the clip here:
If you are interested in watching the full episode you can check it out here.
Disclaimer: The Six Five Webcast is for information and entertainment purposes only. Over the course of this webcast, we may talk about companies that are publicly traded and we may even reference that fact and their equity share price, but please do not take anything that we say as a recommendation about what you should do with your investment dollars. We are not investment advisors and we do not ask that you treat us as such.
Transcript:
Daniel Newman: We've got Intel's investor day.
A little story about Alphabet that I just thought was so interesting I forced you to talk about it with me, we were going to talk about earnings from Cisco and NVIDIA and Lattice Semiconductor. And we're also going to wrap up and talk a little bit about AMD as well. So Pat, we've got a lot to cover. Speaking of Pat, we had a high energy Pat Gelsinger yesterday, leading Intel Investor Day. So we've got kind of a twofer here, Intel's Investor Day, and they made a huge acquisition announcement that fit their Investor Day this week, Pat. Both probably have a lot to say, but you get to go first.
Patrick Moorhead: Yeah, so let me do it in chronological order here. So earlier this week, Intel bought a small foundry called Tower Semiconductor. And for those of you who aren't familiar with vernacular, foundry is just a fancy word for a chip factory. And I think the reason we call them foundries instead of factories and gives them a fancy name is because these foundries can cost up to $10 billion a piece. So maybe they deserve their own name.
But essentially this is following on the strategy of Intel to become an end-to-end foundry partner. And what do I mean by that? So what it means is to be put in the position where they could make any kind of chip under the sun, whether it's RF, radio frequency that requires certain technologies like silicon on insulator as a material or doing photonics that requires technologies like silicon germanium, high performance silicon germanium, and quite frankly, that don't require leading edge nodes.
And if you look at what Intel's capabilities are, it's leading if not bleeding edge nodes and technologies. And whether that's RibbonFET 20 angstrom nodes and everything in between, that's actually perfect for the highest performance computiles. And if you compare that to what Tower offers is think of RF that are inside of every smartphone, every PC, anything that's connected wirelessly requires an RF module. And that just requires a specialty type of technology and specialty type of process. Sensors, visual sensors, heat sensors, radio activity sensors, those are all the types of things that Tower manufacturers.
And this one is just extremely straightforward here, but as we saw yesterday, and I'll go into some of that analysis a little bit later, it definitely folds into the Intel financial plan really well in that it is going to be a accretive on day one, at least at the non-gap EPS level. Not necessarily in the gross margin because the gross margins aren't that good compared to what Intel does, but on the EPS line, it will absolutely bump it. It was a tuck in. I mean, when you're a company like Intel, 5.4 billion is a tuck in. Expected close, 12 months. Tune in for more details. So let me shift to the Intel Investor Day. Daniel, you spent eight hours, nine hours-
Daniel Newman: Fourteen.
Patrick Moorhead: Fourteen hours doing it. I think I spent four hours online with one break, but you can go read the news. I mean, I'm literally just going to go through my opinion and my analysis of this. So, first of all, I still think Intel's strategy is the right to strategy. High performance computing is what it does with leading edge nodes. Don't yawn when I talk. Come on.
Daniel Newman: Did that happen?
Patrick Moorhead: It may have. It may have been a ghost. This is premium content, dude.
Daniel Newman: This is premium content. It's still 5:00 AM though.
Patrick Moorhead: Yeah. The strategy high-performance computing, regardless of what kind of chip it is, CPU, GPU, ASIC, whatever it takes. Plus, building the foundry, which provides scale and enables the company to amortize their factory assets better than just being an IDM. So execution came across, and we had heard Pat Gelsinger use the word groovy in execution style. What I'd like to see is, they need to reinforce the say/do ratio. Daniel, you and I have talked about this with other companies. I give Jim at Lattice, he kind of burned this into my brain when I met him, when he was at AMD, current CEO of Lattice.
Daniel Newman: I think it was a great articulation of open in what they did. It was like, wow, this is really good. And when you add that to IFS to what they're doing in software, which was a shot across the bow to NVIDIA with CUDA without actually using the word CUDA, they got their point across. I did like the difference between core markets and growth markets. No yawning, stop that, stop, get more coffee.
I'm not yawning.
Patrick Moorhead: This is good content.
Daniel Newman: Keep going, this is great.
Patrick Moorhead: Now, what I'm looking forward to is, Pat said that they were going to break out the six businesses in crazy detail. I literally want to see how much money, for example, they're losing in graphics right now. I want to see the crazy profitability that they have in Mobileye. And I'm hopeful that maybe Wall Street gives them a second or third… Look, I'm going to leave it at there because I've already talked for like four minutes. If you want to see my best analysis, go on Twitter. I haven't written anything up yet.
Daniel Newman: Well, you had a nice piece on the Tower deal for everybody and you can catch that on Forbes. And listen, I'm going to touch on that really quickly. I mean, that was pretty straightforward, Pat, the Tower, deal pretty straightforward. You want to have a foundry business, you can't miss 30% of the market. I mean you can, but when you're doing it, Intel is trying to do it and trying to say, "Hey, we are offering a genuine alternative here on US soil in Europe, and then of course across Asia." You have to be able to handle those old lagging nodes that by the way have been a huge strain on our supply chain. So if Intel's going to be part of the solution to the longer term resiliency of the manufacturing of chips, handling that whole mix is going to be important to the company.
Having spent the day, I did all the breakouts in the morning as well as listening to the sessions in the afternoon. I thought Pat did a really good job. He was super energetic. You could see his passion coming through. I think that's been pretty evident from the beginning with him, you know he loves this job. He certainly is a believer. He was going into these breakout rooms with the execs and we'd be asking the execs question and Pat would jump in and be… I mean, he was just like, he wants to be out in front of these people, and I really admire that. I think the say/do thing that you mentioned is so important. I just think the street is going to wait until some of these things have come to fruition before they're going to reward Intel and Kelleher, their EVP on the process side was reiterating in the session, parody by 24, leadership by 25.
I think that's really what the market's waiting for. The problem, of course, is that Intel and its shareholders and its board are probably going to be a little frustrated if the price doesn't budge over the next couple of years. But having said that, showing growth in all these areas, retaining market share, slowing down some of the bleed in some of the areas, server, PC, where AMD have been so strong making headway in AI, the mobile ideal and what ends up happening there, I think it'll give a short term jolt. And of course, Pat, I think I'll end on saying, you and I both came to the conclusion that IFS could very well be another spinoff business if it grows big enough, fast enough, you got TSM getting a 30 time multiple, 30 X forward earnings, whereas Intel's getting 10 right now.
And just as a little perspective, and we'll talk about NVIDIA later, but Intel is, it's hard to not see it as value and being somewhat unappreciated. It sits at 10, it's trading at 10. I mean, basically the market is saying there's not a lot of confidence in its execution. And I'd say the more I listen, the more you'd say it's hard to not believe Intel's going to be able to turn a corner here. I think you've said 23, Pat, is the year you really start to see maybe this starting to materialize, a lot of this stuff. So I think that there may be a little bit of a delayed, but it seems to be going in the right direction. It was a positive day.
I'd say about 90% of it I'd heard in some capacity. So most of it was kind of like little bits of addition here and there, but good to hear from the leadership. And by the way, their new CFO really sharp, really, really sharp. And talking about how to squeeze another point of margin out. Well, I've seen how the streets responded when margins compress. So if they can get another point out of it through creative financial leadership, it could be really big for the company.
Patrick Moorhead: Yeah. And, can I clarify just one thing?
Daniel Newman: Yeah.
Patrick Moorhead: 2023 is where I see the product where they get access to TSMC chiplets. So not necessarily financial, mostly from a product competitive standpoint.
Daniel Newman: Okay. No, thanks for clarifying that. I just, I remembered you saying that. So I was-
Patrick Moorhead: So you actually do listen to what I say. Oh my gosh.
Daniel Newman: I listen, I might be yawning, but I still hear you. Listen, there's just the… My body's reaction to this time, for whatever reason, I can't make myself stop yawning. I'm chugging hotel room coffee. I mean, this is the best I could do.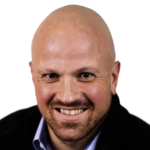 Daniel Newman is the Principal Analyst of Futurum Research and the CEO of Broadsuite Media Group. Living his life at the intersection of people and technology, Daniel works with the world's largest technology brands exploring Digital Transformation and how it is influencing the enterprise. Read Full Bio