Intel Gives a Sneak Peek of its Intel Arc A750 & A770 Desktop GFX
Intel Gives a Sneak Peek of its Intel Arc A750 & A770 Desktop GFX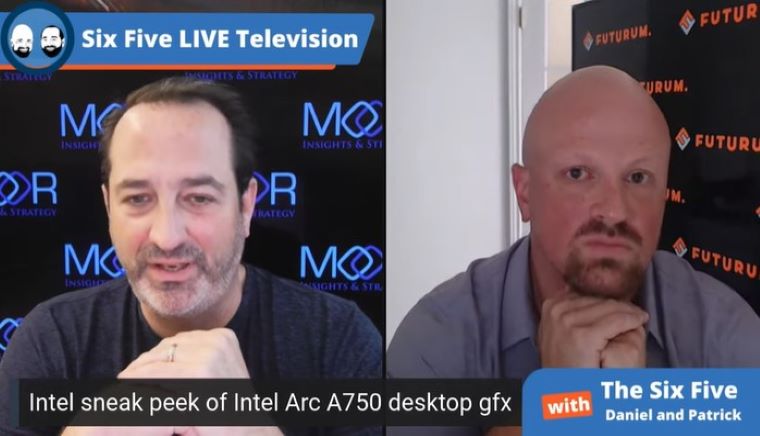 The Six Five team discusses Intel's sneak peek of its Intel Arc A750 & A770 Desktop GFX.
Watch the clip here:
If you are interested in watching the full episode you can check it out here.
Disclaimer: The Six Five Webcast is for information and entertainment purposes only. Over the course of this webcast, we may talk about companies that are publicly traded and we may even reference that fact and their equity share price, but please do not take anything that we say as a recommendation about what you should do with your investment dollars. We are not investment advisors and we do not ask that you treat us as such.
Transcript:
Patrick Moorhead: Intel giving a sneak peek of its new desktop Intel Arc A750 gaming. I want to do a build here. I want to build up. So there's two different types of graphics when it comes to computers there's integrated and those graphics are smaller, a little bit less capable, more power efficient that sit inside the SOC. And then there are discreet, which is could be a giant PCIE card or a slim PCIE card that goes into desktops and workstations. Intel is very much a player in integrated. In fact, the latest JPR had Intel is the market share leader at 60% of the overall graphics market, including discreet and integrated.
But in Q1 '21, Intel had a whopping 0% market share for discrete desktop and workstation graphics. And in comparison NVIDIA right now has 78% market share and AMD has 17%. So how big of a business is this? So for NVIDIA, it's about $4 billion a quarter. So let's say $16 billion. And then let's add 20% to that. Let's call it a $20 billion market between AMD and NVIDIA. So this is a brand-new business that Intel is getting into. And quite frankly, that's the way that I look at it is, is this net edge. So what Intel did is they gave their first sneak peek out there, Intel's Ryan Shrout did a video on this kind of showing how their 750 did in direct X12 on certain benchmarks. And from that you gain the positioning:
First of all, it was against the NVIDIA.3060. And that is at Best Buy it's a $399 card. But what it showed was that the A750 outperformed the 3060 by about 15% on direct X12. Actually, five game GME was 13%, but I'm liking the way that they're putting this information out, because quite frankly, if they did a normal product launch, not a normal, but a traditional. And they put the big dog at the top, which is the A770 and it didn't beat the 3090 or something like that from NVIDIA.. People would be like, "What's wrong with you Intel?"
So what I like about this is they're showing their positioning. They're taking control of the messaging that goes in there as opposed to doing it the way that companies have done the past 20 years. Ryan and Tom Peters, also did a pretty fun video with Linus that I thought was, by the way, he's always entertaining, that showed how good the performance was on direct X12, but it also showed the work that Intel has to do with ISVs on direct X11.
So that was another thing to learn and to know that when you're looking at benchmarks Intel and the ISVs are optimized for direct X12, and not yet direct X11 and makes total sense because Intel just got into the discrete gaming business. So I believe Daniel, that healthy markets always have three competitors and strong competitors. And it's funny, markets with only two strong competitors we see pricing dominance and pricing power, and quite frankly, a lack of competition and a little bit of innovation.
I'm not saying that NVIDIA. and AMD are innovating and pushing it. But do you know the last time that NVIDIA. brought out a new consumer discrete graphics card, it's been a while. Okay. And where did NVIDIA. put their brand new architecture? They took it to the data center, not to the gamers. So I'd like to see Intel be a strong player in the market. I think that's good for markets. Markets of three are better for consumers and we'll see better innovation. And exactly, as I said three years ago, Daniel, I said Intel, their first out will be a strong mid-range. Now mid-range is more like $150. And $399 is kind of the bottom end of premium. But they're exactly where I thought they would be.
Daniel Newman: Yeah. It's interesting Pat, I love what you said about the three, because that's really what I think we are looking at here is Intel has identified that there's a clear market opportunity to play a meaningful part in this graphics game, AMD and NVIDIA have sort of controlled the market. The competitions both entertaining, unlike CPUs, the fan, I'll call them the fan people to be a little safer today, tend to be on sides. And it's only those two sides.
Patrick Moorhead: Red team and green team.
Daniel Newman: Red team, green team. And it's going to be very interesting to see if there becomes, would it be a blue team? Because it's not that Intel's been completely out of this business, but hasn't ever really created that sort of affinity that the others have created. And now, as they're really putting the full court press into their discreet graphics business for desktops and client, and then PC, you have to think that this is seen as a major market opportunity for the company. And if you look at Pat Gelsinger's whole strategy, breaking this out, creating it more as a division. I even know Pat, in our case in AR we're getting someone dedicated to focus on this, which haven't had in the past. So I haven't spent as much time in it as you, but the real question for me is the market ready for a third competitor?
And if so, how quickly can Intel scale this up and start to really become red team, green team, blue team. It sounds to me from your assessment that this is something that has some legs, but the question now is you got to go on the sub stacks you got to go on the Twitters and you got to see someone going to start tweeting blue team anytime soon. Having said that, I know this is an important project to the company. I know that there's a lot of investment going on behind it. And hopefully over the next 12 to 24 months, the revenues start to show that the adoption is growing.
Patrick Moorhead: Yeah. And I guess my macro thing, I'll just end a little boomerang with don't judge the company's progress in totality with their first announcement, give it a few years. That's the patience that I'm taking and you know what they did exactly what I thought they would do. They're going to have a strong mid-range even when NVIDIA comes out with their new stuff.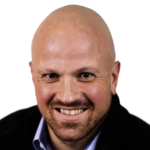 Daniel Newman is the Principal Analyst of Futurum Research and the CEO of Broadsuite Media Group. Living his life at the intersection of people and technology, Daniel works with the world's largest technology brands exploring Digital Transformation and how it is influencing the enterprise. Read Full Bio