Intel Earnings; IFS Snags MediaTek as First Wafer Customer
Intel Earnings; IFS Snags MediaTek as First Wafer Customer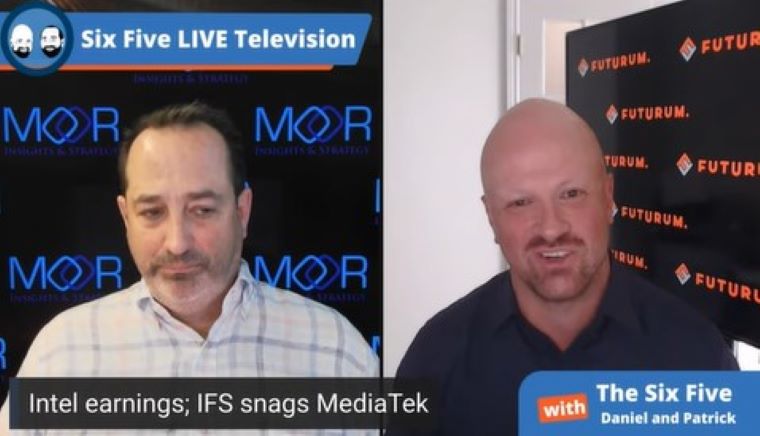 It's The Six Five team's favorite time of the quarter: Earnings Palooza! Hosts Daniel Newman and Patrick Moorhead discuss Intel's latest earnings report.
Watch the clip here:
If you are interested in watching the full episode you can check it out here.
Disclaimer: The Six Five Webcast is for information and entertainment purposes only. Over the course of this webcast, we may talk about companies that are publicly traded and we may even reference that fact and their equity share price, but please do not take anything that we say as a recommendation about what you should do with your investment dollars. We are not investment advisors and we do not ask that you treat us as such.
Transcript:
Daniel Newman: Intel. So first of all, let me just say this. I don't think Intel's results surprised very many people. I think there was a pretty good sense in the market. Intel has benefited from some of the circular tailwinds over the last several quarters, but even when those circular tailwinds have been in place, hasn't necessarily seen the same growth. Pat Gelsinger has been a bold, charismatic outspoken leader.
He's pushing on the CHIPS Act, which that was a silver lining in its passage yesterday. But I mean, Intel missed with a significant amount, 29 cents versus 70, which was what was expected on their earnings. And they came in light by almost over 2.5 billion, 17.9 was the estimate in 15.3. The company basically came out and said there was some significant economic headwinds that were sudden and meaningful and had a big contribution.
The company saw its margin shrink considerably quarter over quarter, I think 50% a quarter ago to 36, which is a huge decline. In any one quarter period you had a 22% revenue decline in the quarter. And they said the sudden and rapid decline in economic activity was the largest driver. But I give credit because they didn't just put all the blame on the external.
And I think it would've been really hard to put all the blame on the external when you saw Apple beat and you saw Qualcomm beat and you saw what we talked about with Alphabet, Microsoft, Amazon all having good quarters, different businesses, different businesses, but they all had good results. So it's not like the whole economy declined. Effectively and like I said, I'll let you do more of this Pat, the PC declined in a big way.
And the companies continued delays in their DCAI business, that business keeps changing names, but the DCAI business which their newest generation chips have been slow to get out the door. And so that has been a consistent issue over several quarters for the company. And now you're hearing, you're hearing Microsoft going in with ARM, hearing Google going in and the alarm bells are sounding a little bit. That doesn't mean that Intel can't recapture.
Intel is an absolute treasure in terms of technology innovation, R&D and leadership here in the United States. But we are seeing times change. And so the company's got to put more pressure on, they've got to get more aggressive to hire and find the right people. And by the way, I'll let you go through your tweet because your tweet was killer Pat. And I'll just end here. There were some silver linings, it was not… Like I mentioned the CHIPS Act.
They're seeing the network and edge business perform particularly well. You're seeing the companies Mobileye business, which again, they are planning to spin off, but they're holding tight to that. And I could see that holding on for another year right now because they're not going to IPO it in this current economic climate. So that business is growing substantially for the company.
And I guess I'll say some of the commentary from their CFO and from Pat Gelsinger was that they think this is sort of more or less the bottom. So big decline. If you believe in what they're saying, if you believe in the vision of Pat and his leadership team, this could be sort of that inflection point for the company, but they have a lot of work to do. They're going to have to prove a lot of people who are using this particular moment as a I told you so. But with the products on the horizon in areas of investment with the focus on the CHIPS Act, the company does have some tailwinds but execution still Pat is going to remain key.
Patrick Moorhead: Where do I start?
Daniel Newman: I left the whole PC thing for you because I figured you'd want to…
Patrick Moorhead: No, listen, there's a ton to talk about. I think those with experience in the industry understand exactly what's happening here. And I think there are a lot of people who are completely missing what's happening. You can't do anything with a broad brush here. First off, Intel has two core businesses, PCs and the data center. And that is where most of their revenue and most of their operating income comes from. And so you have to separate the two.
I was only surprised by one. I was completely unsurprised by the PC market. Why? Both IDC and Canalys were very clear. There was a 15% decline. So at a minimum, you would expect there to be a 15% decline on the PC group, but there was 25% decline in that revenue. Well, here's the thing. Remember when all the OEMs, all the PCOEMs were bellyaching about inventory? Guess what?
Intel delivered, Intel spent extra money to fire up their fabs to supply their customers, the PC makers who wanted more chips. Demand went down and what did those OEMs do? They burned down that revenue. So you have a 15% reduction, you have your customers burning, 25%, that is not an execution issue in CCG. So that's what's happening. Should Intel have stiffed its customers and not given them the chips when they asked for it? I don't know, maybe, but then they would've been persecuted for not taking care of their customers.
So we're going to see with Lenovo, with HP and gosh Apple down 10% on MacBooks, but we'll see how everybody… I have a seeking suspicion that the HP numbers won't be great because they're very closely correlated to the consumer market where there is waning demand. Now let's talk about the other giant business. I was very surprised with DCAI. There was a little inventory burn, they're getting trucked by AMD.
And I'm expecting AMD numbers to be phenomenal when it comes to the data center. Not too sure on AMD's PC numbers yet. They're very highly indexed to the consumer market as well. But there was also Sapphire Rapids, they had to do a full metal spin to take care of some security issues. These were the execution issues that Pat Gelsinger was talking about, which was that chip never should have made it this far in for those issues.
You have one set of customers who don't run the… I don't know exactly which software set it is where there's security issues, but it is shipping Sapphire Rapids to customers that don't run in a specific environment. That's it. And then the other businesses, network and edge, Mobileye like you said, record revenue in both, graphics was up 5%. That is really surprising to me. But I think that has a lot to do with inventory channel fill.
And quite frankly, I don't think they sold a lot of discrete mobile parts. There's not a whole lot that are out there right now. And if they did, they're the lower end, right? They're three series. So where does this leave investors? And again, I'm an industry analyst, not an equities analyst. I don't have a Series 7. I'm not allowed to give investment advice, but here's what I think everybody needs to look at.
First of all, does Intel have the right strategy? Do they have the right people and culture? Are they targeting the right markets? Do they have the right roadmap? Do they have the right technology? Do they have stickiness outside of all those related to customers and channels? Will they make enough profit at it? Can they execute? I feel very confident about one through seven, the right strategy all the way, can they make money at it?
I think IFS is a winning strategy. I think they're in the right markets. I mean, I will debate anybody anytime and maybe I'll learn something and change my mind, but not so. I do think we will have some people that will be replaced at Intel based on the execution issues. Pat Gelsinger when he came in was very clear. We're going to be a culture of execution. We will find the right people.
And by the way, that's Fortune 500 cloak-and-dagger speak for I'm going to get rid of people who aren't executing. By the way, very Lisa Su-ish by the way and very old Intel-ish. Gosh, remember the time at AMD quite frankly, a lot of the Net-Verse team after AMD came in and took 30 points of market share, they were all gone, right? Replaced by the Israeli team. But the only thing I'm not sure of is execute. I don't know where… I would need inside information to be able to provide you my… I would have to see Gantt charts. So I don't know, but it will be very evident very soon their degree of execution. And in DCAI with Sapphire Rapids, they kind of blew it.
Daniel Newman: That one was hard. I'm telling you, we got a lot of ground to cover, you did a great job.
Patrick Moorhead: One more thing. I think this MediaTek win for IFS is big. Now it's more of lagging edge, right? Intel 16, which means it's probably TVs and maybe some lower end tablet parts. But MediaTek is the fourth largest semiconductor company in the world and this is a big volume customer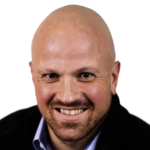 Daniel Newman is the Principal Analyst of Futurum Research and the CEO of Broadsuite Media Group. Living his life at the intersection of people and technology, Daniel works with the world's largest technology brands exploring Digital Transformation and how it is influencing the enterprise. Read Full Bio