Intel Delivers Mixed Q3 Results
Intel Delivers Mixed Q3 Results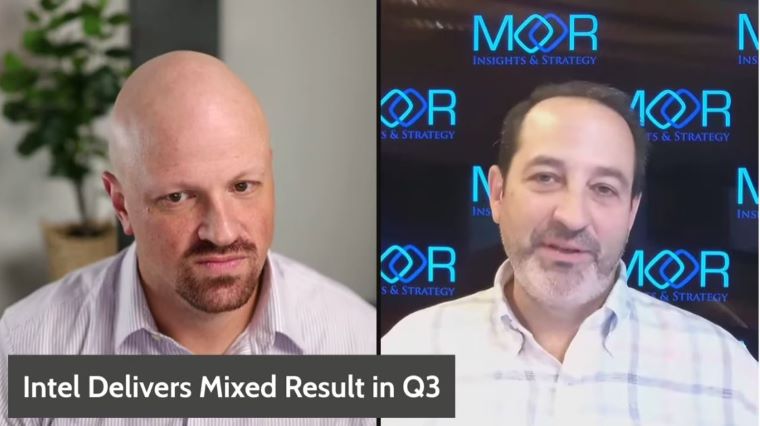 The Six Five team discusses Intel's mixed results from Q3.
Watch the clip here:
If you are interested in watching the full episode you can check it out here:
Disclaimer: The Six Five Webcast is for information and entertainment purposes only. Over the course of this webcast, we may talk about companies that are publicly traded and we may even reference that fact and their equity share price, but please do not take anything that we say as a recommendation about what you should do with your investment dollars. We are not investment advisors and we do not ask that you treat us as such.
Transcript:
Patrick Moorhead: Daniel let's jump into Intel Q3 results. And by the way, judging by the pre-market the company did not fare well last night, but I have to tell you, I don't fully understand this one, my friend. And maybe it's because I'm looking at the long ball, but I think one of the biggest things that hit was the realization that making $20 billion in investments might actually cost the company. And CapEx was put in there and margins that were in the low 50s. Now, most people recognize Intel in being in the mid-60s,. But here's the thing, folks. Over time, you invest your CapEx. It goes against cost of goods sold, and this stuff is expensive. And we also had the CFO who has decided to retire. I can never remember his last name, but his first name is George. And I recognize him as George because he used to be Qualcomm's CFO. And it's interesting.
Daniel Newman: George Davis, Pat.
Patrick Moorhead: George Davis. Thank you. But anyways, George had a reputation for being a cost cutter. It's funny. I had some people say, "Hey, all CFOs are cost cutters," out there on Twitter. Well they are, but CFOs need to be aligned with their CEOs. And I don't believe the previous Intel CEO was going to be spending $20 billion on fabs. In fact, I believe he was likely leaning in the direction of getting out of fabs. And then Pat Gelsinger came in and it's a whole different ball game. But net net forecast, plus gross margin pressure, plus probably a couple other things you're going to talk about, Daniel, is weighing very heavily on the stock right now.
Daniel Newman: Yeah. The company had 10 straight quarters of beating revenue expectations. And this was the first time in those 10 quarters the company came up short. And I think, largely, the demise of Intel has been pretty overstated. But the standard that Intel is held to is a different standard than every other company in the chip space. Their results are scrutinized at a different level, and any result that's not terrific seems to get met with a whole lot of negativity. So there's a lot of bare sentiment, and you can probably attribute some of this to the rapid growth of Lisa Su and AMD, Jensen Wong and Nvidia. People seeing that this fabulous process, of course, Qualcomm has had good numbers, too. But this whole approach that all these fabulous chip makers the years have had has been exponential. The growth has been exponential and their stocks have been rewarded for it.
Intel is the incumbent. Intel is the company that held massive market share. Intel is the company that everybody was set out to beat. And for the longest time nobody could do it. And now you're starting to see small bits of market erosion. In the client it's been more substantial. On the data center side it's been a little slower, but that started to happen, too. And even though Intel still has really great market share in all these areas, the fact that people are starting to eat off of their plate has not been well received by the market. Now, if you look at this quarter, CCG, now there's a couple of factors at play. We're starting to see PC demand numbers. There's more question, for the first time since the pandemic, of whether growth and the TAM expansion will continue. Our friends at IDC have a very small upward adjustment over the next few quarters for the year. And Gartner is saying it's going to start to contract.
Now again, I actually tend to believe these secular trends are going to be sustained. And that growth for PCs will continue. That there is more growth than is being explained, but then there's other pressure. So CCG again was down after having a really great 30 plus percent quarter last quarter. But the other thing you've got happening is Apple numbers are rolling off. So Apple, if you actually take out year over year for Apple, which we've already baked into the company's valuation, it would be up probably high single digits because Apple had a significant amount of revenue they just got pulled out of that number. So there's a lot of factors there. And of course, supply constraints. All I'll say is for both CCG and DCG, the data center and client group, is that going into the next quarter, when we hear the earnings next week is, if the other fabulous chip makers have great results, this is going to not bode well for Intel.
But if the supply constraints are held true and the other companies validate this by having slower growth, it doesn't have to be no growth, it's just slower than what they've had the last few quarters, I feel like this will be validated that Intel's still on the right track. And remember, they still grew year over year. There's a lot more I could talk about, Pat. I want to just make one point to one thing, because we could spend 20 minutes on this topic alone and we just don't have that kind of time here on the Six Five.
There's some really good adjacent businesses at Intel. The Mobileye business has had a multiple record quarters, which means they've got some really good play heading into the automotive ADAS, and they've added Robo Taxi technology, which is pretty exciting. And then the IOT business just hit a billion dollars. It had a 54% year over year growth, Pat. So not everything's bad, not everything's gloomy. You mentioned those big investments. That's going to take some time. I'm confident in the long run that Intel's got a lot of the right pieces in place. And, of course, the bet on Pat Gelsinger, I think the consensus is that was a good bet. It was about as good as they could have done with a CEO, but the next few quarters are going to be very telling.
Patrick Moorhead: Yeah, it's hard to believe they beat on EPS by 54%. Now they missed revenue by 1%, but there's even some debate about, where has that consensus come from? Did it include NAND or didn't it? But anyways, we will see. Down 10%, that's pretty rough.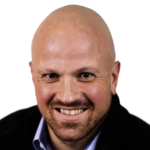 Daniel Newman is the Principal Analyst of Futurum Research and the CEO of Broadsuite Media Group. Living his life at the intersection of people and technology, Daniel works with the world's largest technology brands exploring Digital Transformation and how it is influencing the enterprise. Read Full Bio