Intel Announces Plan to Build Chip Manufacturing Complex in Ohio
Intel Announces Plan to Build Chip Manufacturing Complex in Ohio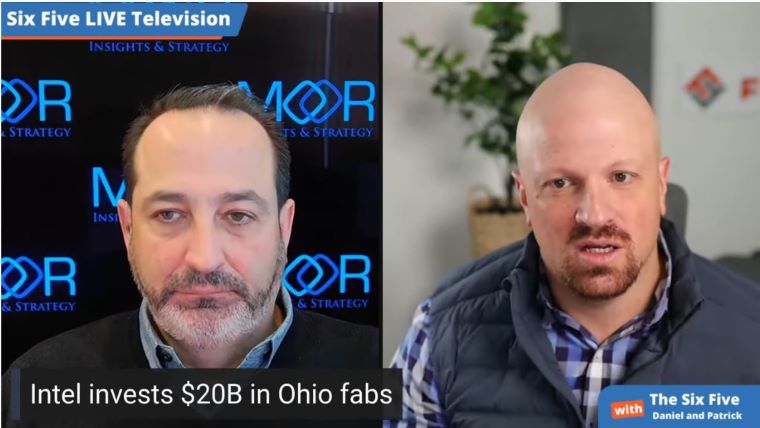 The Six Five team discusses Intel's plan to build a chip manufacturing complex in Ohio.
Watch the clip here:
If you are interested in watching the full episode you can check it out here.
Disclaimer: The Six Five Webcast is for information and entertainment purposes only. Over the course of this webcast, we may talk about companies that are publicly traded and we may even reference that fact and their equity share price, but please do not take anything that we say as a recommendation about what you should do with your investment dollars. We are not investment advisors and we do not ask that you treat us as such.
Transcript:
Daniel Newman: Hey, Pat, so this morning, Mr. Pat Gelsinger jumped onto CNBC. There were some rumblings of this throughout the week, but that at Intel had made the commitment to build its next super leading edge fab in Ohio. That was some really big news. I believe it's a hundred billion mega fab, is what they're saying. It'd be the world's largest chip plant is what Gelsinger said.
I mean, obviously, Pat, let's just talk about this in the big picture. Over the last two years, we've heard endlessly about the supply chain shortage. Now this was not strictly a shortage based upon failed supply chain efforts and endeavors and management and offshoring. It also had to do with unprecedented demand that was brought on by a combination of COVID and web evolution, cloud computing, futuristic vehicles that are all using more and more semiconductors. And so, we say semiconductors elite the world.
This is a true story. We did not make it up. The growth is real. The PCs are still humming. Mobile phones are humming, automobiles, but everything that needs chips. We saw issues on the leading and the lagging edge. So that was one storyline. We also saw this shortage could arguably be caused by the fact that we had moved from about 37% of chip production here in the United States to around 12%. As that number came to fruition, we realized that maybe we had a little bit of problem that we moved too much offshore too fast.
As everyone from the Biden administration, to leaders in the semiconductor space around the world were evaluating the circumstances and the situation, everyone said repatriation is going to be the key. TSM's building fabs in Arizona, as is Intel. You've got Samsung building fabs, Pat, right outside our beautiful hometown here in Austin. Now Intel's going to continue to up the ante. It's going to spend more money and build more fabs in Ohio, which is very interesting. A job creator, a hopeful improvement of resiliency in the supply chain. A big investment and expense desire to compete.
Intel's been a bit under fire. It's done a little bit more work with fabless, but also people questioning its next technology, will it be able to catch up on process, with TSM and all the fabless, Qualcomm, AMD? Even Tesla and Apple, all of which building on fabless. And so, there's a lot of statistics and numbers coming together here. But I think Intel has been very committed, it's IDF strategy, it's founder strategy, it's IDM strategy, being a company that's not only designing, but also manufacturing.
Full stack has been very important to Intel and has been very important to Pat's narrative coming into market. I will say, my immediate take is interesting destination. Want to see all the details from a standpoint of what tax breaks, benefits? What was the final selection? It seems interesting that Ohio was the final selection, but it's also good to see it distributed across the US because much of it has been here in this South and the Southwest, Pat. But it's good news for America.
Patrick Moorhead: Wow.
Daniel Newman: That was only like two minutes.
Patrick Moorhead: No, solid ending. Good for America. No, that's exciting. Listen, two fabs, both in Ohio. $20 billion, big investment. I grew up in Ohio, Daniel, and the region was decimated by a loss of jobs in the '70s and '80s, automotive, steel, overall manufacturing, heck, tires. Believe it or not, a little bit over a hundred years ago, Ohio used to be the tech epicenter of the United States. Sorry, not a hundred years ago. Yeah, yeah. A hundred years ago, when Wright brothers, Thomas Edison, heart transplants, believe it or not, ball bearings was a huge mechanical… NCR.
NCR, my first employer in Ohio, spawned Thomas Watson. In fact, the word firing comes from when Thomas Watson left NCR. They had pushed his desk out the window and set it on fire for all the employees to see what happens to employees that leave NCR. But that's a long time ago. Now it is one of the fentanyl capitals of the world. Heroin addiction is high. But back to the show. I left there in 1995 and never looked back. Why? No tech jobs. I mean, the weather sucked, but no tech jobs.
My biggest question here, Daniel, is you don't just go and build a factory, okay? This is not building a factory for the pillow guy, okay? This requires a very high propensity of PhDs. It takes about 500 very unique suppliers that are going to have to set up shop there. The reason that people re-up in fabs in Arizona, and New York, and Austin is because all that stuff is set up. The ecosystem is there. There is not an ecosystem in Ohio for this. So maybe, just maybe.
But the last time I did a one-on-one with Pat Gelsinger, he was in Washington DC, and I'm hearing Pat is spending a lot of time there. It would be interesting if you look at Ohio is typically a pivot state for the presidency, and it goes back and forth between red and blue, and the fact that Pat Gelsinger is going to go up to Washington DC and do a victory lap, probably with the commerce secretary, and maybe even Biden shows up.
It's probably going to look good for the presidency as well. So maybe choosing Ohio had something to do with the politics and getting money from the US government. I don't know. Is that just too conspiracy theory, Daniel?
Daniel Newman: No. I mean, I think the fact of the matter is you can't simply tell everybody it's a conspiracy theory when it's not what you want to hear. I think people tend to be pretty thoughtful about politics and where they're placing and creating jobs and where get the most political support. Arizona is a swing state. Ohio's a swing state. You see states like that oftentimes being looked at for large investments because there's a little bit of a gain. Let's face it, we're always trying to make gains, whatever that is.
Right now there's dollars to be had as part of that semiconductor plan. I think it was like $52 billion, the grand scheme of things. That's large and yet amazingly small for the trillions of dollars we're spending and the fact that we're so dependent on this technology. But it's good to see investment being made. It's to see Intel continuing to make investments. Right now, like I said, as the economy is in a bit of a swirl with interest rates, inflation… Pat, not to go on a little bit of a diatribe, but I'll just go down this path a little bit.
Patrick Moorhead: Yeah. And I want to rebound on just one thing I want to add at the end.
Daniel Newman: Yeah. That's great. I'll just say this. No, this isn't a politics and economic show, but I do love this stuff. And obviously, I write and talk on a lot of channels that do talk about that. But interest rate hikes are terrible for most Americans. I think while a lot of people are celebrating, trying to bring inflation down, bringing down prices of houses and cars and groceries, yes, need that, the benefit of raising rates, compressing values of companies and increasing people's mortgage payments…
Because trust me, if you raise a mortgage payment by one or 2%, even if the house went down five or 10% in value to do that, the payments are going to be bigger. And so, same thing on car loans going up, credit card loans going up. Student loans are going up. These are not things that wealthy people worry about. These are things that middle class and average earners are going to be to be struck by and the prices aren't going to come down that much. And wages won't go up that much, especially if the businesses and their stock prices and their values are getting crushed by these hawkish actions by the fed.
So this isn't a magic bullet. And not getting Build Back Better passed, no more stimulus, no more free checks, I mean, we are in a bit… These are things like this fab though, Pat, coming full circle are the real shovel ready kind of things that are going to create jobs and are going to keep the economy moving. Well, it's not like ready to… I mean maybe some shoveling.
Patrick Moorhead: No, no, no. I was laughing, when, yeah, Obama did his big shovel ready and like 20% of those projects actually happen in real life.
Daniel Newman: Yeah. It's never good.
Patrick Moorhead: I talked about the lack of experience in Ohio and chip making. Let me read Ohio governor, Mike DeWine's quote. "Intel's new facilities will be transformative for our state, creating thousands of good paying jobs in Ohio manufacturing strategically vital semiconductors often called chips." I love it. I love it. It's like, "We in Ohio don't have any idea what semiconductors are, so I have to call them chips anyways."
I was noticing that and it's an exclamation point on just how disconnected Ohio is from semiconductors and puts an exclamation point on how much work Intel's going to have to do to make it a leading edge facility.
Daniel Newman: Yeah. Well, there's a lot to be done, eating those chips and dip, Pat.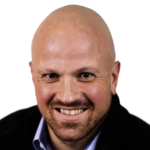 Daniel Newman is the Principal Analyst of Futurum Research and the CEO of Broadsuite Media Group. Living his life at the intersection of people and technology, Daniel works with the world's largest technology brands exploring Digital Transformation and how it is influencing the enterprise. Read Full Bio