IBM's Hybrid Cloud Ambitions Clear with BoxBoat Acquisition as Company Preps for a Post-Kyndryl Spinoff
IBM's Hybrid Cloud Ambitions Clear with BoxBoat Acquisition as Company Preps for a Post-Kyndryl Spinoff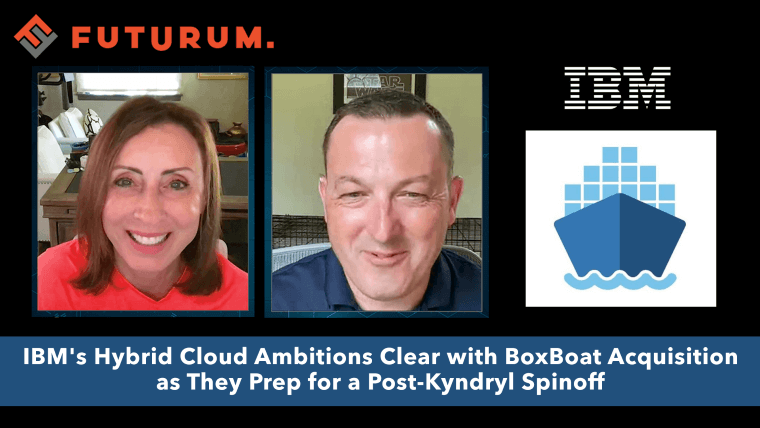 In this video vignette from a recent episode of the Futurum Tech Webcast, I'm joined by my colleague here at Futurum Steven Dickens for a conversation around IBM's hybrid cloud ambitions, which are clearly the driver behind IBM's latest announced acquisition, this time of BoxBoat, and the company's preparation for a post-Kyndryl spinoff.
BoxBoat, while small, is known as an enterprise Kubernetes certified service provider and premier DevOps consultancy. The company has customers in finance, government, ecommerce, online publishing, and higher ed. Once the acquisition is complete, it is expected the business will be slotted into IBM's Global Business Services' Hybrid Cloud business.
During the course of our conversation, we discussed IBM's focus on significantly expanding the company's multi-cloud transformation, management expertise, and hybrid cloud capabilities, as well as the critical (and profitable) role that services plays in all things digital transformation these days.
Obviously, no project centered on cloud modernization can succeed without a containerization strategy and a cloud architecture that allows them to operate across both public and private clouds. Steven shared insights on IBM's pivot to hybrid cloud, the repackaging of IBM software into Cloud Paks, IBM Cloud Satellite, and of course the spinoff of Kyndryl. Of particular interest and focus was the expansion of IBM's Global Business Services, how this acquisition complements the company's hybrid cloud strategy — and IBM's services business — especially in a post-Kyndryl spinoff world.
Watch the video of our conversation here:
or grab the audio here:
Steven covered this topic in an article published earlier this week, which you can find here: IBM to Acquire BoxBoat, Doubles Down on Hybrid Cloud Services.
Disclaimer: The Futurum Tech Webcast is for information and entertainment purposes only. Over the course of this podcast, we may talk about companies that are publicly traded and we may even reference that fact and their equity share price, but please do not take anything that we say as a recommendation about what you should do with your investment dollars. We are not investment advisors and we do not ask that you treat us as such.
Other insights from Futurum Research:
IBM Think 2021 Zeroes in on AI, Hybrid Cloud, and Ecosystem Growth
Siemens Partners with IBM on Hybrid Cloud Solution for Industry 4.0
IBM's Newest Hybrid Initiative Goes GA With Cloud Satellite
Transcript:
Shelly Kramer: We started our conversation today talking about IBM, we're going to end our conversation talking about IBM. And I saw the news of IBM's acquisition of BoxBoat Technologies. And I know that this is connected to all things Kyndryl. And so talk with us a little bit about that, Steven. I know you've got an article in development, a research note in development on that. So let's hear a little bit what you're thinking in terms of IBM strategy here and what's going on.
Steven Dickens: Well, I think what's interesting here is IBM's put the press release out today. Whilst it's not interesting in of itself that IBM acquires a 47 person services company, I think what is interesting is if you piece together some of the other news, they've made a couple of similar acquisitions of this type of scale to bolster out this services business within what will be left as IBM. So IBM services business today is split into GTS and GBS. The GTS business is going to form Kyndryl. So I think what IBM is doing here is positioning itself for post that divestiture. And it's going to be really interesting to see what IBM services looks like once the big part of IBM services goes over to Kyndryl. And I think what's going to be left and where can be strategically focused on and this is what I put in my research note is they're going to be strategically and purposefully focused in on the hybrid cloud space, particularly from a technology stack around Kubernetes and containerization.
And I think the BoxBoat acquisition gives you an indication of what the focus area is going to be for IBM services post the Kyndryl moves. So whilst it's not significant in size or scale, it's directionally important. And this is what I covered in the note. I think it's directionally important because it gives you a hint of what IBM services is going to look like maybe September, October time. So I think that's, if you piece together the sort of noises that IBM's making, they're going to be a very focused services organization on hybrid cloud transformation and specifically containers and Kubernetes going forward.
Shelly Kramer: Yeah, absolutely. And I think that we see this across the board, really from all of our clients in this space. The technology is an important part of the equation, whatever technology it is they're buying, but that services part of the equation is equally as important and it's also where a lot of the revenue comes from.
Steven Dickens: Yeah. In the IBM press release, they defined that part of the market purely from a services point of view. It's a $200 billion market they're going to go after. So I think there's some hint. You have to kind of read between the lines in the press release and be very close to IBM to see direct. There's a lot they're not saying in the press release that if you're close to them. And that's what we're here for to provide the analysis and just not report the news. You can see the direction where IBM's heading and start to get some early headlights.
Shelly Kramer: Yeah, absolutely. It makes perfect sense.
Steven Dickens: Definitely. They've got a bridge between open shift and some of the product pieces to be in the strategy and advisor and implementation job and some of their clients make this transformation to hybrid cloud.
Shelly Kramer: Right. That makes perfect sense to me.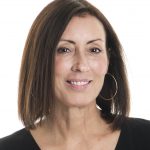 A serial entrepreneur with a technology centric focus, Shelly has worked with some of the world's largest brands to lead them into the digital space, embrace disruption, understand the reality of the connected customer, and help navigate the process of Digital Transformation. Read Full Bio.