IBM Global Business Services Lands Major 5G Deals with Telefonica and DISH
IBM Global Business Services Lands Major 5G Deals with Telefonica and DISH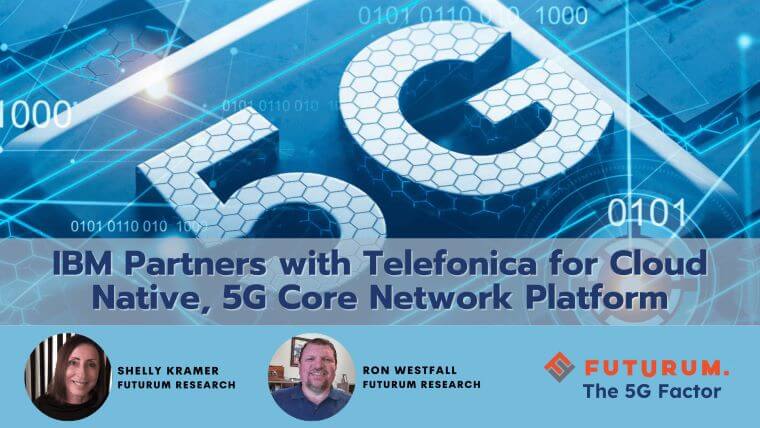 For this vignette of a recent episode of the Futurum Tech Webcast, part of the 5G Factor series, analysts Ron Westfall and Shelly Kramer explore the collaboration of IBM Global Business Services with Telefonica to modernize Telefonica's 5G core network platform built with IBM Cloud Pak for Network Automation, Red Hat OpenShift, and Juniper Networks Apstra and QFX technology as well as DISH Network's selection of IBM to help automate what the company is touting as the United States' first greenfield cloud-native 5G network.
Their conversation focused on:
Why IBM's multi-year agreement with Telefónica to use IBM intelligent automation software and services to implement UNICA Next – Telefónica's first-ever, cloud-native, 5G core network platform – validates IBM's integration credentials across the 5G ecosystem especially in fulfilling CSP AI-powered automation demands.
How Juniper's Apstra capabilities deliver data center operations with continuous automation and assurance throughout data center fabrics.
IBM' critical role in providing the intent-based orchestration and AI-enabled automation capabilities across DISH's multi-vendor and multi-layer cloud native 5G network, now consisting of at least 30 named suppliers.
The DISH collaboration with IBM Global Services spotlights that AI-powered automation and network orchestration software and services is essential to delivering broad 5G network orchestration. Through IBM's Cloud Pak for Network Automation solution, DISH aims to use intent-based orchestration capabilities to efficiently synthesize hardware and software resources that enable the network slicing that is key to the creation and delivery of new services such as use case specific network slices.
IBM Partners with Telefonica for Cloud Native, 5G Core Network Platform
Ron and Shelly concur that IBM's AI assets are a key differentiator in winning the major 5G deals with Telefonica and DISH and that AI portfolio capabilities will prove crucial in advancing the overall open 5G mission of CSPs.
Watch the clip here:
Or grab the audio by way of your favorite streaming platform here:
Don't Miss An Episode – Subscribe Below:
Disclaimer: The Futurum Tech Webcast is for information and entertainment purposes only. Over the course of this webcast, we may talk about companies that are publicly traded and we may even reference that fact and their equity share price, but please do not take anything that we say as a recommendation about what you should do with your investment dollars. We are not investment advisors and we do not ask that you treat us as such.
Transcript:
Shelly Kramer: All right, well, moving on, we're going to talk now about IBM partnering with Telefónica for cloud-native 5G core network platform. And what we're looking at here in this partnership is that Telefónica is going to use IBM's intelligent automation software and services to implement UNICA Next, which is the company's first-ever cloud-native 5G core network program. And this is all about intending to allow Telefónica the ability to be agile, reliable, and efficient, and be able to provide continuous optimization of its services.
What I like about this, and I know you're going to touch on this in a little bit more depth, Ron, is that this partnership will involve IBM's Global Business Services unit, which is a consultancy and a digital transformation arm of IBM, as well as Red Hat and Juniper networking to deploy this cloud-native platform. So let's talk about this, Ron. Let's talk about how this is going to power Telefónica's open, secured, intelligent, and highly automated network.
Ron Westfall: Yeah, no, this is an important announcement for two reasons. One is that the reason why Telefónica selected IBM is for its Cloud Pak for Network Automation solution, which as you pointed out, Shelly, is being supplied by IBM Global Services. And that is really shining the spotlight on AI technology and why it's essential for 5G network builds, and well, just that, to be successful in any 5G network deployment. And that is the AI engine along with machine learning algorithms are required for that automation piece. It includes the automation of, in this case, the 5G core, and it requires automation in terms of being able to do the network slicing, et cetera, so I think this is definitely very important.
And as you pointed out, IBM is working with its subsidiary, Red Hat, using the OpenShift technology, as well as Juniper's Apstra technology, which is important for automating data center fabric networking, for example. And I think what's also key here is that, okay, we understand AI is central to advancing, not just the 5G core network capabilities, but really, Telefónica's overall open 5G missions, so this is important to show that IBM is kind of playing a driver's seat role in this particular combination. And that's the second, I think, important takeaway, is that almost all of these announcements are having a very alliance-flavored aspect to it, which is-
Shelly Kramer: Strategic partnerships.
Ron Westfall: Exactly. So I think it's validating the fact that 5G is very much an ecosystem play, whether you're talking about open RAN or open 5G core capabilities, et cetera, eXhaul capabilities. All of these are requiring that multi-vendor implementation that's already been in place, but it's really, I think, broadening the ecosystem options for the operators. So that's good news for everybody because that allows the operators to improve their bargaining position to pass cost savings on to customers, and again, take advantage of all these 5G capabilities, accelerating service deployments, delivering real-time network slicing-based services, et cetera. So yeah, I think it's definitely important to understand why AI is so critical to 5G, and this announcement really crystallizes that.
Shelly Kramer: Absolutely, absolutely. Well, exciting times ahead, for sure, on this one. I keep looking. It's great to see what IBM is doing with this Global Business Services unit, which is a relatively new thing, and so it's interesting to watch this evolve as well.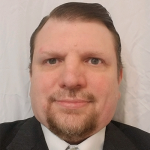 Ron is an experienced research expert and analyst, with over 20 years of experience in the digital and IT transformation markets. He is a recognized authority at tracking the evolution of and identifying the key disruptive trends within the service enablement ecosystem, including software and services, infrastructure, 5G/IoT, AI/analytics, security, cloud computing, revenue management, and regulatory issues. Read Full Bio.