IBM Financial Services Cloud Goes GA
IBM Financial Services Cloud Goes GA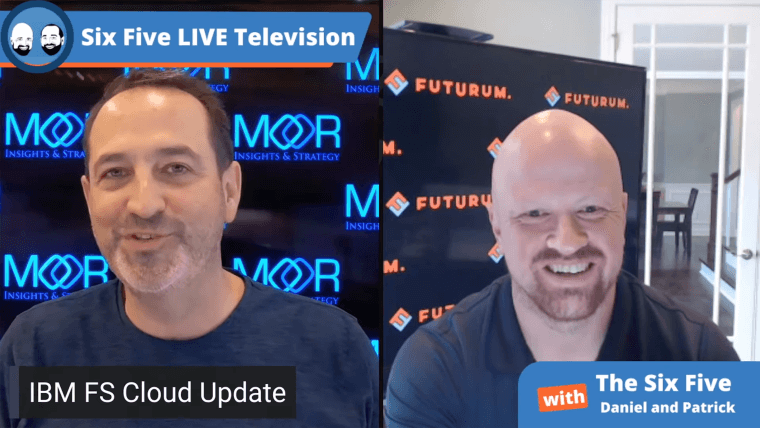 The Six Five team discusses IBM's Financial Services Cloud update announcement which is the latest in IBM's quest to build a suitable cloud for banks and other financial institutions.
Check out the clip below:
If you are interested in watching the full episode you can check it out here.
Disclaimer: The Six Five Insiders Webcast is for information and entertainment purposes only. Over the course of this podcast, we may talk about companies that are publicly traded and we may even reference that fact and their equity share price, but please do not take anything that we say as a recommendation about what you should do with your investment dollars. We are not investment advisors and we do not ask that you treat us as such.
Transcript:
Daniel Newman: Now, Pat, several stories this week. Like I said, a couple of them are bigger, a couple of them are more updates, but they all have important analysis that we need to, you know really zero in on. First one, you wrote a great piece talking about the GA state of the big IBM financial services cloud. And this was something that had been hot for a while, I'll let you kick it off.
Patrick Moorhead: So IBM has an interesting history in the cloud, I would say that their first generation public cloud didn't receive accolades, they missed a lot of dates, there were some challenges. And then the private cloud, like most on prem data center folks, really leaned into OpenStack. And OpenStack didn't end up being a thing for private cloud. But the combination now of IBM with its Red Hat capabilities, plus its public cloud capabilities, is really upping the stakes here, particularly when it comes to regulated industries. And one really good example is the cloud that they have for financial services. So think of this as banks, stocks, crypto, pretty much anything related to money. And there's a lot of regulation, that regulation is not only based on country, but also by region when it comes to the EU, and in the United States when it comes to states what that means is you're being regulated every step of the way. Security, transparency, and also protection of the data for the financial services company is paramount. And what IBM has done to their credit is they put together a very impressive, secure private and transparent cloud. And I'm going to call it an ecosystem because they not only have where you can build your own application, but they've also invited hundreds and have hundreds of ISVs signed on, so they can come in and participate with it. They started this with Bank of America. And I don't know if I can say this correctly. BNP Paribas AH, is that right? As well, another global player, essentially, this was news of GA for Red Hat.
And the other news that was out there was the inclusion of SAP. So SAP doesn't have their own public cloud. Their strategy is to host on other people's cloud and this is an actual extension of that, because quite frankly, if you look at the influence and power that IBM has in financial services, pretty much every credit card transaction, most retail transaction, so any time, there's a transaction, most of those go through IBM today. So great example of IBM leveraging their capabilities, and their strength and what they're known for. And not that they're the only competitor in this, you know, Google Cloud is making a run for a lot of vertical clouds. And I would say, from the public cloud point of view, Google Cloud has been the most aggressive here. And that makes sense to me, too, because Google Cloud is really good at things like big data, and analytics. So this is one milestone on what I think will be many. I like that IBM stays focused on vertical clouds, places they can win and do quite frankly, a better job than some of the native cloud folks. So good stuff.
Daniel Newman: Yeah, absolutely Pat. I think there's a couple of thematic things happening here. One is banks are looking to leverage the cloud in a much bigger way. Financial Services as a whole, the competition is rising very, very quickly. And it's not traditional competition so much, it's going to be your crypto. And it's going to come from FinTech. And these are companies that are fast built on cloud. And they are transforming user adoption. You've got companies like SOFA, and payment processing companies Square and PayPal, and they're very disruptive, and the banks are being forced to think about how to be more nimble. And being cloud enabled is going to be an enabler for adding services that are going to make these banks more disruptive to themselves. And that's something that's important. And so that migration is taking place so companies like IBM, like Google, you mentioned both and I think it's worth mentioning both and of course, you can't say Microsoft and AWS aren't doing this too. But you're seeing a lot of effort for verticalization in cloud and to create solutions. IBM was early, IBM has been very successful. The Bank of America story, one of the biggest banks not only in the in the US, but in the world, trusting the company because let's face it, IBM has an incredible depth of capability in highly regulated industries. And of course, its mainframe business has been rock solid. And the banks have partnered with IBM forever on those kinds of highly regulated workloads that need to be secured and compartmentalized from a, you know, risk.
So you know, as I see it Pat going GA was is an important moment, it really is a hybrid story. In the end, it's going to be parts of the workloads are going to be prem, you're going to see more and more compartments, enclaves. IBM's confidential computing story is going to be very important here in the bank space, but also for healthcare and for public sector. That's where I really expect IBM to be successful.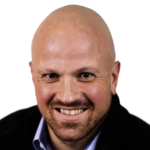 Daniel Newman is the Principal Analyst of Futurum Research and the CEO of Broadsuite Media Group. Living his life at the intersection of people and technology, Daniel works with the world's largest technology brands exploring Digital Transformation and how it is influencing the enterprise. Read Full Bio