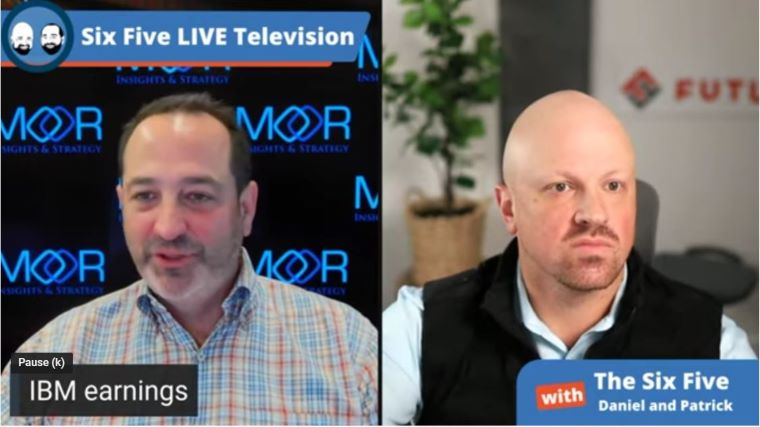 The Six Five team dives into the recent earnings report coming out of IBM.
Watch the clip here:
If you are interested in watching the full episode you can check it out here.
Disclaimer: The Six Five Webcast is for information and entertainment purposes only. Over the course of this webcast, we may talk about companies that are publicly traded and we may even reference that fact and their equity share price, but please do not take anything that we say as a recommendation about what you should do with your investment dollars. We are not investment advisors and we do not ask that you treat us as such.
Transcript:
Daniel Newman: First topic. Oh wait. IBM earnings.
Patrick Moorhead: I know, how about that. I mean, two years ago, would you have thought that IBM would hit double digit revenue growth on constant currency? Probably not, but got to give IBM credit. That's really the highlight and the market is rewarding them. In the last five days they're up 9.3%, going pretty well. They did well on the EPS side, up 25%. The two biggest standouts for me were software and consulting. First off, I was pretty surprised at a huge surge here. This is before Z 16 comes in. So, my big learning here is that software licensing negotiations and hardware are not on the same beat, probably see Z16 revenue hit next quarter. Absolutely the quarter after that.
The pretax net margin in that software business is incredible, 19.7%. That is beautiful. Consulting did well also. Beefy and important projects around hybrid cloud.. On a revenue basis, they were up 13%. Another double digit quarter with net margins at around 7.22%.
Cloud. Oh, expectations as well. Really good on revenue growth. They moved it from the middle of the range to the high end of the range, and then free cash flow. 10 billion to 10.5 billion for the year. Net, cloud is coming together pretty nicely. Interestingly enough, showing up mostly in the software and consulting side. One of the things I would still like to see though, is I'd like to see Red Hat at bigger than 20 something growth. I don't know why I have that in my head. I think it's because I've been equating Red Hat with cloud. Then I look at cloud, and I look at AWS and GCP and Azure growth, and I know that's completely unfair because we're looking at 100% hybrid cloud versus primarily public cloud. Those two tracks are on different growth trajectories, but overall kudos to IBM.
I mean, listen, I'm a revenue guy. Okay, that doesn't mean I don't care about profits, but as an industry analyst, I'm looking for growth and people getting on the bandwagon. I'm never concerned about IBM giving away revenue and you impacting profits because they're a company that delivers high value, high price. But congrats and double digit revenue growth, who would a thunk?
Daniel Newman: Yeah, at constant currency, 11%. Of course inflation is pretty significant. Pricing power has been interestingly more control of the tech companies and that pricing power has been passed along. So it's 11% was the growth at constant, 8% if you take for inflation. It's been a decade, Pat, since this company did double digits. First of all, just take a stop, take a breather. Second of all, look at the macroeconomics that has enabled this. Right now we're heading into to probably about six months of tech compression now, a market that's generally less accommodative. You've got tapering in the fed, you've got interest rates rising, you got yields going up, you have tech going down. About four months ago, I wrote a market watch piece where I basically said, here's going to be some interesting companies that have the best of both worlds, value and end technology. I put IBM on that list.
Now don't forget, IBM has a yield of about 5%. There's a couple of things in play here. You hit some of the good numbers. The first question is, is Arvin Krishna making a difference in the company? Now that we're a few quarters in under his leadership, it's starting to look like the answer is yes, because you remember there was a period of time where not only were they not growing, they were declining, and under Romanian, it was happening for quite a long time. Arvin has seemingly turned the ship. He had a big challenge in terms of the spinoff of Kindroll, and while we are a few quarters past that spinoff now, it's actually becoming more visible in the business how important it was that's spinoff took place. So we're seeing the benefit now of getting rid of non-performing assets and enabling yourself to focus.
The focus came around to hybrid cloud, AI, software, and that's why you're seeing cloud sort of spread across the business in terms of its new reporting structure rather than cloud being inherent to just being a business unit itself, because there's a cloud revenue attached to infrastructure, software, and consulting. Of course it's the big C and the little C. The big C's all the different ways cloud, IAS, Pass, SaaS, services, consulting all tie together. That high mid teens digit growth of the cloud business in the 21% or so, Red Hat should be reflected upon as good, but it is always compared against the hyper scale growth numbers of Azure, of AWS, of Google, that are larger. I look at IBM as the enterprise hybrid cloud company. They're very focused, financial services, healthcare, manufacturing. They've been able to lean in there.
The Red Hat business is starting to pay off. It's giving them tie-ins. Their ecosystem investments in partnerships around SAP, around Salesforce, around Microsoft are starting to make a difference to the business as well. They're not trying to be a cloud company in the sense of what AWS is or what Google is. They're trying to be a part of a cloud ecosystem, and that seems to be paying off for the company pretty well. The numbers are pretty good. You mentioned that next Z cycle. That'll be big, because it'll make the systems number better, which it was not good this quarter, but it's the 11th quarter of the Z15 box. Now we're heading into Z16 cycle. The early cycles are always really good.
So as I say, a decade without double digit growth ends. Arvin Krishna is seemingly executing and the team is showing some strength. The company is a stronger investment opportunity right now for people because of the fact that they are more value, while at the same time showing encouraging growth numbers, Pat. Good job, IBM.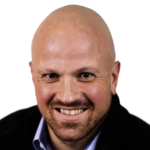 Daniel Newman is the Chief Analyst of Futurum Research and the CEO of The Futurum Group. Living his life at the intersection of people and technology, Daniel works with the world's largest technology brands exploring Digital Transformation and how it is influencing the enterprise. Read Full Bio