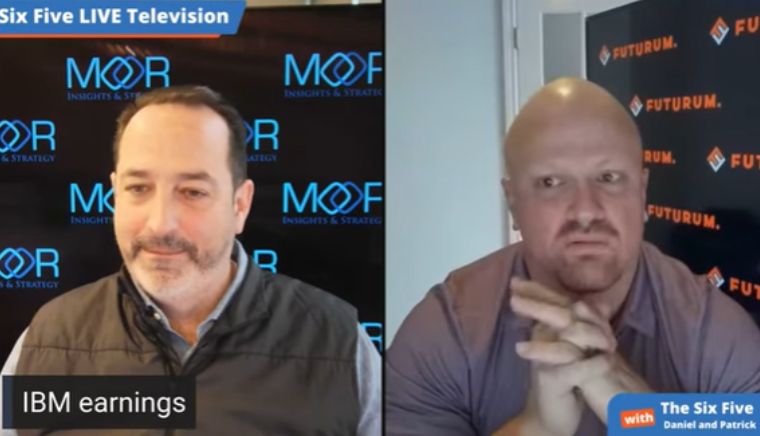 The Six Five team discusses IBM earnings.
If you are interested in watching the full episode you can check it out here.
Disclaimer: The Six Five Webcast is for information and entertainment purposes only. Over the course of this webcast, we may talk about companies that are publicly traded and we may even reference that fact and their equity share price, but please do not take anything that we say as a recommendation about what you should do with your investment dollars. We are not investment advisors and we do not ask that you treat us as such.
Transcript:.
Daniel Newman: By the way, international business machines, IBM, we can end on a pretty positive note. So CEO Arvind Krishna, and I had the chance to talk to CFO Jim Kavanaugh on earnings day, and he gave me the run through, and it looks really good. Now, I'll be candid, it's sometimes hard when you're at flat revenue without constant currency to say good. But again, you got to remember this macro situation, it was a good result, 15.7 billion flat, actual 6% with constant currency. And noted, they beat. So they beat on revenue, they beat on guy, I mean, near beat, but it beat the range on guidance up, or on earnings, and then they had pretty good guidance mid-single digit growth to continue into the new year.
Their growth was solid against all segments. And as I've said a long time, I mean you and I get to sit down with Arvind last year, he talked about his strategy and you know what? Nothing has really changed. His strategy has been implemented. They're heavily focused on hybrid cloud and AI. Those are areas that are doing very well. Their growth is coming from high margin areas of their business. Software and consulting is now about 75% of their portfolio. So we saw software up 8% constant currency. We saw co salting up 9% at constant currency. 50% of their $60 billion a year is now recurring, Pat.
They've made eight acquisitions, so they're continuing to take advantage of the M&A landscape. There aren't big deals, they're making smart tuck-ins that help them across their portfolio. Hybrid cloud was up 17% at 22.4 billion, and now more than a third of the company's revenue is hybrid cloud. And Red Hat continues to truck along at mid-double digit, 17 and a half percent.
Could that area grow faster? It certainly is an opportunity to grow faster, but those are good solid numbers, especially within the IBM machine. Margin went up, income went up, they're delivering great free cash flow for the company. And Arvind came out, and despite all the kind of rumors about slowing and elongated sales cycles, he actually said, they're accelerating into the end of the year. So as tough as the last one was to discuss, Pat, IBM seems to be in really pretty good shape. So you got to give Arvin a lot of credit, give Jim Kavanaugh and the team.
You and I had conversations with a lot of the executive suite across the portfolio. They're doing some restructuring, some new people are coming in, that'll be interesting to watch. They are making some cost cutting measures, they are lowering some headcounts, that was kind of quietly done. But when companies are hitting numbers and making those decisions, that's usually very long term and strategic in nature. And kudos to IBM on a really solid quarter.
Patrick Moorhead: Yeah, man, IBM, just when you think… I mean, I love a turnaround story. And I had a lot of people ask me, even some analysts, "Hey, why do you analyze IBM anymore? They're dead. They're the mainframe company." And here we are, 6% looks fricking good in this environment. It's durability, right? You're not going to see a 25%. In fact, what they committed to the Street was single digit growth. They're doing exactly what they said. When everybody's down, they're up, right? Gross profit of 132 million, net income up nearly half a billion dollars. Investors got a little bit spooked, I think, about the free cash flow forecast. They had $9.3 billion free cash flow for the quarter. And I'm going to put a big exclamation point, reiterate, which you said, "Revenue mix is over 70% software and consulting," that is fricking awesome.
Now, what it does do is it kind of like pretend they don't have this robust hardware business than they do. In fact, IBM Z was up 21%. Hats off to Ross Maury out there. Software, I mean, ARR for their hybrid software and services is $13.3 billion. Red Hat was up double digit, up 15%. Again, isn't it funny how those numbers now look big? But it just shows how durable IBM is as a company and a technology provider.
I mean, heck, consulting at a knockout quarter, right? Revenue is 4.8 billion. Hybrid cloud, revenue, $9 billion over the year. First time I think I've seen Azure and AWS got brought up, bookings doubled, margins were up 2% as they amortized some of the investments that they made out there. So all in all a really good quarter. Company's doing exactly what they said. And in fact, I think outperforming a lot of the kind of high flying cloud first companies that are out there. So kudos to IBM.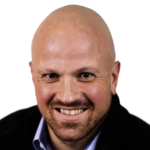 Daniel Newman is the Chief Analyst of Futurum Research and the CEO of The Futurum Group. Living his life at the intersection of people and technology, Daniel works with the world's largest technology brands exploring Digital Transformation and how it is influencing the enterprise. Read Full Bio