IBM Announces New Power10 Platforms
IBM Announces New Power10 Platforms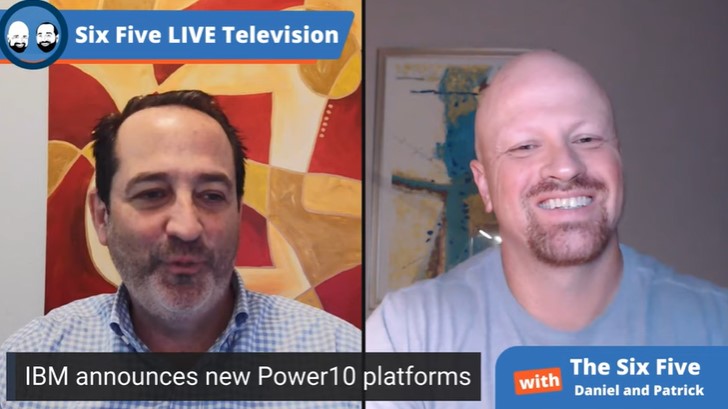 The Six Five team discusses IBM Announces New Power10 Platforms
Watch the clip here:
If you are interested in watching the full episode you can check it out here.
Disclaimer: The Six Five Webcast is for information and entertainment purposes only. Over the course of this webcast, we may talk about companies that are publicly traded and we may even reference that fact and their equity share price, but please do not take anything that we say as a recommendation about what you should do with your investment dollars. We are not investment advisors and we do not ask that you treat us as such.
Transcript:
Daniel Newman: IBM, new Power10 platform. You wrote a great Forbes piece about it. Let's kick us off.
Patrick Moorhead: Sounds great. Little background, so IBM has two hardware platforms. One is the mainframe, which is called Z, and the other is called Power, which is a smaller configuration. But it's not necessarily what I consider high volume. What it is is these are designed, the platforms are designed for mission critical, so the highest level of reliability, the highest levels of security, and have some super unique features in them. I made an initial mistake, actually the Power10 actually has eight threads per core, integrated machine learning, inference, heavy duty memory capabilities that really transcend what any other processor has out there.
Daniel, I talked to a couple Power customers at IBM's recent event and they were complaining that after five years they had to reboot one of their systems, and I was just thinking, "You realize that if you had an x86 server you'd probably have to do that once a month." But this is the type of expectations that these customers have. One of the key operating environments that Power10 and Power architecture as a whole does well in is SAP. SAP loves threads. It loves a huge memory planar surface and a huge… It eats memory up and I think we learned that especially when we looked at what Intel-based systems did with some of their non-volatile memory solutions.
But what was the announcement about? So, they already came out with what was called a 1080 before, but what they brought out was a new platform, an S1014, equivalent to the two-socket systems that really focused on a virtualized infrastructure. By the way, the other thing that I'll put in there, that performance using containerized environments, it is an absolute beast. And it would make sense given Red Hat and what it brings to the table, that IBM would architect a system that's focused on that. So, four new platforms, typically bigger configuration. You've got four socket, you have eight socket. These thing are real beasts.
And by the way, this type of pace was very similar to what they did with Power9, which is, "Hey, let's bring four configurations out first and then let's bring the beasts out second." And eight socket, four socket systems take a lot more testing, so this would completely make sense. One thing that I like too, they went right after x86, basically saying that it performs 3.6 better than x86 equivalent, and TCO, by the way, we didn't do the TCO analysis or the benchmarking, but talks about TCO improvement of 50% over x86 equivalents.
Daniel Newman: Yeah. I got some early look at this before, and as I kind of read through it, Pat, what I really like is that IBM, and you talked about this a little bit with the Arm instance, is seemingly really becoming more prolific at understanding its role, understanding its customer archetype, and understanding how to build products that satisfy. Not necessarily coming out at that entire general x86 market, but understanding that they have very specific workloads that they do better, that they meet, whether it's price power, whether it's meeting very specific needs of enterprise customers, and I think they keep finding these white spaces, and by the way, I think that's a good strategy. It's working. They're seeing it over the last few quarters in the results of the company.
Of course, when they do hardware, and they do hardware cycles, they get these jolts of revenue, and then the hardware revenue cycles fade off. We see it a lot with the Z products, Pat. I think you hit it pretty square on there and that was kind of my sentiment here, is they're just kind of hitting the right zone in the price performance space, and they kind of have their customer well locked in. They're going after it. You did mention kind of in the comparable, and I do wonder sometimes, is IBM going to go bigger? Are they going to go for more market share? Are they going to get more aggressive? Are they going to expand? And by the way, you've worked closely with Power a lot longer than I have, but I just get the feeling that they're like, "We know who our buyer is. We know who our customer is and we're going to keep building for that particular customer and we're going to do it really well. And we're going to execute and we're going to just be over here and be happy with this piece of the market that we have."
I don't know, have you sensed anything otherwise? I'm not trying to deflect, but just this kind of was my take as I was reading this. It's not-
Patrick Moorhead: Oh, listen. They're not going after the volume x86 markets. Now, they ran that play a couple years ago. In fact, they had Google signed up. Google had moved their entire stack to… not moved it, but ported their entire stack to I think it was Power8. Maybe it was Power9. And really going after trying to get the top of the Intel stack. And then they pulled back, but what I get the sense is that they're very focused on their current customers, and keeping them happy with everything, not giving them a reason to move off the platform, and I don't think IBM would be doing it if it weren't a very profitable business.
And it's not just pushing boxes, right? You have services. You have software. You have applications. You have everything that goes with it. And I don't feel like this is a customer lock in. I think when I hear customer lock in, I hear you're not delivering that somebody values long term, right? But IBM is delivering things that their Power customers appreciate long term. You don't have to reboot this system for like five years. It's completely ridiculous. Ridiculous in a fun way. They're executing on their strategy.
Daniel Newman: Yeah. You've been tracking a long time. I've been looking at this a little bit more closely over the last year, and so it just kind of was my immediate observation is know their lane, execute within their lane. And by the way, this has been a really successful strategy over the last couple of years for the company. What they've done in cloud, hyper cloud. You mentioned about they're not doing the traditional go to market, we're going to try to compete with all the hyperscalers. They're kind of partnering in a lot of cases. In this case, they're kind of like, "We've got these workloads and these particular enterprise needs that we need, and we make these customers really happy, and we're going to stay there, and we're going to grow that, but we're not going to lose sight of our business strategy and lose business trying to go after things that we aren't necessarily either best at, or aren't necessarily wanting to compete in these particulars."
Which, by the way, it takes a company a little bit of humility to see the market that way, and I think it's working pretty well for them. Credit to them.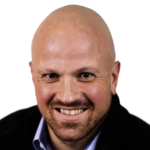 Daniel Newman is the Chief Analyst of Futurum Research and the CEO of The Futurum Group. Living his life at the intersection of people and technology, Daniel works with the world's largest technology brands exploring Digital Transformation and how it is influencing the enterprise. Read Full Bio