HPE RAN Automation Takes Aim at CSP RAN Automation and Multi-vendor Management Challenges
HPE RAN Automation Takes Aim at CSP RAN Automation and Multi-vendor Management Challenges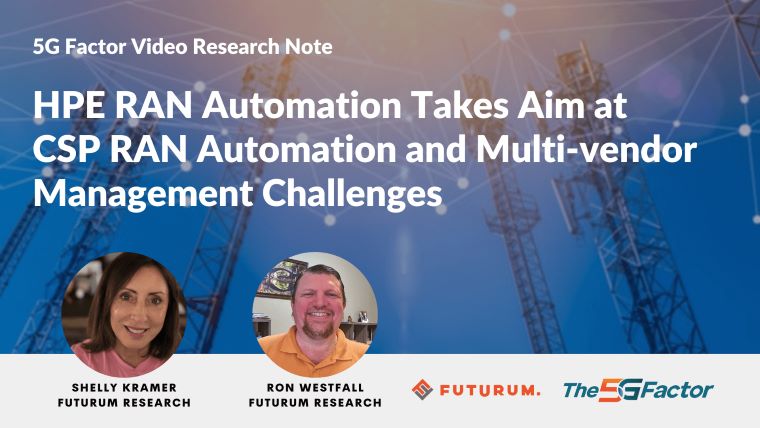 For this vignette of a recent episode of the Futurum Tech Webcast, part of the 5G Factor series, analysts Ron Westfall and Shelly Kramer assess the HPE RAN Automation solution aimed at providing multi-vendor management and automation for any Radio Access Network (RAN), which can potentially help communications service providers (CSPs) increase operational efficiency and accelerate deployment.
Their conversation highlighted:
How HPE RAN Automation is well-suited to fulfill the intricacies of managing evolving RAN environments in the 5G era, since it provides a pre-integrated cloud-native solution, delivered as a service, using HPE operations support systems and artificial intelligence and machine learning (AI/ML) technologies to offer zero-touch management of multi-vendor RAN infrastructure.
Why the solution can help bolster differentiation of the overall HPE Open Solution Stack portfolio and further raise the profile of the HPE ProLIant DL100 Gen10 Plus -Telco server offering.
HPE RAN Automation includes a RF configuration and optimization module integrated with AI/ML assurance and orchestration key to automating RF parameter provisioning and operations according to operator policy specifications.
Ron and Shelly see HPE RAN Automation's full lifecycle orchestration capabilities, across both virtual Distributed Units (vDUs) and virtual Centralized Units (vCUs), as boosting 5G ecosystem support for Open RAN by enabling operators to dynamically configure radio frequency parameters and optimize the use of radio access resources and spectrum within multi-vendor and multi-technology implementations. Plus, the new solution aligns with the O-RAN Alliance's Service Management and Orchestration (SMO) platform which can further streamline 5G RAN operations and processes across overall RAN environments.
Watch the video vignette here:
Watch the entire episode here:
Or stream the audio of the entire episode here:
If you've not yet subscribed to The 5G Factor, hit the 'subscribe' button while you're there and you won't miss an episode.
Disclaimer: The Futurum Tech Webcast is for information and entertainment purposes only. Over the course of this webcast, we may talk about companies that are publicly traded and we may even reference that fact and their equity share price, but please do not take anything that we say as a recommendation about what you should do with your investment dollars. We are not investment advisors and we do not ask that you treat us as such.
Transcript:
Shelly Kramer: So with that, we're going to shift to the do ran ran ran. I think you said that earlier, Ron, the thing about it is, it just ages us. It just ages us that we refer to a song that is so old, that is actually probably older than we are, I don't know, you know what I'm saying? We kind of know it because maybe our parents… But anyway, yeah, it's kind of scary because I'm sure there's a whole lot of people having no idea what the heck we're talking about, but anyway, I'll be happy to include a link to the song in the show notes, but anyway, we're going to shift and we're going to talk about some exciting news as it relates to RAN solutions and implementations. I think you're the first thing we're going to talk about is HPE's RAN on automation solution, which is exciting because it's all about multi-vendor management, I think, which is tremendously important, solving a big problem for a lot of customers. Let's hear more about it.
Ron Westfall: Right on, that definitely tees it up. HPE just made an announcement for their HPE RAN automation solution. And it's definitely aligning with the O-RAN initiatives to provide extra levels of confidence, extra levels of assurance for carrier to be able to deploy OpenRAN that goes beyond the 3GPP specs, and this is needed, obviously. This is something you just can't rely on just the 3GPP to provide all this capability. And what HPE is capitalizing on is the fact when it comes to OpenRAN implementations and the fact that they have to be aligned with traditional RAN implementations, this is something that's going to take many years. It will be probably a couple more years before OpenRAN implementations represented a double-digit percentage of the overall RAN market, for example. And so that's definitely requires I think a purpose-built solution that can take advantage of cloud data capabilities and these other emerging capabilities, such as orchestration and so forth to enable a multi-vendor optimization.
And that's something that's really limited with the traditional RAN networks and OpenRAN definitely creates this opportunity for more flexibility in these areas. But the reality is it has to also account for the traditional RAN implementations and how to best blend the two in terms of advancing and overall say open 5G architecture. So that, I think, is a differentiator for this solution. It also is offering table state capabilities that any solution of this nature has to offer that has zero touch management capabilities, cloud native design, obviously, and so forth.
And so what I think is going to help drive this, is that it's a key part of HPE's OpenRAN Solution Stack and though that solution is a purpose design for telco server application. So this is really definitely taking a strategic view as to how a telco can optimize their OpenRAN implementations while also doing investment protection for the existing technology. And this includes full cycle support of virtual DU and virtual CU capabilities. There's just no way around that, you definitely need full cycle management of these virtualized disaggregated assets in order to make sure that you're getting optimal performance, but also optimal return on your OpenRAN investments. And also being able to dynamically configure radio frequency parameters and so forth. And again, this is supporting what can be called SMO, Service Management Orchestration capabilities.
Shelly Kramer: Because we need another acronym.
Ron Westfall: Yes, exactly.
Shelly Kramer: We need the more, the world we live in.
Ron Westfall: Has complied in that regard. And so hopefully SMO rollout won't be slow. It'll be definitely something that will receive, I think, broad acceptance amongst the major operators and the overall 5G ecosystem, including midsize operators and so forth. And the final thing that I think is important is that the announcement's also emphasizing like in the Department of Defense initiatives, the role of AI in ML, that is obviously going to be essential in order to automate things like full cycle management, orchestration, et cetera, all of these capabilities that are required for a successful OpenRAN alone, open 5G network implementation requires that technology to provide both the automation and also the intelligence to do things like preventative maintenance, proactive monitoring and so forth. That will be key for these emerging 5G networks.
Shelly Kramer: Absolutely, so speaking of the importance of high-performing open radio access networks, we know the need for, the demand for integrated OpenRAN networks is quickly accelerating, being driven by communication services providers and they're focusing on things like network modernization and coverage expansion projects and private networks. A lot of CSPs aren't sitting around right now, they are essentially rebuilding their businesses in order to succeed and thrive in the age of 5G. So, all of these things, network modernization, coverage expansion, private networks, indoor project are all driving this.