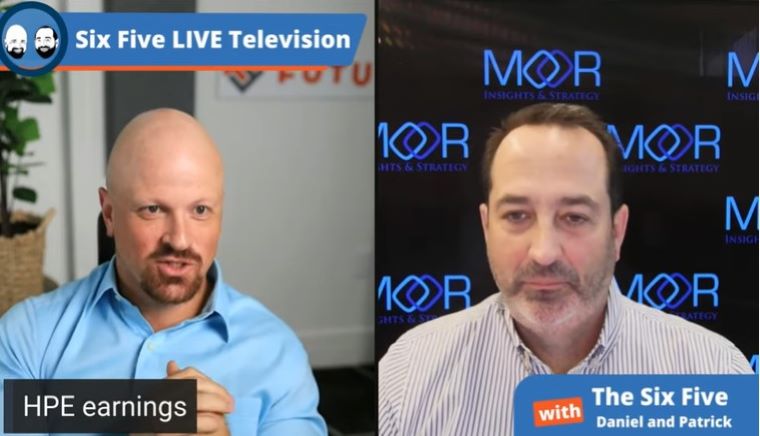 The Six Five team takes a look at HPE's latest earnings.
If you are interested in watching the full episode you can check it out here.
Disclaimer: The Six Five Webcast is for information and entertainment purposes only. Over the course of this webcast, we may talk about companies that are publicly traded and we may even reference that fact and their equity share price, but please do not take anything that we say as a recommendation about what you should do with your investment dollars. We are not investment advisors and we do not ask that you treat us as such.
Transcript:
Patrick Moorhead: HPE earnings.
Daniel Newman: I'll link you up your tweet. I said this last week, follow Pat on Twitter, especially for his earnings tweets. You want to read the articles? Check out my blog, but if you want to read the best tweets in the business, Patrick Moorhead. You know what, Pat? I had a chance to talk to a Cisco CFO, Scott Herren yesterday, and I'm all I'm throwing this out is I actually really thought Dell, Cisco and HPE were in for a bit of a world of trouble this quarter. I was holding my breath, and actually they all came out pretty well, and so before I get into the kind of, "Hey, company did well, met expectations, guided well." Let's just say that you and I have talked on this show a number of times about the resiliency that commercial and enterprise business are going to have even in a downturn, and this to me was a macro reflection. The fact that Cisco, the fact that HPE, the fact that Dell, especially on the enterprise side, their case, even on the PC side, when we talk about HP, we'll talk more about that, did pretty well.
Looking across the business, obviously you're talking about single digits of growth. Still not necessarily anybody falling out of their chair, but over the last couple years, I've said in order to make a pivot from a CapEx intensive revenue model to an OpEx intensive revenue model, you're often going to sacrifice top line growth to get that ARR in-house. The company had mid double digit ARR growth, it had strong everything as a service and GreenLake growth. Its GreenLake business is nearing a billion dollars in recurring. Company's backlog is actually rising in the process of this and in some markets, I believe in HPC and in Edge, the company's still performing pretty well on their traditional business. As you look at the whole company right now, it was a three year plan to move to everything as a service.
You talked to Antonio, so I'll let you play in CEO whisper when I'm done here, but having listened to him over the last couple of years, this is a process, and so as I see it, if the company can meet its expectations consistently, grow the ARR, keep the various business lines in tap, innovate enough, and they really have in their GreenLake business they have, I think it's safe to argue the most extensive portfolio of on-prem cloud services out of any of the companies in the market today. They've got the right product mix, they're hitting their numbers, they've made that transformation that others are struggling to make quickly Pat, and overall, I think it was an encouraging quarter when we were, I think all holding our breaths for some pretty hard falls from some of the OEMs and consumer brands, but again, showing the strength that enterprises are still spending and having low exposure to consumer right now is good for business.
Patrick Moorhead: I had a great conversation with Antonio for earnings and what I was really struck with was his positivity. After hearing some vendors and the negativity, his positivity was really good. Now, part of that is not just chest beating, they have record backlog that's 3X the historical backlog, and he really talked about this enduring demand. While I don't think that necessarily translated to their monetary forecast, it was his attitude that I saw, and I really measure HPE as an industry analyst on two things, their growth businesses and on GreenLake, and both their growth businesses, intelligent edge and HPC and AI did grow low double digits in constant currency and GreenLake increased ARR by 22% and as a service 39%. Those are really good numbers, and while I do understand that's not the entire business, there are elements of this industry that are getting a little bit more commoditized, like compute and storage.
I asked Antonio after watching what Dell did and subsequently we've seen what NetApp did, and we've seen what Pure Storage did on storage, like, "Hey, why is it only up 1% constant currency?" And he was flat out, it's backlog. They have 5X the normal backlog in storage and even compute that they normally do. I don't know exactly what's happening from supply chain because I didn't hear a ton about supply chain from a lot of the other vendors. We did hear a lot of backlog and supply chain from Cisco, but didn't hear that necessarily from Lenovo or NetApp and even Pure. In fact, as we'll talk about Pure, they talked about not really having a backlog, which I thought was interesting, but in the context of the future, having a big backlog going into troubled times, as long as it's an enduring backlog, and it's something that isn't going to get pushed or evaporate, I think bodes well for the company.
There was initial bump up after hours, 2.5%, which translated, I think to about a 1.5% of boost, which in contrast a lot of these companies really got hammered after they had announced. I like the track that HPE is on, and it was great touching base with Antonio.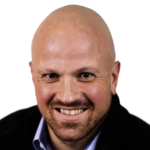 Daniel Newman is the Principal Analyst of Futurum Research and the CEO of Broadsuite Media Group. Living his life at the intersection of people and technology, Daniel works with the world's largest technology brands exploring Digital Transformation and how it is influencing the enterprise. Read Full Bio