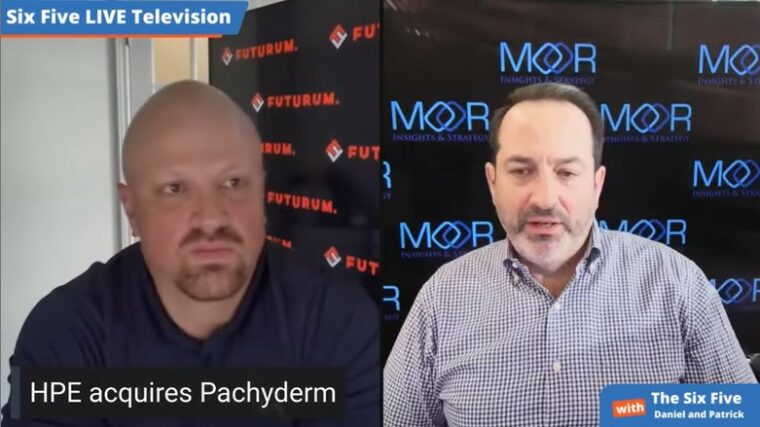 The Six Five team discusses HPE acquires Pachyderm.
If you are interested in watching the full episode you can check it out here.
Disclaimer: The Six Five Webcast is for information and entertainment purposes only. Over the course of this webcast, we may talk about companies that are publicly traded and we may even reference that fact and their equity share price, but please do not take anything that we say as a recommendation about what you should do with your investment dollars. We are not investment advisors and we do not ask that you treat us as such.
Transcript:.
Daniel Newman: Our friend Antonio Neri and crew have made another acquisition this time. It's Pachyderm.
Patrick Moorhead: Yeah. So if you haven't been watching for the last two years, HPE is undergoing a huge transformation from selling boxes to offering essentially cloud and data services on-prem. They've made a lot of tuck-in acquisitions. They had built a lot of their own software. If quarters' earnings are any indication if it's working, it is. HP had one of the biggest quarters that they have ever had in the past five years last quarter. I think you and I both had talked to Antonio about this.
So what is Pachyderm? So we've seen HPE integrate companies like Blue Data and a lot of AI plays. A lot of them have to do with high performance computing that were very leverageable to any type of big data application. This one is about AI workflows, and whether it's version control, auto scaling, DDU, cloud, and with cloud and on-prem capabilities, it's the entire AI pipeline that quite frankly we've seen from the likes of Google, we've seen from AWS, and we've seen from Azure that essentially is a one-stop shop to cleansing the data all the way out to publishing the machine learning inference code to that device. So again, it is going to be a short analysis here, but everything you would have expected for HP to do, first you saw moves and data and now you're seeing moves in AI.
Daniel Newman: Yeah, I think that's punchy pad. I mean, look, the data pipeline is complex, and as you're seeing things like Intel's decision to focus in on accelerated computing rather than focusing on just traditional compute metrics, you're going to see companies have to move from traditional infrastructure and infrastructure as a service. I mean, remember, HPE is really going to the industry in the enterprise right now and saying companies that feel obligated to move our workloads to the cloud, there's another way to get the experience of the cloud without necessarily going to the public cloud for all things.
I think there's been no shortage of chest pounding here by you and me that we've called the hybrid cloud, and HPE has been a leader in terms of buying into the future of hybrid cloud and understanding that with its huge customer base, there is an approach to deliver as a service without, like I said, all the things going.
So in order to do this though, it's going to be service driven. If you look at what the public cloud companies have done extremely well, it's been having comprehensive data services. That's one of the things. If you look at AWS's data pipeline, machine learning tools because they have everything from tools for the most technical data scientists all the way to tools for the complete novice that want to be able to play data scientists in the public cloud, a lot of these private cloud offerings have lacked having these data pipeline services at scale where they don't have as comprehensive set of services, which has been a big motivator for companies and enterprises to move more workloads and more data to the public cloud.
Again, we're public cloud believers here, I am, and I think, Pat, I can speak for you, but we also know that with the volumes of data and what companies are trying to do with many of their core data systems of record, edge data. Egress is expensive, moving everything to and from the cloud can be expensive. This is only one use case, but my point is is that having more and more integrated machine learning pipelines, platforms, things that customers can utilize, keeping their data on-prem and utilizing something like GreenLake is going to be important.
You and I have looked at the crawls. HP's had a very comprehensive set of acquisitions and expansions and services. GreenLake is at this moment the most comprehensive of the on-prem cloud offerings that I can say. I mean, others are going to be investing and catching up and you can count on the Dell Apexes, and the Lenovo TruScales, Cisco Plus, they're all going to be adding to these services, but I like what HP is doing. I like that they're focusing on data. I like that they're focusing on open source. They focused in on Kubernetes. They focused in on containers. So these are the things that they're going to have to do to be able to compete at scale.
I'll be candid, I'm not super familiar with Pachyderm itself and its software, but I'm very aware of what it's going to be doing. So I think in the terms of machine learning pipelines and being able to scale companies' work that they're doing with these data sets, it was a valuable acquisition and it fits, which is something I think you and I always have to really look at is does it fit. The same questions you asked me when I buy companies, "Are you sure that fits with what you do?"
For HPE, it's very important that they're not just buying, but that they're buying right because in fairness, no matter how much they expand their offering in things like data, AI, machine, hyper converge, storage, and elsewhere, it's going to be hard to keep up with the growth of services with companies like Azure, Google, and AWS that are going to be continuously adding pages and pages of both homegrown solutions and then, of course, companies that they're able to buy just because of their mass scale and size, with good acquisition, Pat, good part of the portfolio.
Patrick Moorhead: Hey, one thing I noticed in the press release, it had two benefits, data lineage and data versioning. Who does that remind you of? Cloudera, maybe?
Daniel Newman: Well, that could be an acquisition for the future, Pat.
Patrick Moorhead: I always thought Cloudera and HP would make a great combination, but-
Daniel Newman: Well, they're private again, so we'll see what happens, but yeah, we'll be watching that quite a bit. Pat, maybe their cloud sucks.
Patrick Moorhead: Maybe. I've heard that spoken by some really smart people.
Daniel Newman: Well, smarter people have gone on stage and danced in circles and, "Woo, woo, woo, woo, woo, woo, woo, woo," to get the crowd up and going, and I-
Patrick Moorhead: I'm so dumb.
Daniel Newman: I got it on video, everybody. If you send me a message and a payment, I will send you a video of Pat spinning up a crowd and he did a good job.
Patrick Moorhead: By the way, he is referring to, just to let everybody know, Dan is referring to a keynote that I did at Cloudera's signature event in New York City where I did dance on stage and set my hair on fire to get people's attention. I did say your cloud sucks to the audience. I did. I really did. I said it.
Daniel Newman: I even woke up to watch the rest after that.
Patrick Moorhead: I appreciate that.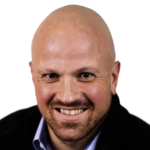 Daniel Newman is the Principal Analyst of Futurum Research and the CEO of Broadsuite Media Group. Living his life at the intersection of people and technology, Daniel works with the world's largest technology brands exploring Digital Transformation and how it is influencing the enterprise. Read Full Bio