HP Going All-in on Chrome?
HP Going All-in on Chrome?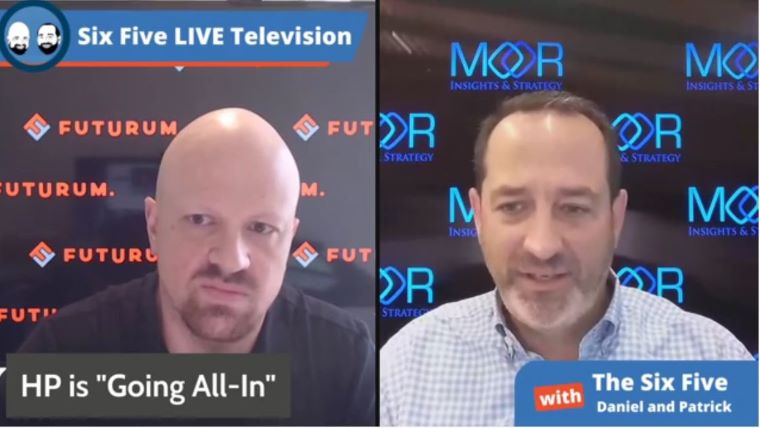 The Six Five team dives in to HP adding new Chrome OS devices to the family.
Watch the clip here:
If you are interested in watching the full episode you can check it out here.
Disclaimer: The Six Five Webcast is for information and entertainment purposes only. Over the course of this webcast, we may talk about companies that are publicly traded and we may even reference that fact and their equity share price, but please do not take anything that we say as a recommendation about what you should do with your investment dollars. We are not investment advisors and we do not ask that you treat us as such.
Transcript:
Patrick Moorhead: HP brought out two new Chrome devices, an all-in-one desktop and a Chromebook. The Chromebook is powered by a Qualcomm Snapdragon 7c, and the all-in-one is powered by an Intel processor.
Now, the big question here is, is HP going all-in on Chromes OS? These are really interesting devices. I was able to use this desktop. It's a 21-inch desktop. Has a super cool industrial design. Check it out. You know how stylish Paula is and what she would let in the kitchen and what she wouldn't, and she actually let me put this in the kitchen. Beautiful industrial design.
It is Chrome OS, it is not Windows, so it will not run Windows applications. It will run Android applications, though, and any type of web application that you can. I use the bare minimum configuration. It's 599, so think about that. 599 with a 21-inch display, but it only had 3 gigs of memory. I felt that that experience was fine for using Chrome and web apps and even stuff like Instagram.
You can actually flip this 21-inch display to go vertical, so if you want to do Instagram, if you want to do any type of video applications that are vertical, you can do that. Where I wouldn't recommend this 4-gig memory configuration for 599 is if you're using OneNote or Outlook or Word, my experience was not good and I believe that you should really opt for the 16-gig configuration.
The other device that HP brought out was a Chromebook using a Qualcomm 7c and it was another cool… This is a relatively new configuration that Qualcomm has that has almost all of the performance of the Snapdragon 8, but it does not have 5G and it does not have 4G. The reason they're doing this is to hit much lower price points and, I think if I'm correct, you can get the Chromebook x2 11 11-inch Chromebook with the Qualcomm Snapdragon 7c with the pen for 599. I think that's very, very affordable.
I haven't used that one yet, but it really is game on for Chrome. I mean, Chrome since COVID started has doubled its market share and it's primarily with K-8, but also a lot of businesses out there picked up Chromebooks for the primary reason that they couldn't find any other devices. They are very secure because for the most part you're operating out of a browser. If you're an administrator, you can turn off the Android capability.
You know, there's a lot of question, Daniel, whether Chrome OS… whether this is just a blip because of COVID or it becomes more of a trend and where Microsoft could potentially be challenged. Well, they are challenged at the low end, but it doubling its market share in 18 months has to be a bit alarming.
Daniel Newman: Yeah. I think we're experiencing both an expansion of the TAM overall, and then, of course, we're seeing the fact that we had this shortage and we had to meet supply and we, sorry, we had to meet demand and Chromebooks was an opportunity to do so. We've seen, of course, Intel had a lot of growth at that part of their business in the last quarter. HP, what I like about what they've come out with is essentially the company is developing very high-quality industrial designs.
We've seen Chromebooks evolve from sort of these amorphous, ugly, physical machines that our kids had during high school or middle school to a machine that looks like a MacBook or it's starting to look very nice. That 21-inch, very attractive to the eye running Android, for instance, on it, now you start running applications and it starts to become like a giant sweet iPad for Android users.
I know, again, I'm not saying Apple iPads are sweet, but for some people they're pretty darn sweet. Then, of course, the price point, you're getting 21 inches of surface that enables a whole lot of work to be done. The last thing is it's a clear indicator as it grows that there's a huge growth in enterprise for SaaS applications because if you have a browser and you're running SaaS, as long as you have enough compute power, enough horsepower, you can have a pretty good experience and that's a pretty low-cost machine. 21-inch, for instance, at 600 bucks, being able to run apps in a browser. That's like a nice desktop setup for somebody using something like, I don't know, Salesforce and doing it right out of the browser. I'm just saying that for example because we might be heading down that path to talk about that pretty soon.
By the way, last comment, Pat, just got to throw this in as a sidebar, our friends at Morgan Stanley, they downgraded Micron this week and I know we're not talking about memory chips, but all I'm saying is, why is it that everything we talk about, whether it's Unpakt, whether it's Chromebooks, is exploding. It's all about [crosstalk] these analysts are somehow are all being negative and bearish on memory or any semiconductor. Hello, the demand isn't even close to being met right now. Why are we downgrading stuff? Just as we talked about HP, Samsung, and the explosion of demand for these new forms, memory is going to support all of these things. What's going on, man? What am I missing? Are semiconductors slowing down?
Patrick Moorhead: Yeah, you know, this sounds like a great topic for one of those extended-
Daniel Newman: Other show.
Patrick Moorhead: … one of those extended… Maybe it's an extended show or maybe a bimonthly where we can do deeper on something like that. We should talk about that's a great first topic we can hit, which is the PC and the device TAM and how that relates to semiconductors. No, that's good.
Daniel Newman: Yeah, buddy. Let's do it. Let's come back to it. I know we can't do it now. It just crossed my mind. I was thinking about it as we're talking about all of this rolling market share and TAM.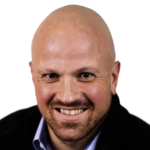 Daniel Newman is the Principal Analyst of Futurum Research and the CEO of Broadsuite Media Group. Living his life at the intersection of people and technology, Daniel works with the world's largest technology brands exploring Digital Transformation and how it is influencing the enterprise. Read Full Bio