HP Dragonfly with AMD Custom Technology
HP Dragonfly with AMD Custom Technology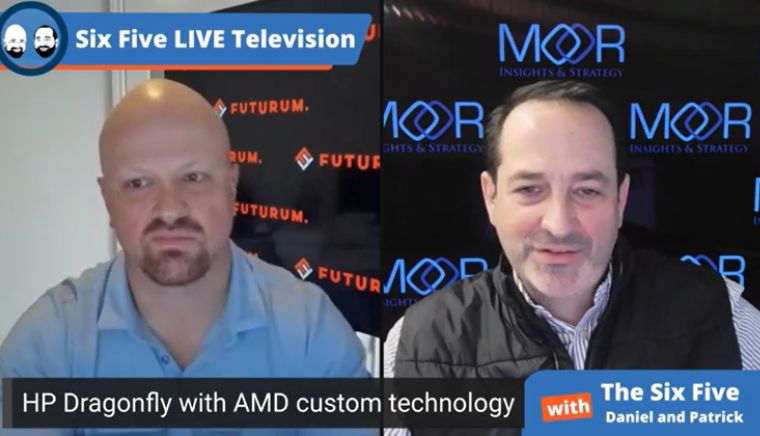 The Six Five team discusses HP Dragonfly with AMD custom technology.
If you are interested in watching the full episode you can check it out here.
Disclaimer: The Six Five Webcast is for information and entertainment purposes only. Over the course of this webcast, we may talk about companies that are publicly traded and we may even reference that fact and their equity share price, but please do not take anything that we say as a recommendation about what you should do with your investment dollars. We are not investment advisors and we do not ask that you treat us as such.
Transcript:.
Patrick Moorhead: So HP Dragonfly- first of all, HP has a lot of different subbrands, and Dragonfly is this super light, very portable, typically comes with LTE or 5G, it's the pinnacle of experience for HP. And what the company did is, they made an announcement at CES that they partnered with AMD to do a custom implementation. And I'm very cautious not to use the word custom chip, but what I would say is, it's a custom technology. I do think that, inside of TSMC, AMD changed some nods, either in binning, either to benefit performance or raw performance or battery life.
But I think the more important thing, were the optimizations that was done between the two companies on firmware. This was a big deal, as you may know if you were at CES. Lisa had the opening keynote, and you had HP's CEO actually get on stage. I think that's a pretty big deal. We also saw Panos get up there, and in a way, say that, from a Windows perspective, and its support for AI, it was a good bet.
I got the chance at CES to dig in on this with Alex Cho, we've had him on the Six Five before, and he talked about something that I didn't know at the time, which was, this platform has a multitude of sensors. I think he said it had over 50 sensors, and I didn't get all the details out of him. I'm going to be patient and wait for it, but a lot of these sensors, they improve the experience for the user and improve the experience for the OEM, or the service provider, and as-a-service environment.
I've been harping a lot to Daniel about, the reason that, I think one reason that the as-a-service hasn't taken off in the PC industry is because they're the same devices. When the hyperscalers did as-a-service, IAS, PAS, or SAS, they fundamentally changed infrastructure. They didn't show up with the old enterprise gear, they completely redid it. So I am looking to anticipation to see how these sensors will leverage as-a-service for the company. Like, what is it actually tracking to send back to the mothership, or send back to the enterprise to be aggregated? Check out the Forbes article that I did along with Jacob, and hopefully you will be as impressed as I am.
Daniel Newman: I didn't know the benefit to test this thing, so I'm kind of going off of your take here, and I look forward to maybe having a chance to play, if anybody out there that can help that happen. By the way, I found out who LinkedIn User is. Should I announce it publicly?
Patrick Moorhead: Yes.
Daniel Newman: LinkedIn User is our dear friend Brien Madden from AMD. But for whatever reason, he's just shown up. I get a message, like an LOL… hey Brien, thanks for chiming in and joining the show. You came in just in time. Did you know we were going to talk about AMD?
Patrick Moorhead: By the way, Brien, it was fun staying out till 1:00 in the morning with you in Vegas. That was fun. My liver doesn't like you, but the other Pat does.
Daniel Newman: We'll put some photos in the show notes from that night. Not going to happen. Anyways, I'm not going to have a lot here. What I'm going to say is, you asked an interesting question in your piece, and you said, "My question for HP is, why take the chance with AMD?" Provocative, right. And I thought it was a thoughtful statement. But look, we are seeing a movement towards more diversity of SKUs, the utilization of AMD's technology by many of the OEMs, as they're looking to, A, take advantage of AMD's progress, and their successful innovation that they've been able to show across silicon, both in the data center and in the PC space.
Of course availability has been a thing throughout the pandemic as well, which drove more companies to diversity their SKUs. But AMD's doing a lot of very exciting and innovative stuff in the PC, a lot of the Aion chip. I'm encouraged by what they're doing, and I think that's why companies like HB have made bigger bets and gone more aggressively. The challenges of Intel are well documented, so I don't think we really need to talk about that here, but we can say, sometimes one company's challenge doesn't necessarily mean another company shouldn't be recognized for their success and their innovation. So I think it's more of a indication of AMD's success in driving innovative products than anything to do with Intel. And of course, the success of a product like this will be the final arbiter of truth as to just how good both A, the technology is, and B, the marketing is.
Patrick Moorhead: Good cover. I don't remember saying the risk, but maybe I did. I'll have to go back and look at that.
Daniel Newman: Actually the line item: my question for HP is, why take a chance with AMD when Intel is already building out- so, I'm just reading out of your thing.
Patrick Moorhead: Oh, that was Jacob, not me. No, I'm just kidding. No, I'm just kidding. I try to be a little bit provocative in these articles, but it'll be interesting to see if HP leans more into AMD in lieu of Qualcomm coming up. That's an interesting thing.
Daniel Newman: That would be a hot, hot, hot- hold on.
Patrick Moorhead: Yeah, it's going to be an interesting one. We will have to see.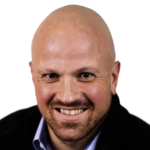 Daniel Newman is the Principal Analyst of Futurum Research and the CEO of Broadsuite Media Group. Living his life at the intersection of people and technology, Daniel works with the world's largest technology brands exploring Digital Transformation and how it is influencing the enterprise. Read Full Bio