The 5G Factor: How the Rakuten Symphony Unit Can Accelerate Adoption of Open RAN and Open 5G Technology
The 5G Factor: How the Rakuten Symphony Unit Can Accelerate Adoption of Open RAN and Open 5G Technology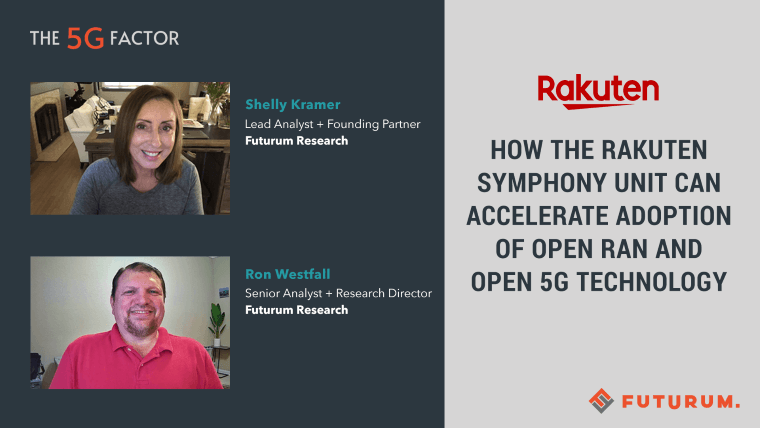 For this vignette of a recent episode of the Futurum Tech Webcast, Part of the 5G Factor series, analysts Shelly Kramer and Ron Westfall examine Why the formation of the Rakuten Symphony unit, combining Rakuten Communications Platform (RCP), Open RAN software, and Rakuten's international telco solutions, can accelerate ecosystem adoption of Open RAN and Open 5G technology. The discussion highlighted:
Why the formation of the Rakuten Symphony unit strengthens Rakuten Mobile's overall competitive prospects.
How the RCP offering is already deployed by major operators in Saudi Arabia (stc), UAE (Etisalat), USA (Ligado Networks), as well as
Telefonica (Europe, Latin America). Rakuten also inherits Altiostar's CSP customers including Airtel (India), DISH (United States), and further strengthens business and channel relations with Telefonica.
Rakuten is proving that CSPs can sell digital cloud platforms, such as RCP, to other CSPs and that the traditional barriers to do so have diminished. Rakuten is providing the template for how CSPs can develop their own digital platforms that can be sold to third party CSPs as well as large organizations.
Watch the clip here:
Disclaimer: The Futurum Tech Webcast is for information and entertainment purposes only. Over the course of this webcast, we may talk about companies that are publicly traded and we may even reference that fact and their equity share price, but please do not take anything that we say as a recommendation about what you should do with your investment dollars. We are not investment advisors and we do not ask that you treat us as such.
Transcript:
Shelly Kramer: Let's talk for a minute about the formation of the Rakuten Symphony Unit. I think that, that can be how we wrap up this show. But I think that there's an important role there in terms of accelerating ecosystem adoption of Open RAN and that sort of thing. So, touch on that for us, will you?
Ron Westfall: Yeah. So, I think it's a very smart move from Rakuten, because it concentrates all these key assets we've touched on, certainly RCP, but also the newly acquired Open RAN assets, as well as their international telco assets into one unit headed by their high profile CTO Tareq Amin. So, that I think is definitely a powerful combination.
This is just demonstrating how committed Rakuten is to really moving the needle across the 5G ecosystem. It's through the Symphony unit that they can better sell into international markets, that they have a broader portfolio now. Now, they've combined all these pieces together. Because before they acquired Altiostar, they acquired a company called InnoEye and that's actually another company based in the US. And they have successfully integrated that into their RCP that enabled digital operations.
So, definitely Rakuten is showing that they're adept at this, and that when it comes to integrating Altiostar, which is also US-based, they already have experienced here, they already have that close relationship. So, all this is going to be definitely kick-starting the Symphony Unit's ability to present a clearly differentiated portfolio and sell it to other international markets beyond the ones that we talked about, obviously Germany is another one that they can add to their lists of success, but it'll be interesting to see where else they can actually make this profound difference. Already, they're doing it in the US, now they have a relationship with DISH through the Altiostar acquisition, but also they're working again with Ligado, the satellite-based 5G network and so forth. So, this is going to be, again, the 5G Olympics, who's going to rack up the most gold medals here over the next 12 to 24 months. And it's looking pretty good for Rakuten at this point.
Shelly Kramer: I think it is looking really good for Rakuten at this point. And I feel like, in many ways, this is a smart company throwing down the gauntlet, and I think it's exciting and look at all the different things that they're doing and all these different friends, and just think, this is amazing and I cannot wait to see what the other players in this ecosystem, in this market do. Like you said, there's just never, I think there's never a dearth of exciting goings on. And that's not going to change anytime soon, given what we know for sure is happening as of late in 5G.
Ron Westfall: Thank goodness.
Shelly Kramer: Yeah, absolutely.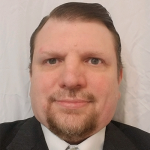 Ron is an experienced research expert and analyst, with over 20 years of experience in the digital and IT transformation markets. He is a recognized authority at tracking the evolution of and identifying the key disruptive trends within the service enablement ecosystem, including software and services, infrastructure, 5G/IoT, AI/analytics, security, cloud computing, revenue management, and regulatory issues. Read Full Bio.