How the Rakuten Acquisition of Altiostar Epitomizes the Approach Many CSPs Should Adopt
How the Rakuten Acquisition of Altiostar Epitomizes the Approach Many CSPs Should Adopt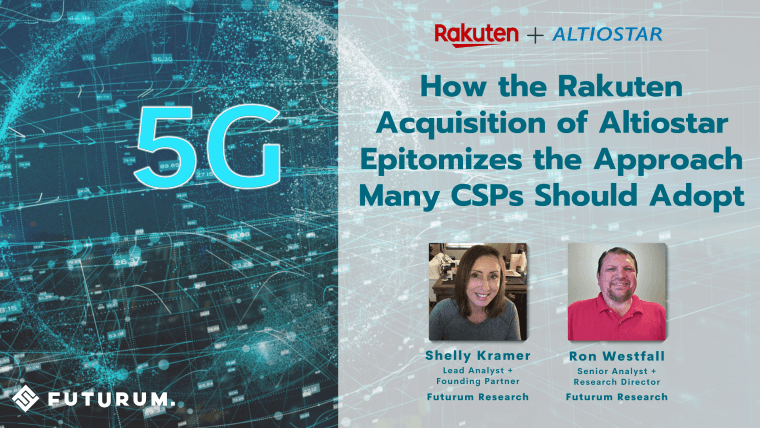 For this vignette of a recent episode of the Futurum Tech Webcast, Part of the 5G Factor series, analysts Shelly Kramer and Ron Westfall explore Rakuten's acquisition of Altiostar and why it epitomizes the approach many CSPs should adopt. The discussion highlighted:
Rakuten already invested in Altiostar back in May of 2019 and subsequently they collaborated to get Rakuten's cloud native virtualized mobile network up and running in early 2020 in Japan.
How Altiostar provided the kicker to Rakuten's mobile network in September of 2020 by providing a container-based cloud data 5G RAN capability and taking 5G innovation to the next level in a production network.
Rakuten's purchase of Altiostar for a billion dollars plus provided a robust evaluation and is good news for Open RAN specialists in terms of being a potential acquisition target.
Rakuten's acquisition of Altiostar stirs up the competitive mix throughout the 5G landscape, showing that for the first time a CSP is going to buy Open RAN assets to move their outcomes forward, to move their objectives strategically in this manner. In sum, a game changer.
Watch the clip here:
Disclaimer: The Futurum Tech Webcast is for information and entertainment purposes only. Over the course of this webcast, we may talk about companies that are publicly traded and we may even reference that fact and their equity share price, but please do not take anything that we say as a recommendation about what you should do with your investment dollars. We are not investment advisors and we do not ask that you treat us as such.
Transcript:
Shelly Kramer: Our research shows that, in many instances, CSPs are behind the eight ball when it comes to understanding the opportunities ahead of them, understanding the strategic business needs that they need to embrace and fund and move forward with.
So, it really seems to me like this is Rakuten just saying, "This is how you do it, boys and girls. This is how you do it, and we're not going to wait. We're not going to sit around and wait to figure out what our competitive edge is. We're going to go do it."
Ron Westfall: Right on.
Shelly Kramer: Yeah, and I think that, that, and again, going back to my conversation with Chad, it's like early adopters to understanding the importance of doing exactly this kind of thing, early adopters are seeing and are going to see a huge financial benefit as a result. And the CSPs who are sitting around and waiting for the right time are going to end up being the Blockbuster videos of the CSP world, and who can afford that?
Ron Westfall: Right on. And perhaps a more apps analogy these days would be Uber or perhaps Netflix, like when the 4G networks were first deployed, who knew those were going to be the innovative business cases and the same thing with the 5G, you just have to be more ready, more prepared. And I fully agree. I think this is something that the communication service providers should have done sooner, and that is simply control more of the software assets that is important for them to not only transform their back office, their OSS and BSS capabilities, but also quite fundamentally become more adept at using cloud capabilities. Whether partnering with a public cloud partner like AWS or Microsoft Azure or Google Cloud, but also easing hybrid cloud implementations and multi-cloud implementations, which are pretty much the destiny of operators anyway.
This is something that I think is important to notice is that Rakuten is already selling into operators within the UAE, Saudi Arabia and the US, again, with the Ligado Network. And what this is demonstrating, in addition to adding on those Altiostar customers, and further strengthening that Telefonica relationship, this is something that another carrier can do. This is not unique to Rakuten.
So, clearly, I think the old business model of, oh, a carrier not being able to sell to another carrier, it's pretty much out the door when it comes to international markets. When it comes to home markets, that could be too far a field for that to really happen. But when you're talking about a carrier in Japan selling into a carrier in the Mid-East or the US, this is something that's already happened and it's going to happen even more. And Rakuten clearly is augmenting its ability to do that.
And I think another important aspect here is that it's not just about controlling, say, the Open RAN software assets and being able to be the master of your destiny in terms of an Open RAN build and thus an overall 5G build. But it's also, again, about that supply chain. Now, Rakuten could have much more confidence about being able to fulfill their business objectives.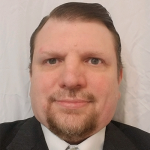 Ron is an experienced research expert and analyst, with over 20 years of experience in the digital and IT transformation markets. He is a recognized authority at tracking the evolution of and identifying the key disruptive trends within the service enablement ecosystem, including software and services, infrastructure, 5G/IoT, AI/analytics, security, cloud computing, revenue management, and regulatory issues. Read Full Bio.