Honeywell Quantum Solutions And Cambridge Quantum Computing Merge
Honeywell Quantum Solutions And Cambridge Quantum Computing Merge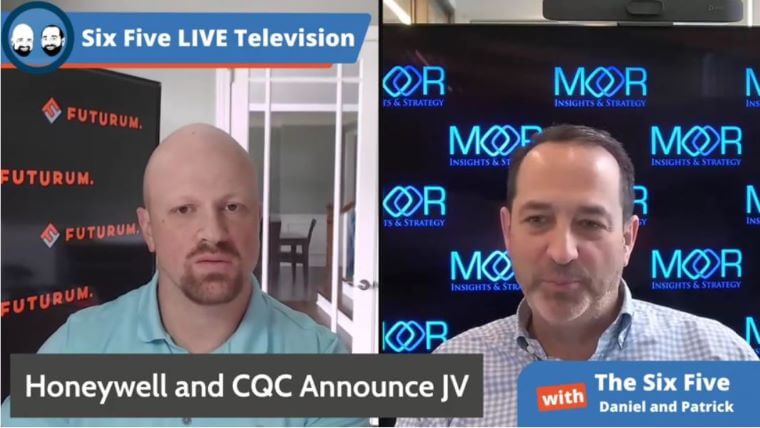 The Six Five team discusses the merging of Honeywell Quantum Solutions with Cambridge Quantum Computing.
Watch the clip below:
If you are interested in watching the full episode you can check it out here.
Disclaimer: The Six Five Webcast is for information and entertainment purposes only. Over the course of this podcast, we may talk about companies that are publicly traded and we may even reference that fact and their equity share price, but please do not take anything that we say as a recommendation about what you should do with your investment dollars. We are not investment advisors and we do not ask that you treat us as such.
Transcript:
Patrick Moorhead: Daniel, let's jump in here. Honeywell had some incredible news out there, gosh, was it this… feels like last week. No, no. It was Monday. Honeywell is spinning their quantum unit out and they're joining forces with Cambridge Quantum Computing. That is a huge announcement for a lot of reasons. So first off, Cambridge Quantum is known primarily for their software platforms. In fact, their software is used across multiple quantum ecosystems, including a biggie like IBM. Quantum has an industry leading [inaudible] solution, and wonder powers unite here. So essentially, and I think this is a good move quite frankly, because it allows a proper level of investment to be made. And if you look at, let's say an IonQ, that is going to be going a direct listing via SPAC, of the ability to get access to capital that's required for long-term. I don't know if Honeywell would have been able to do that.
Now, Honeywell does retain a very high ownership percentage. So if this joint venture, which will likely go public by the end of the year, I'm just guessing, maybe a little bit afterwards, if it goes to the moon, Honeywell will be able to take advantage of the upside. So Honeywell, it's almost like having their cake and eat it too. Daniel, you and I, gosh, we talked to the CEO and chairman of Honeywell, Darius Adamczyk. We talked with the president of the new company, which is the president of Honeywell Quantum and the new CEO of the combined firms as well, who's the current CEO of Cambridge. I know it sounds confusing, but you know, when you're spinning a company out and joining them together, this stuff happens. But everybody's going to get a taste of this thing.
One thing that all parties made clear is that Cambridge Quantum will continue to support the multiple quantum hardware environments out there. A little confusing on the branding. There is no name yet for this current company, and that's a little tough. And I know that Cambridge Quantum is going to keep their name. That was probably the only confusing thing about it. But the great news is, we were both told that that's going to get all shored up sometime this summer.
Daniel Newman: Yeah, it was a big, big announcement in quantum. We've had decades of sort of hearing about the potential of quantum, but just really in the last couple of years are we starting to hear more mainstream, especially with use cases. I'll be the first to say I've been a bit exhausted with some of the academic reporting and academic announcements of quantum supremacy. I understand that more qubits means more conditions. It's exponential. We're finally starting to understand the marriage that's going to take place between classical and quantum computing. Simulation requires classical. Quantum can do certain things very, very well, and it's going to be most effective when it's paired. Honeywell actually did pair and partner with Azure. We saw AWS come out with Bracket. We are seeing more activity here.
I had the chance to talk to CNBC's Morgan Brennan about this before she actually did a segment with Darius, who we got to do a segment with, which is pretty cool, this week as well. You have to come to our summit next week if you want to hear that though. And what I said is, there's a big part of this in my eyes that's about investability. We've all come to the conclusion that AI is investable. GPUs themselves don't run applications. GPUs married with CPUs do run applications and are able to power incredible inference and drive the next generation of applications and gaming and all kinds of things. Quantum, we still haven't really seen this yet.
If you were an investor, Pat, and one of our favorite pods is, let's give a shout to the All-In podcast. I listen to those guys and Chamath and the team over there, David Sacks. They came out and basically said, quantum is not investible. I'm not saying I agree with that, but I'm saying, at this juncture, it's been hard to measure whether it's investible. With this particular move, with what you mentioned with IonQ, going back, we are going to start to actually see the rubber meet the road on the investability of these companies. Honeywell's putting hundreds of millions of dollars in cash into this deal, taking 54% of the stock. And my bet, not anything we've heard from them, is that sometime this fall we will hear about this new joint venture going public. So keep an eye out for that. Got to keep moving. Six five, not the six fifteen, but there's so much more to say.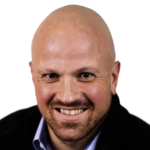 Daniel Newman is the Principal Analyst of Futurum Research and the CEO of Broadsuite Media Group. Living his life at the intersection of people and technology, Daniel works with the world's largest technology brands exploring Digital Transformation and how it is influencing the enterprise. Read Full Bio