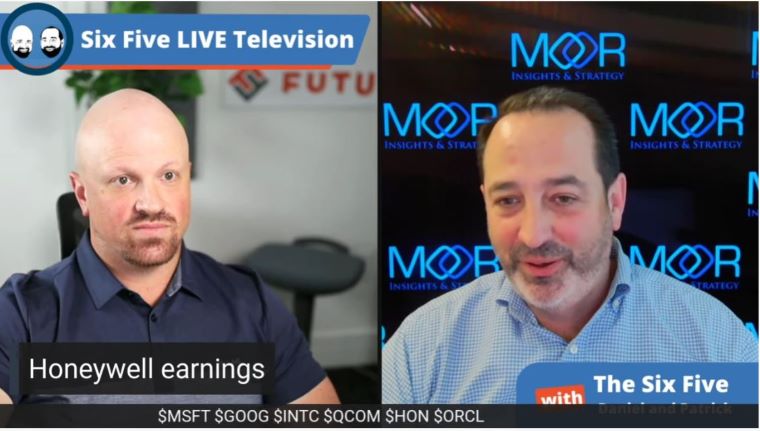 The Six Five team dives into recent earnings coming out of Honeywell.
Watch the clip here:
If you are interested in watching the full episode you can check it out here.
Disclaimer: The Six Five Webcast is for information and entertainment purposes only. Over the course of this webcast, we may talk about companies that are publicly traded and we may even reference that fact and their equity share price, but please do not take anything that we say as a recommendation about what you should do with your investment dollars. We are not investment advisors and we do not ask that you treat us as such.
Transcript:
Patrick Moorhead: Maybe there's room for one more big winner here. That is Honeywell, Daniel. Honeywell, the once industrial, now tech industrial company had a great earnings.
Daniel Newman: Yeah. They beat on the top and they beat on the bottom. The market is loving it, they certainly fall more into that defensive stock, literally. They're not so much defense, but they're in aerospace and industrial and building technologies, they're in materials, and you and I put most of our focus on the company's evolution and revolution into software, into IOT formerly, we know they've spun off their quantum business. We've gotten a little bit into some of their autonomous aviation technologies. What propelled the quarter? Well first of all, the top and bottom beat was great, the guidance was strong. It's funny, you go to Honeywell's investor relation page, and it talks about what the company's done, but it just announced 12 dividend increase since 2010, Pat, 397%, 10 year total return to shareholders.
So, it may not be hypergrowth or considered hypergrowth, but Pat, I wish I'd put a couple dollars there 10 years ago. Because for a dollar you'd have 3.97 on every dollar, $3.97 on every dollar you put in. So, it's not a bad return. Where did the growth come from? Look, it's actually one of those funny things Pat, when you read up the results, and I've been spending some time, it just came out this morning. So, we're kind of doing this with you guys in real time, right now. They were at the high end of their guidance, they exceeded their range on earnings, they deployed capital and repurchasing. So they spent, it says about $1 billion in share repurchases, so that's obviously not bad for the price, and they raised the range in the midpoint of their sales.
The organic sales growth though, Pat, were 1%. Imagine that in tech, in a traditional tech company, that would not be driving a… I think the stock's up like 5 or 6% today on this. What I think the market loved though, Pat, and this isn't really our space, but I think it's just worth noting, aviation's getting hot. So, we're hearing this uptick in mobility. Honeywell, basically has a piece of every airplane. We were just talking about having a piece of every phone for Qualcomm. Well, Honeywell's similar in the aviation space and that business is heating up, and so the company had a huge quarter there. And I think the market knows, as the mobility goes up, as orders for airplanes go up, this is going to mean good things for Honeywell.
I think for you and I, we like to watch how's the forge business going, the data business, how their leadership in sustainability, their urban aerial mobility and autonomous technologies, drones. But, I think as a whole, this is one of those companies that really is a bellwether, really probably does provide a bit of a beacon of safety in this crazy volatile market that we're in, and as it continues to show and flex its growth muscle in getting into some of these tech areas, they're going to be interesting to watch adjacently to all the technology companies that we typically talk about.
Patrick Moorhead: Yeah. It's interesting with Honeywell, it's always to me, the conversation is what is tech now, Daniel? We have all these tech companies doing space, we have all these tech companies doing sustainability, we have all these tech companies wanting to get in and redo the edge. These are all businesses that Honeywell's in, and unsurprisingly this quarter, they had strengthened aerospace, right? Which is tech, they had a big increase in warehouse automation, and listen, that's a combination of material goods, moving goods inside of a warehouse. You and I visited a warehouse. One of the things we weren't allowed to take a picture of in this distribution center, was their warehouse automation, and we also weren't allowed to tell which offender that was either. But guess what? Behind warehouse automation, is a computing system and sensing system to be able to properly have the most efficient warehouse out there.
I spent a summer working in a warehouse in high school doing picking. Pick, pack and ship. And let me tell you what, there was no automation. It was me going from bin to bin, filling essentially a fancy shopping cart and putting into a bin and going into someplace else. What's one of the biggest issues in sustainability. It's the materials we use out there. Do they pollute, do they not? Honeywell has a very robust materials technology, which was cited in the earnings, which really grew those orders 13%. From a backlog basis… It's funny, Daniel, whenever there's a supply chain crunch or something like that, we're always talking backlog. We really get impressed with single digit billion backlogs, but Honeywell had a 20, essentially a $28.5 billion backlog, which to me is mind boggling. But then again, when you have a lead time, you're doing systems for, 7-77s or rocket ships, you can't just crank that out in a week.
In relation to Russia, there was a $300 million backlog hit that I thought was interesting. Not a whole lot of people talking about Russia, but I think that shows what a global business Honeywell is, and hey, they're up 5% after hours. Good job, Honeywell.
Daniel Newman: Right. Well, it's in hours now, buddy.
Patrick Moorhead: Okay.
Daniel Newman: It's 9:48 in the morning.
Patrick Moorhead: Gosh, I'm losing track.
Daniel Newman: It's 5:00 somewhere, but no, it was the reaction, Pat, was really good. So, hey are we done with Earnings Palooza?
Patrick Moorhead: Yeah. As industry analyst, I don't know, I kind of need to take a shower after new earnings, but let's move into some real tech analyst stuff.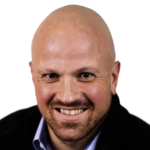 Daniel Newman is the Chief Analyst of Futurum Research and the CEO of The Futurum Group. Living his life at the intersection of people and technology, Daniel works with the world's largest technology brands exploring Digital Transformation and how it is influencing the enterprise. Read Full Bio