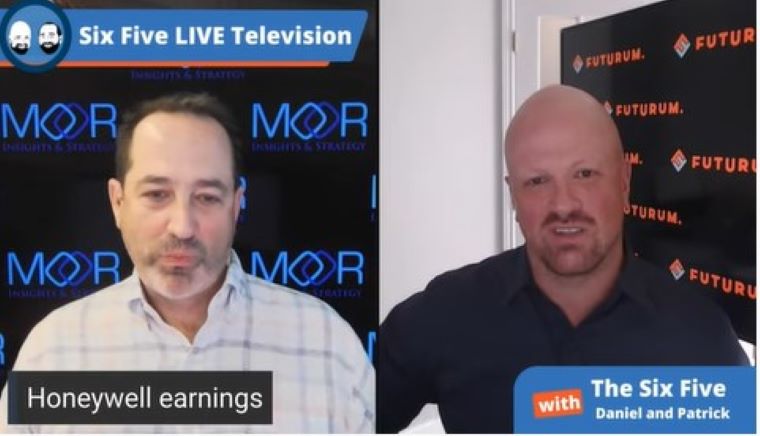 It's The Six Five team's favorite time of the quarter: Earnings Palooza! Hosts Daniel Newman and Patrick Moorhead discuss Honeywell's latest earnings report.
Watch the clip here:
If you are interested in watching the full episode you can check it out here.
10Disclaimer: The Six Five Webcast is for information and entertainment purposes only. Over the course of this webcast, we may talk about companies that are publicly traded and we may even reference that fact and their equity share price, but please do not take anything that we say as a recommendation about what you should do with your investment dollars. We are not investment advisors and we do not ask that you treat us as such.
Transcript:
Daniel Newman: Honeywell jet planes, engines, buildings, edge, all kinds of environments that their technology sits in. And I think they did well.
Patrick Moorhead: Yeah, they did. In fact, they're an industrial tech giant here and they're in aerospace, building technologies, material technologies and safety and productivity services and products. And they have what's called organic revenue that they break out, which is a little bit more like non-GAAP than anything else. But net net, I mean, Honeywell crushed it. I mean, they beat on the top, they beat on the bottom and they raised their guidance.
Aerospace kicked in increasing revenue, 5%, increased the gross margin by 80 basis points. Building technologies increased revenue, 14% increased profitability, 1.1%. Materials technology, organic revenue growth of 10%, increased gross margin by 1.5% and in all this crazy recession, oh my gosh. The sky's falling. They raised their 2022 sales numbers, EPS and segment margins. I mean, and all of this makes sense, right? I mean, look at aerospace where one of their big markets is jets, avionic systems, right?
More people are flying up there in the airs. We've seen with airport profitability, heck even private jets are impacted I hear Daniel with avionic systems and things like that. But the longer you fly a plane, your engines wear out and you need to buy new Honeywell engines. It's as simple as that. Material technologies, which is all about oil and gas and petrochemicals and even specialty chemicals.
Now that we're getting back to supply chain, more normalcy, we're not at normal yet. People need more of these chemicals and materials to make the products that they sell to other people. So all of this makes sense, and it's great to see Honeywell, industrial tech giant that they are do well.
Daniel Newman: Yeah. And I think the couple of other things that you could dig into here, and I was actually at their headquarters yesterday, it was a live-
Patrick Moorhead: Yeah, so what were you doing there?
Daniel Newman: A lot of smiles and such going on, had a couple of things recording talking a little bit about industrial edge. But the company's got a couple really interesting things going on. You mentioned a lot of what's going on with aerospace. If you haven't been paying attention, airlines are having record quarters right now. People are shrugging off any economic data that's suggesting a pullback and they're just spending relentlessly to travel, which by the way, is a great way to get rid of any extra income or savings that you have.
But it's also important, I think sometimes in life that you smile. And travel makes people smile, which means it's a good business to be in. This is a company that's breaking through on things like urban air mobility and drones. I mean, they're going to be one of the leaders for sure as we start to… Basically as we stop getting in Ubers and we start getting in flying Ubers, whatever those become, you can count that Honeywell's going to be there.
Probably the one other thing that's worth mentioning is the company's been very, very proactive in the sustainability in terms of when you have the type of data at the industrial edge in manufacturing and in buildings and in schools and in life safety, that data is being turned into something that can be managed. If you haven't heard about it, Honeywell's got a data platform called the Honeywell Forge Platform, as data is being used for helping carbon capture partnerships, helping companies do energy management as a service, helping companies to be able to basically govern all of the greenwashing that is going on right now.
Pat we've shared some interesting things. ESG funds may be chock full of ExxonMobil and Conoco, but there are companies that are in the industrial business that are trying to take all the data and provide their customers real world, real time information that can be utilized to meet meaningful investments in climate action and carbon neutrality. So it was a good result, good quarter.
It does show that there is some robustness in industrial markets. And of course, like I said, the strength of air travel and that particular space, aerospace and aviation certainly is a nice tailwind for Honeywell.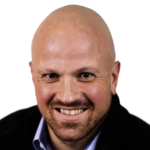 Daniel Newman is the Chief Analyst of Futurum Research and the CEO of The Futurum Group. Living his life at the intersection of people and technology, Daniel works with the world's largest technology brands exploring Digital Transformation and how it is influencing the enterprise. Read Full Bio