GSMA Mobile Economy North America 2021: 5G Becomes Integral on Society-wide Basis
GSMA Mobile Economy North America 2021: 5G Becomes Integral on Society-wide Basis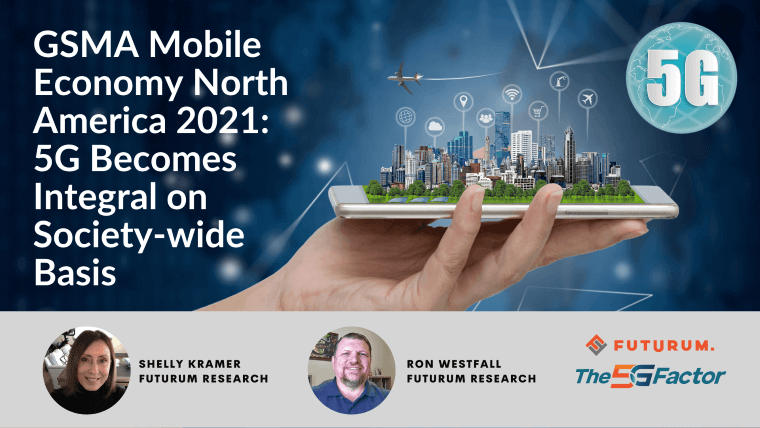 For this vignette of a recent episode of the Futurum Tech Webcast, part of the 5G Factor series, analysts Ron Westfall and Shelly Kramer break down the key takeaways from the GSMA produced The Mobile Economy North America – 2021 report released in conjunction with MWC Los Angeles 2021 show, including the major North American trends through 2025, evolving mobile operator content strategies, and expanding private network drivers.
Their conversation emphasized:
The key data nuggets from the GSMA report: The Mobile Economy North America 2021 including the fact that mobile technologies and services generated 4.4% of GDP in North America in 2020, which is a contribution equivalent to $1 trillion of economic value added, as well as the North American mobile ecosystem provided over 2.1 million jobs.
5G is expected to account for 98% of $300 billion mobile operator capital expenditures over the next five years potentially resulting in two-thirds of all mobile connections becoming 5G by the end of 2025.
The pickup in 5G Standalone (SA) investment and builds will become integral to accelerating Internet of Things (IoT), network slicing, and ultra-reliable low latency communications (URLLC) use cases, especially across the business-to-business (B2B) market and Industry 4.0 landscape.
How the completion of the U.S. FCC's mid-band (3.7GHz-3.98 GHz) auction generated $81 billion and is integral to advancing mobile operator digital advancement objectives.
Why mobile operators are swiftly evolving their content strategies to align with their 5G builds. AT&T and Discovery Inc. announced a deal in which WarnerMedia would be spun off and merged with Discovery's content and distribution assets to form a new company, validating a shift toward using more alliances and licensing arrangements to advance their content offerings.
Now AT&T is working with the National Basketball Association (NBA)/WNBA (Women's National Basketball Association), Verizon with the National Football League (NFL), and T-Mobile with Zyter Inc. (a digital health platform) as well as promoting its smart stadium experience portfolio (T-Mobile Park).
The expanded adoption of private networks, including 5G private networks, as organizations prioritize security and control over their applications and assets.
Ron and Shelly concluded that the new GSMA report demonstrates there are valid reasons why we can anticipate 5G is going to have society-wide impact across North America, especially in digital/hybrid workforce, B2B, and industrial environments, and why the use cases are finally going to deliver real world monetization outcomes through 2025.
Watch the video vignette here:
Or listen here:
If you're watching the 5G space, be sure and subscribe to our YouTube channel to catch the show, or find the podcast in your favorite streaming channel and subscribe. You won't be disappointed!
Don't Miss An Episode – Subscribe Below:
Disclaimer: The Futurum Tech Webcast is for information and entertainment purposes only. Over the course of this webcast, we may talk about companies that are publicly traded and we may even reference that fact and their equity share price, but please do not take anything that we say as a recommendation about what you should do with your investment dollars. We are not investment advisors and we do not ask that you treat us as such.
Transcript:
Shelly Kramer: Now we're going to move on and we're going to talk about the GSMA report called 2021 The Mobile Economy North America. I think that we realized that everybody everywhere is walking around with one of these, right? But when you look at some of the stats, it really is kind of interesting. By the end of 2020, for instance, 327 million people in North America subscribed to mobile services. That should not be shocking in any way.
But it's 83% of the population. That's a lot. Another cool stat is that one trillion of mobile technologies and services generated 4.4% of the GDP in North America in 2020. This is a contribution… Okay, big numbers. Wow. Who cares? So what? Right? Well, this contribution is equivalent to one trillion of economic value that's been added. When we talk about 5G and what's ahead, and the reality of it is we really are in the nascent stages of 5G and massive adoption by not only consumers, but businesses.
When we look at numbers like that and think about what's ahead, it's crazy exciting. Let's talk a little bit about what's on tap for growth ahead. Ron, I know you've spent some time immersed in the GSMA report. Lay it on us.
Ron Westfall: Oh yeah. Now, there are some major key takeaways coming out of this report. To add to the current impact, over 2.1 million jobs have been generated by the mobile ecosystem. This, again, is going to fuel what we can anticipate as significant investments in mobile infrastructure throughout North America. In fact, through the end of 2025, we can anticipate that there will be $300 billion in new estimate with 98% of that allocated to 5G. 5G is only going to account for 98% of that.
Shelly Kramer: Only. It's only 98%.
Ron Westfall: If you're a player out there, you know where to follow the money, in other words. This is definitely going to have positive impacts in terms of the 5G capabilities we've been talking about from last couple years. Yes, the pandemic actually did create new opportunity in terms of things such as remote workforce, digital workforce applications. A lot of that was driven by fixed access, but also definitely had a play for moving 5G investments forward.
And now that we're getting in the post-pandemic era and we're getting fully adjusted to the new realities of the hybrid workforce, that is going to enable these new investments to in essence generate two-thirds of all mobile connections being 5G, again, by that end of 2025 threshold. And a lot of that is going to be on what is called 5G standalone. And why that is important is in contrast to 5G non-standalone, which had to account for legacy technology, is that this will literally unleash 5G's capabilities across the board.
This is going to accelerate I believe IoT use cases. It will definitely accelerate network slicing capabilities. We're finally going to see these vertical industry use cases really blossom. And likewise, closely related to all this is ultra-reliable, low latency communications. That is the underpinning for all of these new 5G capabilities really taking off, particularly in the business to business segment.
A lot of it's been focused on the consumer side here in North America, but now we can definitely really see a take off I believe on the industry 4.0/B2B side. To also underlay why this is really coming into play is that here in the US, there was a mid-band auction, that is the 3.7 to 3.98 gigahertz range, that yielded $81 billion in an investment by the operators. This is going to be important for digital advancements across the board for the operators.
For example, when it comes to their content strategies, as we know, AT&T recently struck a deal at $43 billion with Discovery to basically spin off their WarnerMedia assets and merge it with Discovery content and distribution assets. This is now allowing them to form more alliances. I think we can anticipate the operators are going to be more focused on forming alliances to advance their 5G content strategies versus going out and buying them and looking to operate them. That can change, of course, over the next four years.
But for the near term, I think that is going to be the solid use case going forward. Now we see AT&T partner with the NBA and WNBA directly for their content. We on an earlier episode addressed Verizon's alliance with the NFL, again, taking advantage of 5G capabilities. And T-Mobile is also working with Zyter, a digital health platform, which is, I think very interesting to also complement their smart stadium 5G use case. This is also aligning with private networking becoming more important to address that enterprise opportunity.
Why is private networking becoming more critical and gaining more adoption? Quite simply, it gives the customers more control, more security over their capability. We see AT&T building out a private millimeter wave network with the Ellison Institute, for example. We also addressed that, and that's going to be important for cancer research, particularly when it comes to 3D imaging applications. Also, Verizon now has what it's called onsite 5G, and that is their first private 5G solution offerings.
Now, that is going to definitely fuel the advancement of private networking capabilities. In addition, Rogers for Business, now they're offering managed services for private network solutions. And also, as we know, T-Mobile has already built out the first nationwide 5G standalone network. And again, that's going to be critical for enabling those capabilities we already addressed in terms of fueling the internet of things capabilities, as well as network slicing and so forth.
This is definitely demonstrating that there are valid reasons why we can anticipate 5G is going to have society wide impact, why the use cases are finally going to take real world monetization capabilities on, and so forth. This is all of great news, I believe. I think the NWCLA with the GSMA report definitely underlines that.
Shelly Kramer: Absolutely. One of the things that I'll do in the show notes for this show, as well as in our conversation here on both LinkedIn and I think we're streaming it to Twitter as well, is I'll include a link to the GSMA report, which is terrific. I'll also include a link… Sometimes I feel like I mention this so much that it's too much, but I don't care, because the IBM Institute for Business Value did a terrific report on 5G and what's ahead and how literally 5G is going to transform much of what we know today within the next four or five years.
I refer to this report all the time from the IBM Institute for Business Value. I've done an interview with Chad Andrews from IBM Institute for Business Value. He is terrific as well. I think I'm using the word terrific today. That's my word, terrific. I'm going to try not to use it again. Anyway, great information in there, along with the GSMA report. We'll hyperlink them in here so that you too, if you're a 5G geek like we are, you can dive in and see what's going on, because it's really some exciting stuff, for sure.
Ron Westfall: No doubt. No, that was a valuable conversation. I think it is, again, validating the fact that 5G isn't just going to be about networks. It's going to be about society wide influence and really transforming our lives and enabling not just lifesaving capabilities like on the critical infrastructure, but our daily lives, our ability to work from home in a safe way, et cetera. This is I think definitely worth looking at.
Shelly Kramer: Well, and I had a conversation on this topic a couple of days ago and the reality of it is it's kind of like how you have a network of arteries throughout your body that brings blood to and from and is responsible for keeping you alive. But when it comes to business today and life today, the strength of our networks is what allows us to be connected. And that's really everything that we're talking about 5G, is that 5G will be powering cities and critical infrastructure, all kinds of things like that.
Our personal communications, our media and entertainment, factories, I mean, just you name it and 5G is going to play… Is already in some instances and will continue to play a significant role. It's really exciting stuff.
Ron Westfall: No doubt.