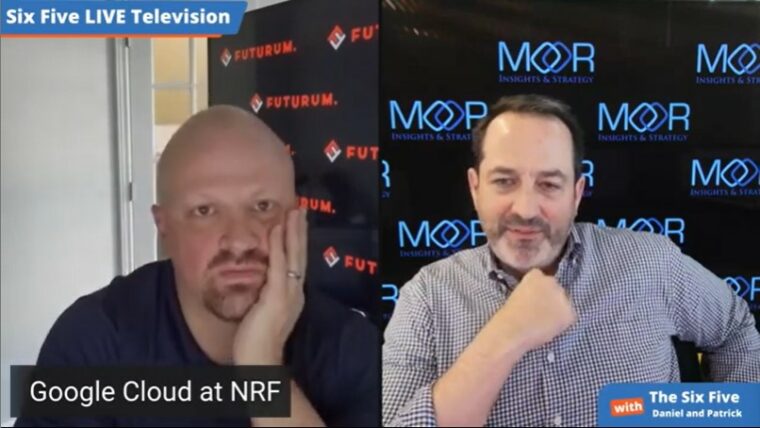 The Six Five team discusses Google NRF.
If you are interested in watching the full episode you can check it out here.
Disclaimer: The Six Five Webcast is for information and entertainment purposes only. Over the course of this webcast, we may talk about companies that are publicly traded and we may even reference that fact and their equity share price, but please do not take anything that we say as a recommendation about what you should do with your investment dollars. We are not investment advisors and we do not ask that you treat us as such.
Transcript:.
Patrick Moorhead: So Google Cloud, they were a late arriver into the public cloud scene after Microsoft and after AWS, but they are rapidly growing on a percentage basis. I would say that on average, I talk to a major enterprise once a week, and a lot of the times they might use AWS or Azure as their primary cloud, but then they will more than not use a Google data or AI service, and that's where Google is doing a fine job landing and expanding.
I think if you look at the needs of retail, so first of all, retail is a little bit spooked about AWS in that Amazon is a huge retailer and they own AWS, but I see Google really getting a lot of traction there because they're able to leverage their data capabilities and AI capabilities to solve real problems, and whether that's related to frontline, getting people to work in frontline capabilities or enabling them to work smarter or allowing the people at HQ to make smarter decisions on what to provide, what to do when you get a stock out, how to not have a stock out through really great and amazing forecasting. That's the backdrop behind I would say three announcements that Google brought to the table.
One, leveraged Vertex AI vision. The other one was updating discovery AI, and the third was its recommendations AI, but you can imagine shelf-checking AI, right? It's very simple, right? It used to be the days that you would send an army of people down in Aisleway, and I don't know if you ever worked in a grocery store, Daniel, with little guns to count how many boxes of Cheerios were on the shelf. When I worked in a factory, we did that in our inventory system, but it's called a cycle count. You go out there and do this. Why not have a robot or a smartphone that you can wave in front of the aisle to tell you how many boxes of Cheerios are? I mean, it makes perfect, perfect sense. I mean, it can use cameras that are in the ceiling. It can use an associate mobile phone or even a store roaming robot.
The second is something that we used to call clicks to bricks or bricks to clicks, which is transforming the digital window shopping experience, essentially making the search experience for products and discovery process so good that you're more than likely to buy that product.
The third is a more personalized search and browsing results with machine learning. So imagine that Google optimizing search, but that gives you a flavor. Daniel, I'm sure that you got hit in the face with all of these demos when you were there for, I don't know, 18 hours or 24 hours, but net-net, it's Google transforming the retail environment either onsite or in the cloud and on the web using technologies that they're pretty good at, really good at.
Daniel Newman: Yeah, you made a good point. More broadly speaking, Google is the ultimate got in by multi-cloud value. Some of their data tools and services are just standout. For the longest time, they found themselves side by side and they're getting a fraction of the overall cloud spend, but their data in AI technologies have led to a lot of logos that are running on Google. Now, we'll talk more about NRF on Friday, but NRF is legitimately a tech show.
You walk in and it's Microsoft, SAP, Google, IBM, Cisco, Dell. I mean, you just get hit in the face by tech companies. It's a tech show. The future of retail is technology. There are a few, the zebras. By the way, they call themselves Zebra technology. Didn't you used to work for MCR some thousand years ago, Pat?
Patrick Moorhead: Yeah, a long time ago.
Daniel Newman: They still have a booth. Pretty big one, actually. It's still a pretty big thing for them. The net-net of it is the future of retail is technology driven. Remember the just walkout technology with Amazon, the frictionless shopping? I think a lot of what I came to recognize this year is that we're actually going to see the analytics of the in-store experience start to match the analytics of the e-commerce experience. This is the big thing that's been missing is as everyone likes e-commerce because of data, you can do eye tracking and screen and behavior and time on page. Well, guess what? With a camera and a good AI system, you can actually do the exact same thing with a person in a store. A little bit weird to know you're being watched, but if you don't know you're being watched by now, you're a little bit weird. You need to pay attention to what's going on in this world.
I love the shelf-checking technology, Pat. I mean, look, I'm sorry for the frontline worker because this is going to be bad news for you, but if your career is counting the number of chicken noodle soup cans, there is going to be a time in the future where a sensor and a camera are going to be able to do that better and faster and more realtime than you. This is where companies like Google come in. It's not as easy as everyone thinks. Building that kind of technology is not going to be cut and dry, but what Google's doing is it is going to become an enabler and cloud services that retailers can apply and they're going to be able to start doing these things with very little friction. In fact, getting your inventory is everything in this business.
We did a massive study on resiliency in retail and things like supply chain. There were some unique supply chain issues in this last few years, but longer term, the ability to get your logistics right has always been a massive differentiator in retail. Walmart for the longest time was given this props for being this logistics machine, the ability to really understand its inventory, maximize and minimize its cost centers, its pricings, its optimization, what lands where. Well, with AI, it puts a lot of smaller retailers on the same plane as a company that had that mass data set of a company like Walmart.
So Pat, I mean, even in this press release, they talked about Google, they talked about a number that NielsenIQ said that on-shelf availability. Empty shelves cost US retailers 82 billion in lost sales. 82 billion could fix a lot of balance sheets. It could fix a lot of retail stores. It could enable a lot of growth and scale.
Last thing I'll say is people want retail experiences. People want to shop. If you ever have a doubt, everyone out there that's a fan of the show, if you ever doubt the power of a retail experience, follow Pat to Aspen one of these times when he decides to take his family Christmas shopping and you will see the power of retail experiences.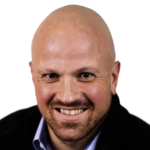 Daniel Newman is the Principal Analyst of Futurum Research and the CEO of Broadsuite Media Group. Living his life at the intersection of people and technology, Daniel works with the world's largest technology brands exploring Digital Transformation and how it is influencing the enterprise. Read Full Bio