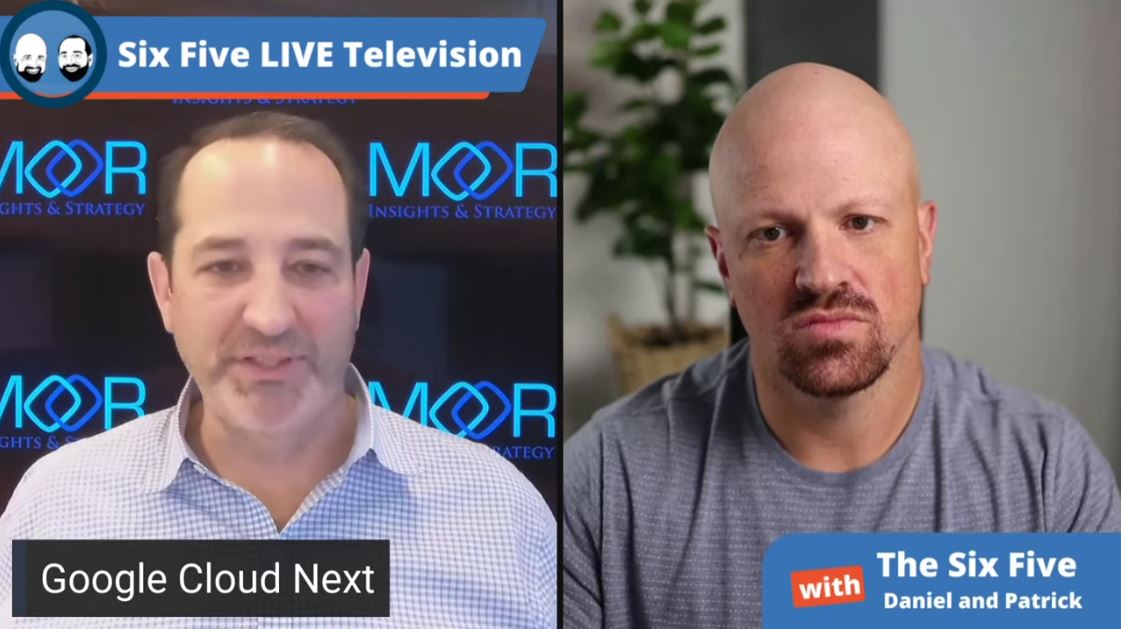 The Six Five team discusses the recent Google Cloud Next event.
Watch the clip here:
If you are interested in watching the full episode you can check it out here:
Disclaimer: The Six Five Webcast is for information and entertainment purposes only. Over the course of this webcast, we may talk about companies that are publicly traded and we may even reference that fact and their equity share price, but please do not take anything that we say as a recommendation about what you should do with your investment dollars. We are not investment advisors and we do not ask that you treat us as such.
Transcript:
Daniel Newman: But Google Cloud Next, lots to talk about.
Patrick Moorhead: Yeah. There was so much that went out at that show, there's definitely not a possibility of me taking all the oxygen out of the room. So if you are counting this from home, Google Cloud is a combination of IaaS, PaaS, SaaS services, including collaboration and even productivity, with things like Google Workspace. So they're a very broad vendor, and I believe that they're sitting at around number three or number four if you combine IaaS and PaaS. And their growth is pretty spectacular. They're not making a profit yet, but they are narrowing their losses very quickly.
And instead of kind of rattling through the news, I want to take away some of the key themes that I walked away from. So first of all, it was the diversification of customers. So everybody would understand why, let's say, a cloud native company might work with Google Cloud, because Google Cloud is awesome at a certain set of things. They're probably best at kind of the newer type of software out there. But recently, I would say in the last couple years, they've really embraced meeting their customers where they are. And whether that's supporting customers with SAP, with even things like Windows Server, and things like that.
So what they did is they rolled out some traditional companies, companies like Walmart, General Mills, Wendy's, Siemens Energy, Deutsche Post, DHL Group out there, I think to really show people, hey, as opposed to just landing and expanding, where they've done pretty well on the data and AI, some of these customers. You can't say a company like Walmart, "Walmart's all in," right? Because they're such a big shot, but bigger than just landing and expanding on data and AI. And I did walk away, and I think Thomas Kuriaan was very influential in the way he rolled this out, that Google is definitely signing up more traditional customers.
The second thing I walked away with was that Anthos and its hybrid capabilities are, they're serious about it. Even though they were one of the first movers in hybrid, I think they were right after Microsoft and Azure stack, they really didn't talk too much about it. And I was thinking, "Are they really serious about this, or aren't they?" And then I saw AWS's Outpost just doing announcement after announcement, and bringing the full stack in, and I will talk about one announcement in particular, the Google Distributed Cloud. And it has an offline mode very similar to what I think you and I like about Oracle's cloud customer offering. So for instance, with Outpost, you have to be connected. So if you're out on an oil rig, you lose connectivity, and you need to keep the business going, this is why these types of things are important. And there are certain countries where you legally have to have an offline mode. So I did think this was a pretty big deal.
And then finally, Google Cloud came out with some interesting security offerings. The Google Cybersecurity Action Team, and while I can't stand the name, it's essentially an entire advisory team leveraging Google, what I consider a best in class security capabilities. This is exactly what the company should be doing, because they're good at it, and hats off to them for it. And they also came out with a Work Safer program, which is kind of the … It's a full stack solution that's fully integrated for collaboration and workspace applications. So good stuff from Google Cloud Next.
Daniel Newman: Yeah, absolutely. Going through the announcements, I think they covered a number of the big thematic secular trends for the cloud, right? Making work easier, making work more secure, addressing the massive data sprawl, edge to cloud. Of course, they had some interesting announcements related to sustainability. Couple things that really caught my attention was one, you mentioned the distributed cloud. The Cloud@Customer is what Oracle calls it, but we knew Google, we know all the public clouds need to really address how do we put the cloud on prem for customers, give them that consistent control plane, and enable them to scale their business on prem, in the cloud, meeting all those different regulatory and compliance spaces, Pat.
The Tableau partnership was really interesting. Of course, all these companies are competing more and more. So they announced a big partnership to bring Tableau, the BI experience, basically seamlessly, to be able to pull in data from big query.
There was a few other interesting partnerships, Pat. One with Citrix for hybrid work, I thought was another one that drew my attention. Citrix is a company that's definitely in flux right now. These kinds of partnerships are going to be really important to it building stability and building growth. But the overall workspace, you're talking about roughly three billion users that touch Gmail and Google in some capacity. That's massive. And that's a huge opportunity for Google to continue to diversify and build. They had some new low code offerings, like in AppSheet, so that was big as well, and that caught my attention.
And the last thing, Pat, you didn't really touch on this. I think this was the oxygen you really left for me more than anything, was they came out with this whole carbon footprint, which is essentially now a no-charge solution in the Cloud console that allows companies to be able to report on their carbon emissions using Google Cloud platform usage to measure, track, and report progress against climate goals. And you and I have talked online, behind the scenes, different places. We know ESG is going to be important to companies. The exact importance, the exact way different companies are going to use it to build competitive advantages will be different, but the technology to be able to monitor and manage it is going to be critical because this isn't something you're going to be able to audit in a notebook.
All right. So we'll call it a day. Good week for Google Cloud. It's a challenge. Now that they've been dropped to four on Gartner's list behind Oracle, they're going to have to fight that fight uphill.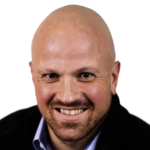 Daniel Newman is the Principal Analyst of Futurum Research and the CEO of Broadsuite Media Group. Living his life at the intersection of people and technology, Daniel works with the world's largest technology brands exploring Digital Transformation and how it is influencing the enterprise. Read Full Bio