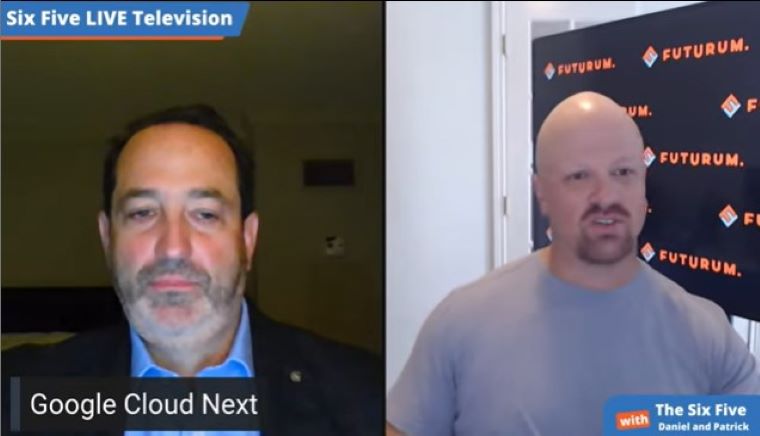 The Six Five team discusses Google Cloud Next.
\
If you are interested in watching the full episode you can check it out here.
Disclaimer: The Six Five Webcast is for information and entertainment purposes only. Over the course of this webcast, we may talk about companies that are publicly traded and we may even reference that fact and their equity share price, but please do not take anything that we say as a recommendation about what you should do with your investment dollars. We are not investment advisors and we do not ask that you treat us as such.
Transcript:
Daniel Newman: Now, starting off, let's talk about Google Cloud Next. I'm in practice here. We were at the beautiful Pier 57, Google Cloud's new offices in New York City. Near the Financial District. It was cool. It was a cool place. It was a cool event. It was basically on the pier. Totally retrofitted building. Pat, you said it well a couple of times on the videos. I'm not sure. Were we at a country club? Or were we at a Google office?
It was well-built, well-designed. There was coffee, food, sushi, drinks, snacks, hangout areas, televisions. More power supplies than anyone could ever need all over the facility. But Google Cloud was there. The event was kicked off by Sundar Pichai. We thought we were going to get a live appearance. We did not. Sundar was in a bunker somewhere delivering his hello, but we did get TK. Thomas Kurian. Thomas came on stage, kicked off, hosted the first keynote. There were two in a four-hour period.
The first keynote, Thomas Kurian kicked off. And then, we had some really interesting guests. Some of them appeared on our Six Five show. Really, the company was focused on a lot of things. There was a lot of news. This felt very fast. You and I sat next to each other during it. This was the hardest keynote I've ever had to tweet, because the pace was voracious in terms of the announcements. A couple things that stood out to me. We know that company is really focused on this data cloud.
It's been extremely aware that its positioning to come into new businesses has come as having some specialized capabilities with how it can handle data analytics … That has brought it into more and more organizations. I had the opportunity to sit in a session, talk to some of the heads of companies like Walmart that are looking at their multi-cloud strategies. Actually, hearing how the company is building on Google with Microsoft and with a giant on-prem presence. Basically, some of Google's specialized data capabilities are the reason that Google found its way into that opportunity.
The other thing I thought that was really worth mentioning to me was the strength that Google has in a number of industries. I don't know if you remember these, Pat, but Thomas flashed some slides where he went through manufacturing, retail, consumer goods. He was showing that the company is now in eight or nine out of the 10 biggest in all of these different areas. What did that mean to me? Furthering my reflection that multi-cloud is real and here to stay, and it is being adopted up-front and earliest by the biggest companies in the world.
We all have said, "How real is multi-cloud? What's hybrid? What's multi?" Google really was able to put their thumb on the fact that whether they're the number one public cloud or the second public cloud, they have found their way into the world's biggest companies in the world's most important industries. Those were the two things. The only thing I'll add to this, in fact, there's so much.
They leaned into security. It's a big topic. I'm not going to touch on that one too much right now, but I really like some of the things they're doing with collaboration. We don't hear about this much, because everybody thinks that Microsoft has an unchallenged path to owning the productivity suite. But we're talking hundreds of millions, I believe, was the number of users now using Google Workspace. That's apps. That's Google Docs. That's Sheets, that's Calendar, that's Mail.
Google is really making some hay there. They're building out next generation collaboration. They showed a new collaboration technology that actually uses 3D. It's this more immersive experience. It puts people into rooms together. That's going to help involve hybrid. Now, we'll talk more about that when we get to Ignite, but I'm going to stop there, Pat, because there was a lot. I did four-and-a-half straight minutes of the five-minute window. Nothing left. No. There's actually a lot left. I'll let you go whichever direction you want.
Patrick Moorhead: Listen, the briefing guide for us was 160 pages. I think that's a good predictor of just how much happened here. I think what I'd like to do is boil it down to … For me, it was four key things. You had mentioned it before, but it's an open data ecosystem. Google Cloud has been very successful in landing with analytics, data, AI, and expanding. One big message really was about the openness. And that's openness getting in, and openness getting out.
Whether that's, again, big query where you're querying any type of database anywhere on the planet. But there was a long list of companies that came to the table to say, "Hey. We're going to be part of this." There was an ODI that I think … Was it Microsoft that created that? Or wait a second. Was it SAP? Salesforce? Anyways, there's been a lot of open data interchanges out there. I'm interested to see how this one pans out.
There are a lot of benefits that Google has. It has so many tools that can reach out to other pieces of data. If there's bidirectional movement there, I think it's a big plus. Some of the AI capabilities. Again, we should never be surprised at how good Google's AI is applied to business. Because quite frankly, they were the first company to do machine learning on images. This was ImageNet over a decade ago. They were the first company to do this.
One of the demos that blew me away was what's called Translation Hub. Let's say, you create a white paper and you know have a workflow where you translate it into 27 different languages. Typically, what you have to have is you have to create literally 27 different versions. This drag-and-drop capability allows you to literally drop a PDF as it is into the Translation Hub, click off how many languages you want it in, and it spits out essentially a PDF that is in 24 different output in different languages.
I just think that is absolutely amazing. Google translation, by the way, this is being borrowed from the consumer side. Big theme. Another big theme for me was they weren't afraid to talk about a lot of the innovations they had done on the consumer side that they can leverage on the B2B side. I give Thomas Kurian, Google Cloud CEO, credit for really setting that pace. No longer are we asking Google Cloud or its potential customers, "Hey. Are you going to just take our data and advertise it? Are you going to Hoover it?"
We don't even talk about that anymore. It was good to see the company open up the aperture and talk about why it has an advantage with a lot of its capabilities. Because it is the largest consumer cloud out there. Security was key. We talked to Google Cloud CISO, Phil Venables. It's funny. I had even said to him, "I don't remember in history Google ever getting hacked."
As we've seen with Microsoft, and as we've seen with Cisco, Google is making a bunch of acquisitions. Gosh. A bunch of them on The Six Five interview. Four of them. Enterprises are looking for one throat to choke and all the integration to be done. I fully expect in the future Google to be up there with Cisco and Microsoft as it relates to security. We could go on and on, Daniel. We talked to Vint Cerf. The guy.
Daniel Newman: That was so cool.
Patrick Moorhead: He created the internet. June Yang on AI. Sudhir Hasbe for data analytics. Bronwyn Hastings who runs Google Cloud's ISV and Channels. It was incredible.
Daniel Newman: Maybe, Pat, we can just say here, hit our show notes. We're going to put links to all of the episodes of The Six Five On The Road. Yes. I loved them all. I do have to say I was a little starstruck by Vint.
He was such a humble guy. He's the guy that helped find the actual internet. Not like Al Gore. Actually, helped find the internet, did the building, Pat. I was very impressed. All the sessions were great.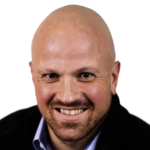 Daniel Newman is the Chief Analyst of Futurum Research and the CEO of The Futurum Group. Living his life at the intersection of people and technology, Daniel works with the world's largest technology brands exploring Digital Transformation and how it is influencing the enterprise. Read Full Bio