Google Cloud and C3 AI Team up on C3 Earnings Day
Google Cloud and C3 AI Team up on C3 Earnings Day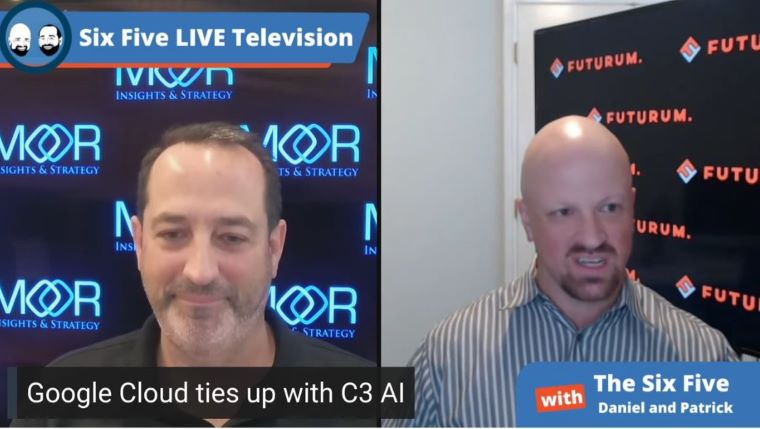 The Six Five team discusses Google Cloud and C3 AI teaming up on C3 Earnings Day.
Watch the clip here:
If you are interested in watching the full episode you can check it out here.
Disclaimer: The Six Five Webcast is for information and entertainment purposes only. Over the course of this webcast, we may talk about companies that are publicly traded and we may even reference that fact and their equity share price, but please do not take anything that we say as a recommendation about what you should do with your investment dollars. We are not investment advisors and we do not ask that you treat us as such.
Transcript:
Daniel Newman: Let's talk about AI and Google, announcing a tie up together. Pat, I'm going to talk about it from the C3 AI angle, I know you've followed Google cloud very closely, so I'll pitch that back your way a little bit here.
So C3 AI, interesting company, it's still in it's fairly early days, but it is one of the only companies out there that has truly hung its hat on what would be considered enterprise artificial intelligence built for industry. So Tom Siebel, the founder and CEO of C3, he's pretty much a legend in CRM. That's what you probably know him for, Siebel Systems, early Oracle days, really being one of the people behind the development of CRM. Well, the opportunity he's identified is effectively that AI is not going to be so much a technology layer driven by IT, but it's going to be a business layer driven by the data science side that's going to be early supporting some of the most highly regulated industries, defense, aerospace, oil and gas and financial sector, healthcare. You have massive influxes of data in these industries that's scaling exponential on a daily basis that all needs to somehow be managed. You need to create algorithms, you need to be able to do this at scale.
And not every company has endless resources to hire mountains of data scientists to actually figure out what are the right things to be checking, to get the constant drip of insights from all that data. And that's really what the company is doing is it's building these pre-packaged software suites that can basically do things like monitoring a field full of sensors in the oil and gas industry, or being able to monitor millions of transactions concurrently for fraud. Well, streamlining this so a bank doesn't have to necessarily build that from scratch, but can instead turn to C3 AI, only at this time, on about a quarter billion dollar, a year revenue rate early, only 98 customers back, 98 customers. And by the way, 200 million of its revenue came from a tie up with Microsoft and working with Microsoft to vertically integrate with its customers.
Now it's mounting this Google tie up, which is really interesting and Pat I think you follow, like I said, Google cloud really closely, but with Google's accelerated efforts and investments in growth, I think it could be a really interesting one. And Tom Siebel told me, he said, he thinks it could be as good if not better than the Microsoft type in terms of revenue generation for the company.
Patrick Moorhead: Daniel, I was a little surprised about this one. Google is diving two things, first off Google itself is diving in vertically big time. Why did it need a partner do this? Secondly, the sweet spot for Google cloud is AI and ML and data and that's exactly, and C3 does vertical big data and machine learning and AI stuff. So I was a little surprised. And I don't know if this per tends to maybe an acquisition for C3 AI or? And given the work that C3 did with Azure, I'm assuming that C3 isn't locked into using Google technology, they seem to be as independent. So anyways, kind of a head-scratcher for me, pragmatically, I understand it for both companies, it gets Google going quicker, gets C3 going quicker, but then again, they're splitting the revenue maybe. So anyways, maybe we'll see how this works out and financially for both the companies. I wasn't aware that C3 had so few customers, but I totally, I think I get it from their side, I guess I don't understand it from Google side, so I have to do some research on that.
Daniel Newman: Yeah. Something maybe we would come back to, it's an interesting one, Pat, and I think you've made a good assessment, small number of customers, large revenue per customer. I think one is operating more at the technology layer and one is operating more at the business layer, but I think Google is making some serious investments hiring a lot of people into their cloud business with great vertical expertise. Reminds me a little bit almost, I don't know if it's safe to say this, but SAP S, SAP has lagged in many ways on the technologies, in the cloud migration that some of the other companies have been able to do faster, but has really won by the fact that they've had so much business line expertise that it's like, where are the decisions being driven? How is it being driven by the business, or is it being driven by technology?
And it seems the business often wins when those two compete, but obviously more and more it's symbiotic. Like I said, I think it's one that we can definitely come back to.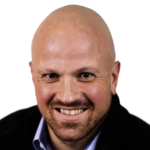 Daniel Newman is the Principal Analyst of Futurum Research and the CEO of Broadsuite Media Group. Living his life at the intersection of people and technology, Daniel works with the world's largest technology brands exploring Digital Transformation and how it is influencing the enterprise. Read Full Bio