Exploring Amazon's Sustainability Announcements
Exploring Amazon's Sustainability Announcements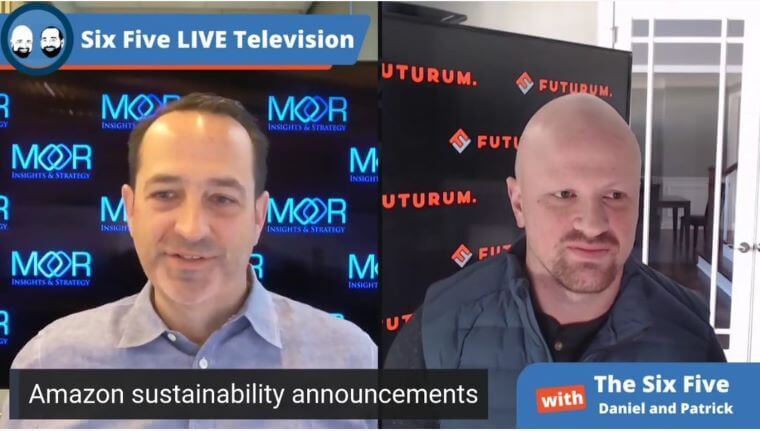 The Six Five team explores the sustainability announcements from Amazon. Currently, over 100 major global corporations are participating in its Climate Pledge. What impact will these new pledges have on the climate? Only time will tell.
Watch the clip:
If you are interested in watching the full episode you can check it out here.
Disclaimer: The Six Five Insiders Webcast is for information and entertainment purposes only. Over the course of this podcast, we may talk about companies that are publicly traded and we may even reference that fact and their equity share price, but please do not take anything that we say as a recommendation about what you should do with your investment dollars. We are not investment advisors and we do not ask that you treat us as such.
Transcript:
Daniel Newman: Let's get started. We have a couple of interesting ESG announcements to talk about today, but Amazon, as they can't stop, won't stop, came out with an announcement this week. I think it's crossed 100 major global corporations are now participating in its Climate Pledge.
Patrick Moorhead: Yeah, so Amazon is in the news for a lot of reasons. Some of them are good. Some of them are negative. We talked a lot about this on the show. And, Amazon is a company that is so important for so many reasons. I mean, COVID as an example at a time that where we couldn't leave our homes, they were the company that brought us our food, our PCs, just pretty much everything. And they hired close to 400,000 plus workers as well. They adopted a $15 minimum wage, that even democratic socialists, like Bernie Sanders, were really wanting to get for the rest of the company. So, it's almost as if on sustainability, Amazon is in a competition with everybody else, and I kind of liked that because, and, Danny, you and I talked about this on a vendor call the other day, sometimes competition or trying to be first with things is not necessarily the best thing, but in some ways it raises all boats and have everybody looking at you.
So, Amazon had a few announcements. And again, you can read this on my Forbes column and, Daniel, I know you'll probably be writing something up but, a climate pledge, and this is getting ahead of the Paris Accord by 10 years. New signature, signatories? Is that the right word? New people signed up. Alaska Airlines, Colgate-Palmolive, Heineken, Pepsi, Telefónica, Visa, just to name a few. I also talked about eco-conscious shopping options, a 75,000 Climate Pledge Friendly products available in the U.S. and EU. I don't think that means you can eat the packaging, Daniel, but I have a sneaking suspicion… You're supposed to laugh by the way. A sneaking suspicion that these products and the packaging are very eco -friendly, and these are products that go all the way from a rum from Flor de Caña to Logitech mice.
So, pretty wide range there. Give me a 15 to 25% discount on those certified products from Honest Company, Seventh Generation, Ethique, products like that. And I think finally talking about renewables, Amazon, not only is the biggest online retail seller, not the biggest retailer. I think they have a whopping 2% of retail market share, but electronically, they do lead in the U.S. They also have a very, very successful cloud business, IaaS, PaaS and SaaS. There are 206 renewable energy projects worldwide. There are wind products, solar rooftops, and all in all Amazon says they're going to create 8pointGW of global electricity production capacity, making it what they're calling the most significant corporate buyer of renewable energy sources in Europe.
Pretty awesome, pretty awesome sauce. And again, it's great to see the thousand pound gorilla, like Amazon, can pull a lot of weight, an initiative like this, and gets us into a competition. Even Google had an announcement. I know we're talking Amazon here, but Google had an announcement where you could actually select where you put your workloads, based on the type and cleanliness of that energy and also the latency. Because, even if you want to do good, if the cleanest energy is coming out of a Portugal and it triples your latency, that's not a good decision. All in all, good stuff, Amazon.
Daniel Newman: Yeah. So listen, Pat, just a couple of quick thoughts on this particular topic. One, the climate change activism that's going on in big tech and in big corporate is really table stakes. So I give Amazon a lot of credit and the hundred companies. I mean, even Microsoft and Amazon are working together on this one. When we talk later about the Apple event, you'll note that there was some significant mentions of their plans around the climate. We're going to talk about HP and the Climate Pledge. We had a meeting, and we overheard from some of these activities at Hewlett Packard Enterprise, the other HP, about their strategy, and it is table stakes in the sense that, even executives will admit people won't pay more for it. But nowadays, if you are a big tech company and you want to be considered legit and in touch with society, your ESG efforts are going to include a significant sustainability plan that clearly articulates how you are protecting Mother Earth.
And I mean, look, you're a little older than me, but we have children of close in the same age. And, it's not even really just about us. It's really about our kids and our kids' kids. And these companies are trying to do something, because we are taking a lot of resources from the world, and big tech and big corporations have the power, capability, resources, and vision, I hope, to actually participate in returning some of those resources and helping create a more sustainable footprint. So, why are we talking sustainability all the time on the show? Look, it's a big underpinning of the strategy of tech going forward. We need to think about this particular topic. All right. Hey, listen, we got to move on, man, because we just tend to always get caught up in everything, Pat, because we just have so much to say.
Patrick Moorhead: I know.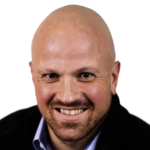 Daniel Newman is the Chief Analyst of Futurum Research and the CEO of The Futurum Group. Living his life at the intersection of people and technology, Daniel works with the world's largest technology brands exploring Digital Transformation and how it is influencing the enterprise. Read Full Bio