Ericsson, Deutsche Telekom, and Samsung Show Network Slicing Ready to Make Cloud Gaming Prime Time
Ericsson, Deutsche Telekom, and Samsung Show Network Slicing Ready to Make Cloud Gaming Prime Time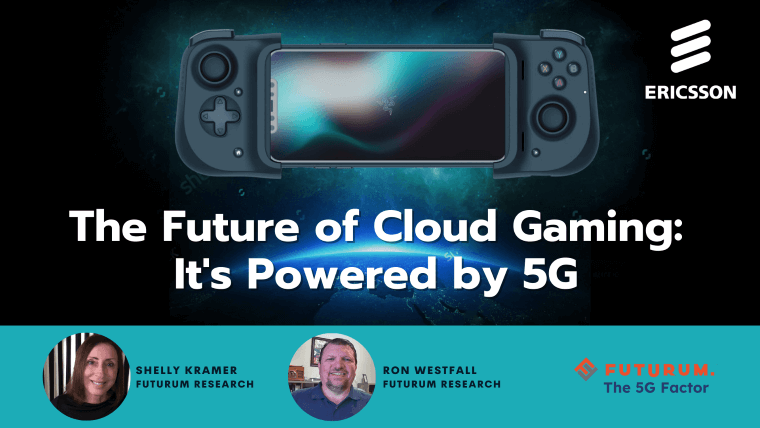 For this vignette of a recent episode of the Futurum Tech Webcast, part of the 5G Factor series, analysts Ron Westfall and Shelly Kramer assess why the Ericsson, Deutsche Telekom, and Samsung demonstration that confirmed end-to-end network slicing can work specifically for gaming applications is integral to advancing 5G monetization and use case networking objectives.
Their discussion covered:
How the three-way demo verified that network slices for gaming with stable latency and guaranteed throughput can be successfully created in congested traffic, the automation of different slices with infrastructure resource isolation, and the BSS integration required for automated slice provisioning through comprehensive slice orchestration as all as ultimately the monetization of 5G gaming use cases.
The role of Ericsson's Service Orchestration platform in working with Ericsson domain orchestrators for ensuring the dedication of virtual and cloud native resources to the network slice.
Why the cloud gaming demo can empower Deutsche Telekom to advance its 5G revenue diversification and expansion objectives and augment the customer experience.
The Future of Cloud Gaming: It's Powered by 5G
Ron and Shelly view the cloud gaming use cases as having tremendous upside for meeting near-term communications service provider (CSP) 5G monetization goals in the consumer space and puts Deutsche Telekom in a stronger competitive position to deliver network slicing for gaming-specific applications.
Watch the clip here:
Or grab the audio by way of your favorite streaming platform here:
Don't Miss An Episode – Subscribe Below:
Disclaimer: The Futurum Tech Webcast is for information and entertainment purposes only. Over the course of this webcast, we may talk about companies that are publicly traded and we may even reference that fact and their equity share price, but please do not take anything that we say as a recommendation about what you should do with your investment dollars. We are not investment advisors and we do not ask that you treat us as such.
Transcript:
Shelly Kramer: So we're going to get right into our show and we're going to talk about the future of cloud gaming, which is powered by 5G end-to-end network slicing, and some exciting changes as it relates to that. So this is what I think is exciting about this, and Ron, you're going to get into this in more detail, but one of the things we talk about a lot is how communication services providers, we call them CSPs, can monetize their services and how they can better serve their customers. And this is something that CSPs are really struggling, in some instances, to get their arms around.
But there's a huge economic opportunity here and an opportunity for a competitive advantage for the CSPs who really understand the things that they can do to monetize their services to their customers. And so, that, I think, is what's really exciting here about this, is because this is another way for CSPs to get a slice, if you will, of this cloud gaming action and more importantly, monetize their networks. And so, let's talk a little bit about the end-to-end network slicing that's been optimized for cloud virtual game streaming. I know that Ericsson is doing this right now. So Ron, talk to us a little bit about that and why it is we're excited about it.
Ron Westfall: Oh, you bet, Shelly. And yes, 5G monetization is top of mind for all CSPs, and as a result, I think it's important for us to shine spotlights on use cases, especially ones that have, near time, a monetization opportunity. And as indicated, Ericsson is working with Deutsche Telekom and Samsung to demonstrate that end-to-end network slicing can work specifically for gaming applications. And you hit the nail on the head. What's Deutsche Telekom's motivation for doing this? Well, expanding revenue, diversifying revenue streams, and also improving the overall customer experience. And in this particular demo, what they did was create two slices, one for regular enhanced mobile broadband traffic, and the other slice, specifically for the gaming capabilities.
And by doing this demonstration, I think there were three important takeaways, first of all, that the slice worked successfully in a congested network. And that's going to be important for any major operator, particularly when serving the cloud gaming community, which are located heavily in metro communities, so you have to have that in place in order to really make this work successfully. Secondly, the entire process was automated, and I think we all understand that automation is essential to 5G's success, particularly when it comes to network slicing and microservices, et cetera, lifecycle management. All of these things require automation, and part of that automation is the third takeaway, is that Ericsson's BSS platform was used to basically enable that monetization you pointed out to, allowing the charging and billing to take place on a real-time basis and in alignment with a slice that's created.
And so, with those in place, that allows an operator like Deutsche Telekom to really take it to the next level, like, hey, we have a cloud gaming application that we can actually monetize in the very near future and thus, really accelerate our 5G plans. And I think also, what's important from this particular demonstration, they used Ericsson's service orchestration capabilities, and that needs to work with various domain orchestrators, and in this case, obviously, they're the ones related to cloud gaming. But let's say I want to fire up microservices or a network slice for something like video surveillance or virtual reality. You require a different set of domain orchestrators, and you need that service orchestrator to serve as that meta-orchestrator, if you were, to enable these capabilities on a use case basis.
And also, it's important because it assures the alliance of the virtual and cloud data of resources, that have to come together to allow these on-demand use case monetization opportunities to come to the fore. So this is, I think, a very important demonstration because it is validating what we've been hearing about for quite some time and it shows that Deutsche Telekom is really putting the pedal to the metal when it comes to, well, okay, the cloud game is one that we can really put some bets on. So yeah, stay tuned. We'll revisit cloud gaming later on, I'm sure. But also, we'll look at those other use cases, like the ones I mentioned, such as video surveillance and virtual reality and so on, so good stuff.
Shelly Kramer: Well, and we've talked here before about Ericsson, and they're moving BSS to the cloud and their capabilities in that regard, which are pretty impressive and extensive. And I think that this is a perfect use case of the whole package that CSPs are able to get from Ericsson. It's the Ericsson network, it's their service orchestration, it's their monetization tools. It's like, we've got everything that you need, and I think it's an important and significant offering. And this is a good example of a use case, as you said, of how OTELCO can use that and really power their own efforts moving forward, and I think we're going to see more of that, but I love that this is… As I said, we've done some interviews with the Ericsson team. We really looked extensively. We've done a report with them on moving BSS to the cloud and this is a great example of that particular use case, I think, so good stuff ahead.
Ron Westfall: No doubt, yes.
Shelly Kramer: Absolutely.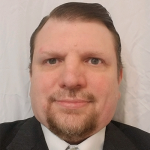 Ron is an experienced research expert and analyst, with over 20 years of experience in the digital and IT transformation markets. He is a recognized authority at tracking the evolution of and identifying the key disruptive trends within the service enablement ecosystem, including software and services, infrastructure, 5G/IoT, AI/analytics, security, cloud computing, revenue management, and regulatory issues. Read Full Bio.