Ericsson Closing a Major Research Center in Nanjing Amid a Shrinking 5G Market in China
Ericsson Closing a Major Research Center in Nanjing Amid a Shrinking 5G Market in China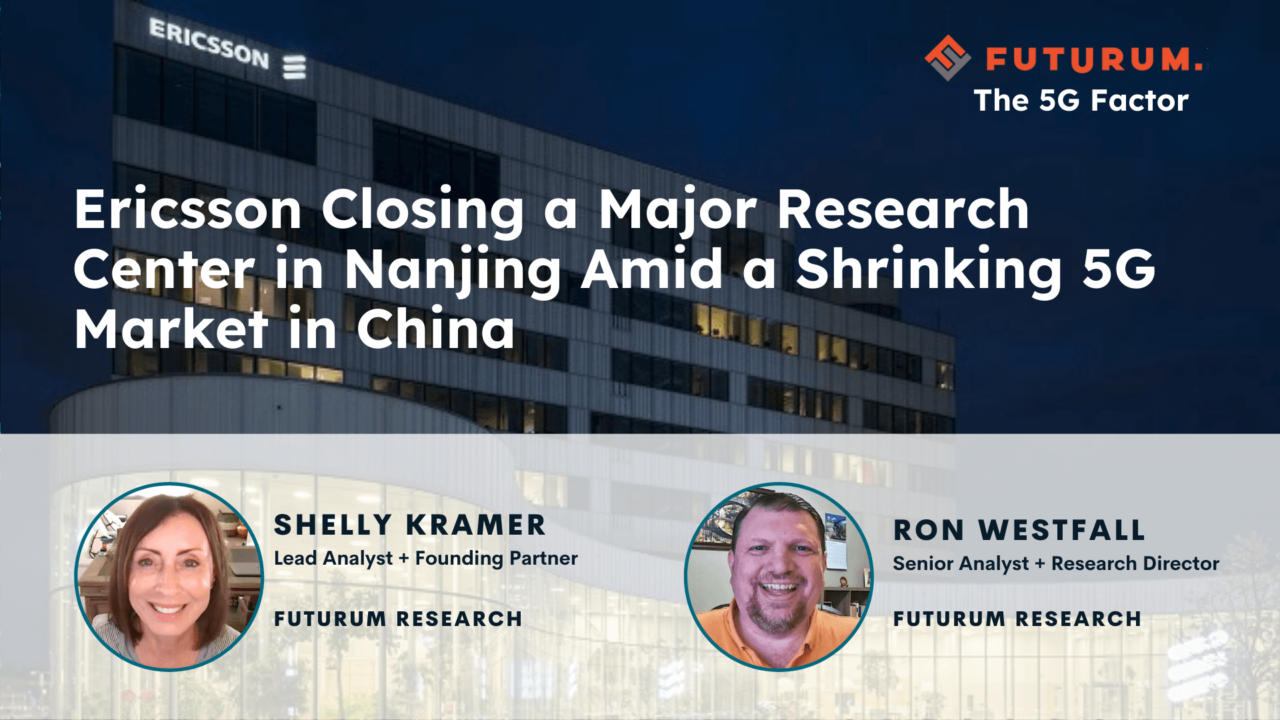 For this vignette of a recent episode of the Futurum Tech Webcast, Part of the 5G Factor series, analysts Shelly Kramer and Ron Westfall provide their perspectives on Ericsson's decision to divest its product research and development activities in Nanjing, China by November 2021.
Their conversation covered:
Ericsson now has four R&D centers after the Nanjing R&D center divestment resulting in the apparent transfer of over 600 employees to TietoEVRY, a Finnish software provider with offices in China.
How the move coincides with Ericsson's market share loss to China-based rivals like Huawei and ZTE in China's domestic 5G market.
Why the decision of Ericsson's leadership to remain committed to the China mobile market is a strategically sound one as China is the global leader in 5G deployments today and is a key testbed for emerging 5G applications and capabilities.
Why geopolitical tensions and China's recent economic and trade decisions may diminish China's own mobile ecosystem and standing over the long term.
Shelly and Ron agree that doing business in China is becoming increasingly tricky today as developments such as new Edtech market regulations and Jack Ma's reduced presence are indicators that deal-making across the China tech market, including the 5G and mobile sections. will become more challenging.
Watch the clip here:
Or grab the audio by way of your favorite streaming platform here:
Don't Miss An Episode – Subscribe Below:
Disclaimer: The Futurum Tech Webcast is for information and entertainment purposes only. Over the course of this webcast, we may talk about companies that are publicly traded and we may even reference that fact and their equity share price, but please do not take anything that we say as a recommendation about what you should do with your investment dollars. We are not investment advisors and we do not ask that you treat us as such.
Transcript:
Shelly Kramer: We're going to transition away and one of the things I saw with interest here in the last week is that Ericsson announced that it's going to close one of its major research centers in Nanjing and really, the reality here is the company has a shrinking 5G market in China. And so, Ericsson has five research centers today in China and they're going to close that one and they're going to transfer 600 and some employees, perhaps this is a rumor not confirmed to a partner company rumored to be TietoEVRY, which is a Finnish software provider with offices in China. And this is really largely due to the fact that the Swedish telecoms company is losing market share in a big way to Huawei in China's 5G market.
That makes sense, with all the things that have been going on with Huawei and sanctions imposed by the US and other concerns, the worldwide, and some challenges that Huawei has had, but to step back from that for just a minute, China is the world's largest 5G market. They've got nearly a million 5G base stations in operations or will have… No, they have had a million 5G base stations in operation by the first half of 2021. That's a lot. It's of course, considered a critical market for any telecom provider, right?
China provides a test bed for all of the advanced 5G technologies and companies like Ericsson and rival Nokia want to be able to tap into that test bed, those results, that information when they're deploying their 5G networks across the world. This is a big deal for Ericsson to be struggling in the Chinese market. The company has had a presence there for a whopping 120 years. That's a serious long time, right?
Ron Westfall: No doubt.
Shelly Kramer: And they've been a dominant player of gear in China for a very long time and they've worked hard to win contracts in the country. Ericsson was once a major supplier of telco equipment in China, but the company reported in July that its second quarter revenue in China dropped 60% year over year. That's not sustainable.
Ron Westfall: I agree. I think at least in terms of maintaining a competitive presence in the China market, and this is a clear cut example of geopolitics trumping trade considerations and technology considerations. One thing that is specific in terms of why Ericsson's share dropped but Nokia was effectively re-introduced is that the Swedish government is also implementing its own ban on Huawei and ZT Equipment. And so, this is, I think, clearly a retaliation move, but they are still hedging. They didn't completely cross out Ericsson's name in terms of winning some of the most recent tenders. I think this is something that isn't going to go away anytime soon. I think the geopolitical factors will be increasingly factored into how these players look at competing long-term in the global 5G market.
And I think, well, in the near term, it's not going to be helpful to non-Chinese vendors in how they can grow in the China market. I think it won't be good for China itself because while these numbers are huge, we really don't have a lot of insight into the level of quality of these 5G connections, how the applications are running over them and its aggressive deployment so far and there's still more ceiling. I think a part of it is the Chinese government deciding, okay, Huawei and ZTE are getting some important markets cut off to them, so let's see them pump up the market that's addressable in China to help offset that and also, be able to make global leadership claims in 5G.
I think what we're seeing is with, for example, Jack Ma being leashed and other high profile moves that have, I think, hampered the overall Chinese tech industry, that it's going to make it less innovative. It's going to be less agile and this is a two-way street. It's one thing for the US and US allies to have to dial back their presence in the China market, but it's going to be hard for China to really have much impact beyond the domestic market and select few countries if they can't really take advantage of ecosystem innovations on a more predictable level rather than having geopolitics interrupt what would be a normal bidding process for China Mobile, China Unicom, and so forth. I think ultimately, it will be actually more bad news for China than US, Sweden and other countries that are putting the brakes on using Huawei or ZT Equipment in a 5G network specifically.
Shelly Kramer: China is a really tricky place to do business these days. I mean, we're talking about the Edtech industry has been reeling as a result of some recent new regulations out of China. And now, we've got the gaming industry in the sites in terms of the country limiting consumption of video gaming on the part of its citizens and Jack Ma sort of being invisible over the last several months. And so, it's a very tricky time for investors, anybody investing in the Chinese market, it's a really tricky time for companies trying to do business there. When you talk about the money part of the equation, Ericsson's got four remaining research centers in China, in Beijing, Shanghai, Guangzhou, and Chengdu, and they collectively employ over 5,000 people and they've got an annual R&D spending budget of 460 plus million dollars.
There are ramifications there for the Chinese and it just continues to be a sticky situation. And I will say kind of end this conversation by saying that, Ericsson's CEO told Reuters in an interview last week that the company was not giving up on the China market and I think that it's based on what we talked about earlier and how important the Chinese market is in the 5G ecosystem as a whole, I think it's great to see companies like Ericsson and Nokia committed despite the geopolitical issues to keep trying to figure out ways to work together and to do business together. And I think that to me, of course, and I know to you as well, smart partnerships are the path forward and one country pulling things in with a nationalistic view, whether it's China or the United States or any other country is really not the answer. It will be interesting to see for sure where we end up here. A lot more things are going to happen, I'm sure.
Ron Westfall: I think that's a good point about the Ericsson CEO giving up on the market. I don't think that would be prudent at all. And yes, geopolitical winds can shift and even with the new regulations that China is pursuing, there's always room for compromise and so forth. Yeah, I think that's the smart play.
Shelly Kramer: Well, we'll see.
Ron Westfall: Right. It can always get worse too, so fair enough.