Drivers Behind the 5G Private Market Uptake
Drivers Behind the 5G Private Market Uptake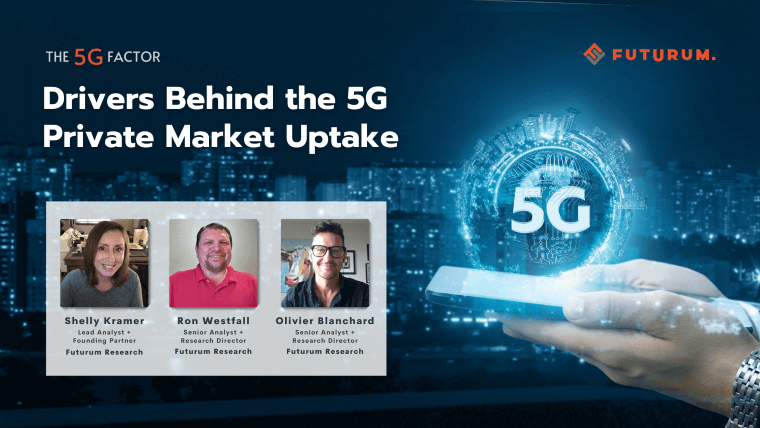 For this vignette of a recent episode of the Futurum Tech Webcast, Part of the 5G Factor series, analysts Ron Westfall, Shelly Kramer, and Olivier Blanchard examine why Private 5G networking (P5G) is such a hot topic and fast-growing market segment. The conversation focused on:
How regulators are driving Private 5G networking through the availability of sub-6GHz licenses and unlicensed/shared spectrum.
How private networking is a proven technology, including private LTE market inroads, that paves the way for rapid private 5G network uptake.
The advantages of private 5G networks over public 5G networks and WiFi implementations.
The 5G ecosystem is rallying behind P5G networking as regulators are generally supportive and communications service providers are in a position to showcase their expertise and resources in areas like RAN optimization, MIMO implementations, and spectrum knowledge to boost ecosystem adoption of P5G, including especially managed P5G services.
Watch the clip here:
Disclaimer: The Futurum Tech Webcast is for information and entertainment purposes only. Over the course of this webcast, we may talk about companies that are publicly traded and we may even reference that fact and their equity share price, but please do not take anything that we say as a recommendation about what you should do with your investment dollars. We are not investment advisors and we do not ask that you treat us as such.
Transcript:
Ron Westfall: One term really explains the uptake of private 5G networking, why it's such a hot topic, and that is Industry 4.0. This is primarily or exclusively a service that's aimed at the enterprise segment. And it entails really, the ability for organizations to use a plethora of sensors, and collaborative robots, and other capabilities throughout their facilities. You name it. A smart factory, a smart facility, smart fill in the blank.
And this is really, I think, very exciting because what we're seeing now is the successful implementation of private 5G networking. And it's really can be attributed to additional drivers. For example, regulators have basically pushed a Sub-6GHz spectrum for availability, and that would be suitable for many of these scenarios. And likewise, there's just more availability of unlicensed and shared spectrum that would be supportive of private 5G networking.
And a little foregrounding, private networking has been around for a while, and we've had a successful private LTE networks being implemented leading into the now uptake of what is called 5G non-standalone, really the combination of 4G and 5G capabilities. And now we're kicking into 5G standalone networking for these 5G scenarios. And this is all coming together. And I think one reason why Industry 4.0 is really keen on private 5G networking, is that first of all, it's a security first implementation. Many of these organizations are weary about using public 5G networking to support the smart capabilities. And this makes sense.
In addition, it's also fundamentally about coverage. That is, when you're talking about operations like mining and sea ports and airports and so forth. The off shore drilling facilities, Wi-Fi is just a non-applicable. So it's a non-starter. And it's the same reason here as well in terms of security, 5G just has built in security capabilities that Wi-Fi, even with the current iterations, really don't deliver quite yet. And Wi-Fi could be appropriate, for a guest services at a hotel, a visit to the coffee shop for, internal communications, operations center, but it's not going to be able to do the heavy lifting that a private 5G network can do. And so this is adding fuel to the uptake.
For example, we've seen research from Polaris suggesting that there's 40% compounded annual growth expected in this segment alone through 2028. And as a kicker, you have ABI coming in and saying 60% compound annual growth in this segment through 2030. And, we can always press on the numbers, but I think it definitely is validating the fact that this is really a space that is hot and it's only going to get hotter. And these are many of the reasons why it's this coming together and generating these headlines that we're talking about today.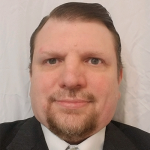 Ron is an experienced research expert and analyst, with over 20 years of experience in the digital and IT transformation markets. He is a recognized authority at tracking the evolution of and identifying the key disruptive trends within the service enablement ecosystem, including software and services, infrastructure, 5G/IoT, AI/analytics, security, cloud computing, revenue management, and regulatory issues. Read Full Bio.