DISH Makes a Tasty Treat of its Greenfield Cloud-Native 5G Network with IBM as a Partner
DISH Makes a Tasty Treat of its Greenfield Cloud-Native 5G Network with IBM as a Partner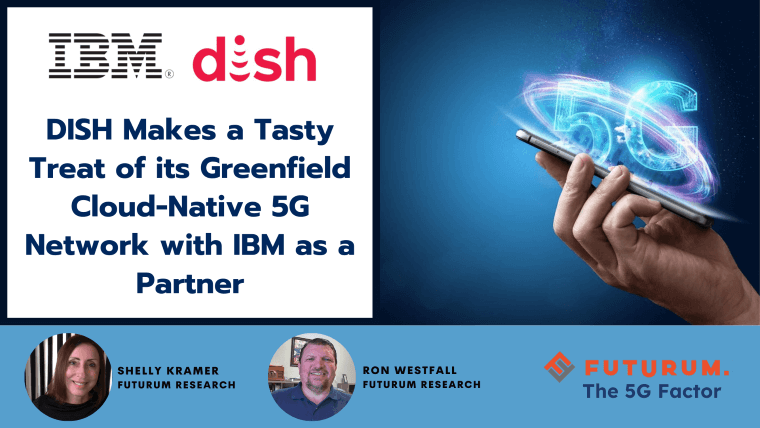 For this vignette of a recent episode of the Futurum Tech Webcast, part of the 5G Factor series, analysts Ron Westfall and Shelly Kramer examine DISH Network's selection of IBM to help automate what it is promoting as the first greenfield cloud-native 5G network in the United States.
Their conversation focused on:
IBM's crucial role in providing the intent-based orchestration and AI-enabled automation capabilities across DISH's multi-vendor and multi-layer cloud native 5G network, now consisting of at least 30 named suppliers.
The DISH collaboration with IBM accentuates that AI-powered automation and network orchestration software and services is essential to enabling 5G network orchestration and key 5G capabilities such as network slicing.
Through IBM's Cloud Pak for Network Automation solution, DISH aims to use intent-based orchestration capabilities to efficiently synthesize hardware and software resources that enable the network slicing that is key to the creation and delivery of new services such as use case specific network slices.
Why IBM's AI and orchestration assets are so well-suited for fulfilling the major interworking and integration challenges of the DISH cloud-native 5G network architecture and deployment.
Ron and Shelly see the DISH deal as the CSP validation needed to boost IBM's overall 5G ecosystem credentials and fulfilling customer-specific and vertical-specific needs through AI, orchestration, and network slicing innovation.
Watch the clip here:
Or grab the audio by way of your favorite streaming platform here:
Don't Miss An Episode – Subscribe Below:
Disclaimer: The Futurum Tech Webcast is for information and entertainment purposes only. Over the course of this webcast, we may talk about companies that are publicly traded and we may even reference that fact and their equity share price, but please do not take anything that we say as a recommendation about what you should do with your investment dollars. We are not investment advisors and we do not ask that you treat us as such.
Transcript:
Shelly Kramer: Now, speaking of IBM, we're going to touch briefly here on news around IBM and DISH and how DISH is going to rely on IBM to help automate its first greenfield cloud-native 5G network, and this will be a new smart network. It's agile, scalable, fully virtualized, and yet another partnership with IBM's Global Business Services, and great to see IBM joining there. I think there's an extensive roster of vendors that DISH is working with to help build this nationwide, virtualized O-RAN 5G broadband network. So anyway, it's great to see IBM slide in there as well. Ron, talk with us a little bit more about that.
Ron Westfall: Oh, you bet, Shelly. Yes, I think it's the same queuing here. It's like, okay, IBM Global Services, Cloud Pak for Network Automation, once again. And in this case, one major capability it's enabling is intent-based orchestration, and that, in this case, comes to DISH's operational and business processes. And so, again, IBM is providing those AI engines that are like the brains for this very challenging deployment because as you pointed out, IBM, when it was announced as a selected vendor by DISH, became number 30, at least amongst the publicly-announced vendors, and so some of it is par for the course. For example, 12 of them are tower suppliers, which are going to be needed for any major network.
But there is a serious orchestration challenge, and this is where IBM comes in and can provide that orchestration glue, if you will, to help with the integration process for DISH and working with all these different vendors. And again, the AI capabilities are not only powering intent-based orchestration, but again, that monetization piece, the business processes, and just the overall lifecycle management of the operation. So we'll be hearing more about lifecycle management, intent-based orchestration, and again, showing why IBM is winning these deals, because it can provide that AI intelligence/machine learning algorithms to provide the foundation for enabling all these other key capabilities.
Shelly Kramer: Yeah, that's pretty cool. So we've talked about cloud gaming, we've talked about Ericsson in that role, we've covered what's going on with Vodafone, we've talked a little bit about IBM, Telefónica, IBM and DISH.