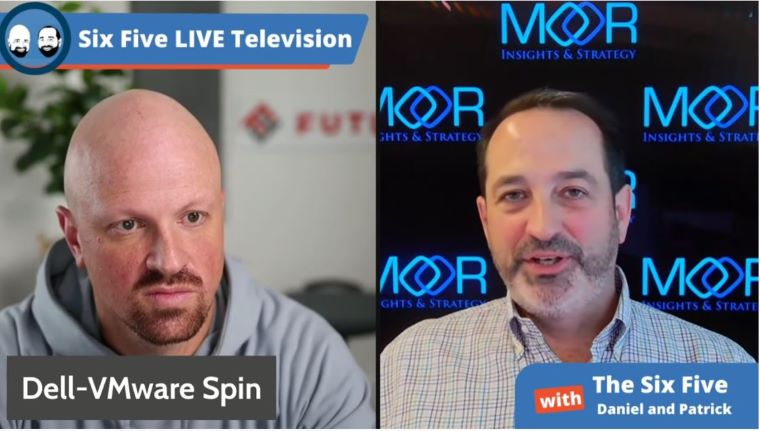 The Six Five team talk through the Dell + VMware spin out.
Watch the clip here:
If you are interested in watching the full episode you can check it out here.
Disclaimer: The Six Five Webcast is for information and entertainment purposes only. Over the course of this webcast, we may talk about companies that are publicly traded and we may even reference that fact and their equity share price, but please do not take anything that we say as a recommendation about what you should do with your investment dollars. We are not investment advisors and we do not ask that you treat us as such.
Transcript:
Patrick Moorhead: Let's move to our final topic here. And that is the Dell, VMware spinout a couple highlights. So first and foremost, just to review the two companies we're not one for one, there was a tracking stock that VMware had and there was a stock for Dell. Investors had challenges related to the governance of it and how it was run. And the theory is by splitting them up, you'll be unlocking the value. And if you looked at the combined value of Dell and VMware, it didn't even seem close to the opportunity.
So this is what this is all about. Now Dell brings a lot to VMware and VMware brings a lot to Dell. So they did a five year strategic relationship on certain product classifications. But I would say more near term impactful sales and marketing. Most of the growth that VMware exhibited over the last few years came from its relationship with the Dell Salesforce. So there's value both ways. And a lot of the differentiation, particularly on the software side, the Dell brought to the table came from VMware.
Now that will actually continue both companies I think now have permission to work across lines. But I do feel like for the next five years from an innovation side and the sales side, the two companies are symbiotically linked. When it comes to Dell in particular, right? I think Dell's done a really good job communicating its value proposition for the next stage of, and it's all about Edge it's carrier in Telco it's multi-cloud and hybrid cloud it's data management. And other businesses related to security AI and ML, and then the continued pace to gain share in what they call their core business that they want to essentially modernize that's PCs, compute, networking, storage.
So server storage, networking, and PC, and then putting on the, as a service layer of apex on there. And I think for investors to fully buy in, they're going to want to see evidence of apex growth. I think first and foremost, and how in these growth areas, Dell is achieving higher margins and big double digit, maybe triple digit growth.
Daniel Newman: Yeah. Pat, you hit on a lot of things really well. This spinoff needed to happen. We of course, saw the stock get halved for it. The market cap got zeroed out. I mean, I'm being a little bit over zealous when I say that, but we did know this was going to happen. We knew the market was going to react this way. It wasn't a reaction based on science. Dell has an amazingly large business, very robust with, or without VMware. And in many ways they always operated somewhat discretely throughout their entire existence. It was a growth business.
And in terms of, on the infrastructure side of Dell's business, it did grow more consistently. I mean, remember VMware was growing, but it was really about a 10%. It was almost like you could almost count on about 10%, every quarter, 10%, this wasn't accelerating like an Azure or even a sales force in the double 20s, it was 10.
And considering the trend towards cloud if you did a comparative, just going back to IBM, Red Hat has actually been growing a little bit faster, just the Red Hat part, not the whole IBM Cloud, just the Red Hat part. And my point is, so VMware was doing well, but it wasn't blowing growth outta the water. Meanwhile, Dell has been working for years now on building this apex solution out. Now, for most people they've only really started to hear about it recently. It's sort of changed a little bit. I think it was Dell tech on demand was its early iteration. And then there was, Dell financing had been doing this by the way, on a custom basis on a very large volume for a long time.
Having said that, Pat, you were exactly right. Did I ever say that to you? You're exactly right. The market needs to see progress here. Needs to see progress, growth. It needs to see the service portfolio expand. You heard Michael and his team talk a lot at the recent analyst event about multi-cloud need more evidence about how without VMware, Dell is going to be supporting the multi-cloud initiatives that are going to be going on in enterprises, in the future. Dell has a worldwide world class sales organization, whatever is put in front of it, it's going to have the ability to put it out at scale. Whether that's, like you said, addressing Telco 5G and Edge, or that would be addressing core infrastructure for the enterprise or handling, security, whether that's zero trust all the way out at the Edge to core infrastructure, security requirements, storage, networking, you name it.
I want to see apex grow. I want to see evidence of apex growth and that's going to be through products, through services, through customers and through transparency, which is something that I think is going to be very important. I think right now, Dell is being put on sale a little bit. It's an interesting company to look at, I think ever doubting Michael Dell. And what he's able to do is a very bad decision by the market. And by the way, Michael made a mint on this deal. So if you were a investor and a shareholder and you understand the financial engineering of what he accomplished by bringing this company in and bringing this company out, and he also, by the way, just upgraded the quality of the company's debt significantly through this move. This was brilliance all over it.
However, it does leave a gap in the portfolio and the company is going to need to show the market that it's going to be able to fill that gap through strategic partnerships, or new acquisitions or new products that it's going to be able to take to market.
Patrick Moorhead: Final thing I'll say before we close out here is that VMware now has permission to work more closely with companies like HPE and Lenovo folks like that, than they did before.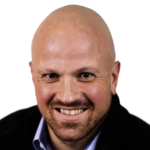 Daniel Newman is the Principal Analyst of Futurum Research and the CEO of Broadsuite Media Group. Living his life at the intersection of people and technology, Daniel works with the world's largest technology brands exploring Digital Transformation and how it is influencing the enterprise. Read Full Bio