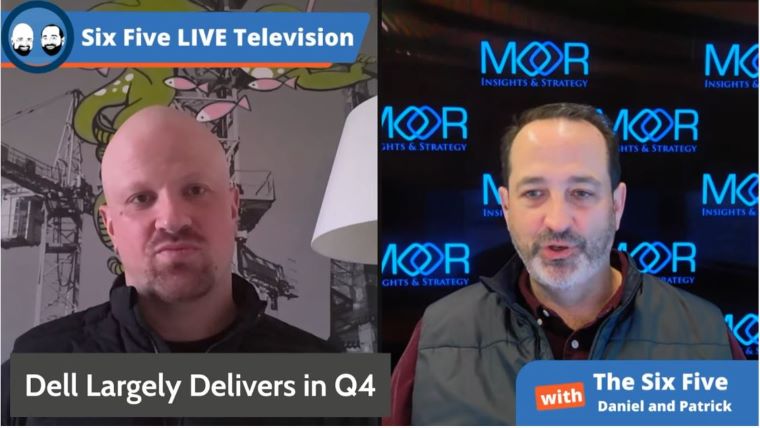 The Six Five team dives into the latest earnings report from Dell Technologies.
Watch the clip here:
If you are interested in watching the full episode you can check it out here.
Disclaimer: The Six Five Webcast is for information and entertainment purposes only. Over the course of this webcast, we may talk about companies that are publicly traded and we may even reference that fact and their equity share price, but please do not take anything that we say as a recommendation about what you should do with your investment dollars. We are not investment advisors and we do not ask that you treat us as such.
Transcript:
Patrick Moorhead: We saw Dell deliver earnings last night. And listen, the expectations for them were pretty darn big, because if you look at, historically, they had beaten on the top line and the bottom line pretty substantially for the last four quarters. Their stock is up 34% in the past 12 months. So doing really well, and this is in the midst of them spinning off VMware.
This quarter, they beat on the top line and they missed on EPS for various reasons, one of them being a tax reason. And I was thinking to myself, okay, I guess that's the point that you fire your tax accountants, in how you did that. Because their stock was at least last night getting beaten up pretty big. So really some big highlights though, and my gosh, record PC revenue at 26% gain, they had a 30% jump in commercial growth at PCs.
And Daniel, I started in the PC market in 1990, and I have to tell you, that's like the '90s decade growth there. I don't think we're going to sustain that. But I think as we heard from Intel last week, we're going to see pretty heavy single digit growth moving forward. Now ASPs are going up, which makes it a huge difference. Well, in fact, market wise, ASPs went up 25% in the US last quarter per Canalys. On the data set side revenue was pup three percent, but more importantly, bookings were up 17%.
I was really glad to see that Dell typically doesn't talk about out demand or orders, but I'm glad they did. Essentially, they are finally hitting up against some supply chain issues. They talked about the contamination in, well, they didn't name WD and Kioxia, but I will. There was a memory contamination issue that, when you're selling a ton of flash memory and real memory, these things matter.
Also, on the data center side, PowerStore, while they didn't give… And this is their new mid-range, says their fastest ramp in history. My final note is that for the year they're a $100 billion revenue company. And I think that's a huge milestone and that does not include VMware. So pretty awesome. And they're investment grade debt. So on pretty good footing. It's disappointing that they missed on the EPS side, it would've made for a great quarter. And it's very rare that Dell has some sort of, quite frankly, a self-inflicted wound related to taxes.
Daniel Newman: Yeah, absolutely. Sometimes with these one-off events, though, you have to sort of be able to write them off in your mind, and kind of say, "If we take this out, what did the numbers look like?" And I think largely the numbers looked good. You did cover a lot of the critical numbers, but the company did a really great job throughout the year with their client business. It was the anchor of growth, being able to meet and exceed on all demand, when a lot of companies struggled. And we saw that over quarters past, certain companies did not meet the demand.
We've been hearing this backlog story from other companies, but hadn't really heard it from Dell very much, because Dell had done such a good job. But, like you said, there are some things that are completely out of control, no matter how well you're managing your supply chain, these risks do come into play. It's just another reason why our resiliency needs to be focused on, it's another reason we need to onshore more of our chip manufacturing back to the US. And we'll save that for a topic for another day, but it does impact bottom line, when these things do creep up.
I thought the dividend announcement was really good news. Part of that return to investor grade was a commitment to pay a dividend. I think Dell really does fit in that sort of intermediary between make value and growth. Their numbers have grown faster than some of their IT OEM counterparts, again, this year, largely because of the PC business. But at the same time, being able to offer technology, innovation, growth, and a dividend is likely going to be attractive to investors that are looking for solid companies in the right markets that can offer a consistent return with a little less a volatility in their share price. Especially as we've seen, what's happened to growth and what's going on. So this is very timely. I don't think it was timed with the market, but the dividend was very timely.
And the last thing I'd say is that I'm watching closely to their service transformation. The APEX business is still kind of in its infancy. You're starting to hear and see some wins getting announced. But what we haven't heard and seen is, "Hey, how big is this business?" And no doubt, it's going to be in the billions by the time we start seeing any sort of breakout, but with the market really wanting to understand, especially with VMware, not there anymore, looking for where's that steady growth? Where's that net revenue expansion come from? And how are you switching more and more of your one time CapEx type revenue to consumption-based revenue?
But company's moving in the right direction. It was a good result. The miss was a miss on the EPS side, but the revenues were very good and the backlog should give confidence to anybody looking from afar that the next quarter should also be a solid result for the company.
Patrick Moorhead: Yeah. I mean, it's hugely disciplined company and I urge everybody to look at their investor deck. I wish everybody had an earnings deck like Dell. They have an investment thesis slide, they have growth thesis, they have moats, they have corporate strategy, which I totally appreciate.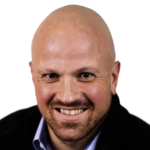 Daniel Newman is the Principal Analyst of Futurum Research and the CEO of Broadsuite Media Group. Living his life at the intersection of people and technology, Daniel works with the world's largest technology brands exploring Digital Transformation and how it is influencing the enterprise. Read Full Bio