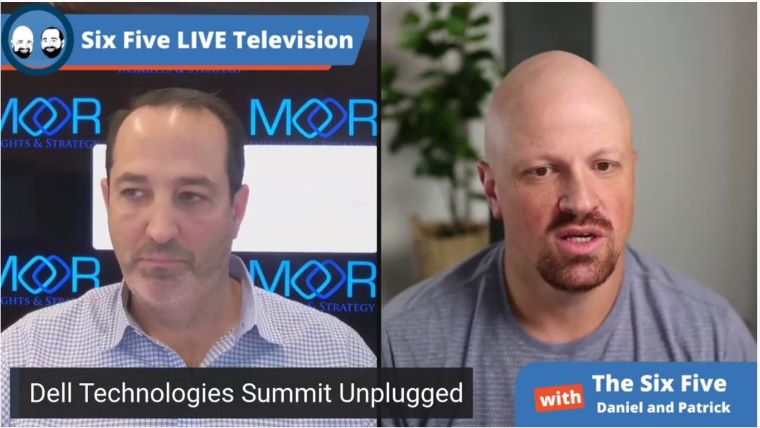 The Six Five team dives into announcements coming out of the Dell Technologies Summit.
Watch the clip here:
If you are interested in watching the full episode you can check it out here:
Disclaimer: The Six Five Webcast is for information and entertainment purposes only. Over the course of this webcast, we may talk about companies that are publicly traded and we may even reference that fact and their equity share price, but please do not take anything that we say as a recommendation about what you should do with your investment dollars. We are not investment advisors and we do not ask that you treat us as such.
Transcript:
Daniel Newman: Speaking of cloud, speaking of big shifts, transformations, let's talk about a company that's making some big moves right now, Dell Technologies, Pat. They had their Summit Unplugged this week, and it was a really good event for us as analysts. It's got a lot of exposure to the executive team, and it came at a good time.
And I'll set this up by saying that Dell Technologies right now is in a big inflection point. It's a big moment for the company. Financially, it's about to get a whole lot better in terms of its debt structure with the spinoff of VMware, but let's be candid. The spinoff of VMware also raises a ton of question marks about the company's long term cloud strategy, because VMware has been really its most pivotal solution to enable Dell to stay hyper-relevant.
The company had a few announcements, Pat. I don't want to spend a lot of time here. You and I have written articles, I've got an article up about they've got some new edge solutions, some telco solutions, and we'll put the links in the show notes, and if you want to read about their new announcements. But really what interested me was, we as analysts got some real behind the scenes. We had four of their key executives, and we also had some time with their CFO, Tom Sweet, and we got to hear from Michael Dell extensively.
And listening to the company, Pat, and this is something I'll talk a little bit about, and then I want you to weigh in on. But what I really sensed is the company understands its need to pivot right now, and its need for its apex solutions, which are its consumption-based prem cloud solutions competing with the likes of HPE GreenLake, competing with the likes of Cisco Plus, Lenovo TruScale. And also, of course, with 75% of workloads or so still being on-prem, really competing with the AWSes, Google Clouds, and everyone else, Microsoft Azures, to sort of gain the balance of being able to deliver services, for whether it's storage … Right now, it's mostly storage for Dell, but it could be storage. It could be compute. It's going to be data services. And you know the plan is going to be for apex to expand.
Michael, Jeff Clarke, the executive team, spent a lot of time talking about multi-cloud, talking about the fact that they all believe multi-cloud is the future. You know, what was kind of interesting about that, as I see it, Pat, is the more the conversation shifts from hybrid to multi, the one big iteration for me, as I see it, is when it's multi, the OEMs or the big IT infrastructure companies suddenly become more compelling. When it's hybrid, I tend to think the big public cloud companies tend to be more compelling. Because if it's really you're dedicated to one cloud, then kind of making it extensible to your prem, it may be expensive, and we've seen some debate on how expensive it is in egress, but it's the control plane, the consistency is very attractive.
When suddenly, though, you're managing multiple public clouds concurrently, the story starts to go, "Okay, maybe we need a more universal control plane that's not from any of the public cloud, but actually from the company that's going to handle the majority of the workloads," which again, aren't actually in the public cloud. And that's where Dell Technologies Apex story, and others. That's where it could be IBM and Red Hat. It could be GreenLake.
A lot of these companies become super interesting if multi-cloud is, in fact, going to win the day. And I think you and I have said this, Pat, and you've got a lot of documentation years ahead of kind of identifying this. And I've said a lot of this too, is multi-cloud will be more prevalent, and it will come up in scale. So I feel like we've got about a 10 horse race right now. I think you can't count Dell out. It's got a huge kind of bespoke business of this consumption-based service that it's been delivering on a very custom and one-off basis, and now it's streamlining it, and it's a multi-billion dollar business for the company and they're going to make it easier.
Michael Dell is a person you never underestimate. Without VMware, I still have every confidence between the partnership they've created with VMware and their current product mix that they will build solutions, and they have a massive, massive sales force and customer base, and they will be tapping into that as well. So it's good to see Dell leaning in. There's a number of competitors in this space, but that was my feel from this event, was really the direction they were going.
Patrick Moorhead: Yeah, Daniel. Good analysis. 10 years ago, my firm talked about, at the time, we called it private cloud and hybrid cloud. We took a lot of barbs for it, but here we are almost 10 years later, and hybrid is a reality. We're having the same types of discussion about multi-cloud, and a lot of the consternation comes from the definition of it. So is it running the same application in multiple clouds? Is it running different applications in multiple clouds, or different services in different clouds? And on one hand, I think the traditional on-prem vendors try to simplify it and say, "If you use Salesforce, you're multi-cloud." I don't buy that, and I also don't buy the far other side, which says that you're a fool for even considering multi-cloud I'm in the middle.
One thing I'm waiting for, though, is truly a bunch of customers to come up and show us their multi-cloud architectures. I'll tell you right now, in Box's analyst data that they had, they are using five different cloud back ends, including their own. They are 100% multi-cloud. Now, that's Box, and they're a SaaS provider. They're a little bit more sophisticated, but there are companies that are doing …
Daniel, I wanted to just flash up this slide. I thought it was important, but this was the first event aside from their Securities Analyst Day, where they really rolled out the post-VMware strategy. And to me, it's pretty simple. On the left hand side, you have some of the traditional businesses. PCs, compute, networking, and storage, with an as-a-service overlay called Apex. Growth areas, post-VMware spin, and as you said, hey, let's not forget that VMware, there's a five year deal currently in place. Dell is still going to lead with VMware, but pull through, and Dell is the kind of company that sells customers what they're asking for. So you'll see stuff like Nutanix. You'll see Red Hat, particularly with Carrier. I know that came up as a conversation throughout the conversation.
But the big growth areas, and we saw this here at the Unplugged, was edge, edge telecom, and multi-cloud. Those were the three big areas that they hit on. And while I'm not totally bought into the huge numbers that IDC is putting up there, about 20, 25, I think they're big enough to make it interesting, and strategically if you're Dell and you don't have a public cloud, but you're building out multi-cloud capabilities and you're strong in edge and carrier, aka telecom on this slide, it makes sense strategically for them to do this.
The final thing I want to say is just want to clear up, there's this whole notion of VMware not needing Dell. Well, surprise, most of VMware's growth came the last three years from aligning themselves with the Dell sales channel. And financially, VMware needs Dell as much as Dell needs VMware, and nobody should forget about that. And I'll leave it there, Daniel.
Daniel Newman: Yeah, absolutely, Pat. Well, there's a lot there. I think this is going to be a big story to follow over the next few years. Good week. Like I said, just a good week for these events. It felt super crazy and chaotic, but realistically, just a good slate of announcements, all moving forward. The hybrid multi-cloud story, Pat, it is in full effect.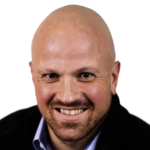 Daniel Newman is the Principal Analyst of Futurum Research and the CEO of Broadsuite Media Group. Living his life at the intersection of people and technology, Daniel works with the world's largest technology brands exploring Digital Transformation and how it is influencing the enterprise. Read Full Bio